TechSoup is certainly known for its product donation and discount programs. What's less known is that we also offer some amazing services that help nonprofits use technology to further their missions.
TechSoup has a variety of support services available to our members. These services can address everything from basic IT troubleshooting for small nonprofits to enterprise cloud migration for large organizations. We've partnered with experienced providers with deep track records of delivering high-quality technology services to the the nonprofit sector. Support is available for Mac, PC, and server-related issues.
We thought it would be helpful to go over what services TechSoup has to offer so that your nonprofit can get the most out of the technology you already have — or plan to acquire.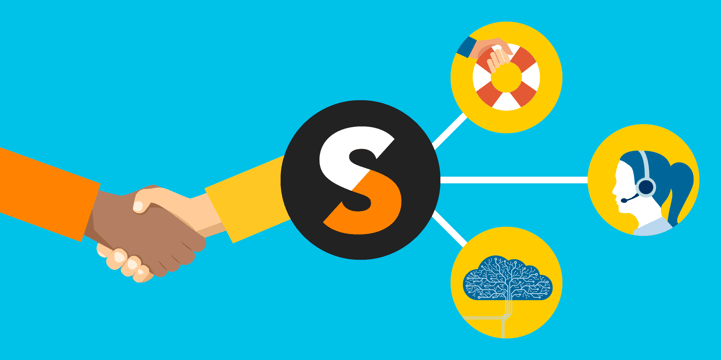 TechSoup's Help Desk services are great for small organizations with no dedicated IT staff. Whether it's a time-sensitive emergency or an ongoing issue, our service providers can help. We're also available for planning and preventative measures, such as data backups, protection against malware and viruses, and security patch updates.
The offer is flexible: Get a one-time fix for $55, or sign up for an monthly membership for unlimited fixes at $35 per month, per user. Think of it as having an on-call IT person — for a fraction of the price.
Managed IT is a more comprehensive support solution that's great for medium to large organizations that need a higher level of IT management and support. This service includes long-term tech planning, along with help-desk support that can address larger issues with computers, devices, services, and other IT infrastructure. Our Managed IT can also troubleshoot problems anyone in your organization might have with cloud solutions such as Office 365. Services include
Live help-desk support
Security and performance monitoring
System and backup management
Ongoing technology advice
A hardware update program
A one-year free TechSoup Boost subscription
Prices are customized to fit your nonprofit's needs and are generally determined by the size and requirements of your organization. If you'd like to learn more, you can get help here.
These days, it seems that cloud computing is on everyone's mind. In fact, TechSoup is currently migrating elements of our own IT infrastructure to the cloud.
We've always been dedicated to addressing the IT needs of nonprofits around the world. And as technology continues to shift from an on-premises to a cloud-based model, the support we offer to our members is evolving.
Our tech implementation services are designed to help organizations move to the cloud more efficiently. Once systems are in place, we're also dedicated to optimizing their functionality and ensuring that all the proper security measures are in place.
Let's say your organization is adopting Office 365. Tech implementation services at TechSoup can facilitate an Outlook email migration as well as a full-fledged database migration. We can also help establish and maintain an employee intranet using SharePoint and set up other Office 365 features, such as Planner, Teams, Yammer, and VoIP using Skype for Business.
Beyond Office 365, we can help with some leading cloud-based tools, including Amazon Web Services, Microsoft Azure, Microsoft Power BI, Box, and more.
Like Managed IT, subscription pricing is determined by the specific needs of your organization, so the best thing to do is reach out for a free consultation.
Additional Resources: Nonprofit Technology Implementation
TechSoup also offers online courses that will help you build the technology skills your nonprofit needs, whether you can afford services or not.