If you work at a nonprofit, it's likely that you've heard the words, "I think we should start a podcast" over the past year or so, and perhaps with good reason. Podcasts can maintain an audience's attention over time and build intimacy between host and listener, both of which help nonprofits nurture relationships with prospective supporters. Podcasting is gaining strength as a channel for nonprofits to reach existing and new audiences.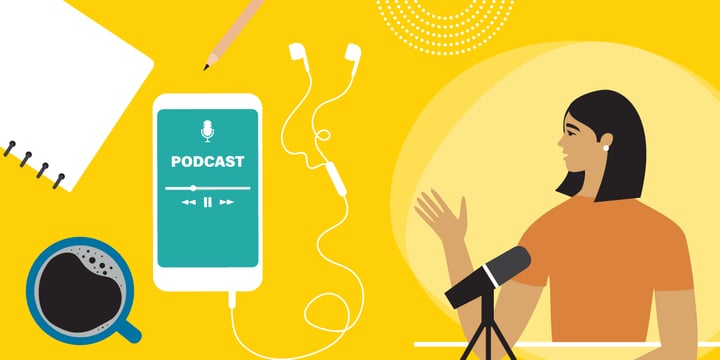 Nonprofits have a variety of goals for their podcasts, and they achieve a variety of outcomes:
Amplifying the voices of the people and organizations they support
Generating publicity and scaling the reach of their organizations, sometimes globally
Sparking community conversations and activism
Starting and supporting grassroots movements
Encouraging listeners to change long-held perspectives and become more inclusive
Raising brand awareness
Publicizing new services and products offered by nonprofits, especially new and small organizations
Teaching professional skills and giving young people a voice in the world
Engaging new audiences
Increasing donations
Offering education, hope, and entertainment
Here are five podcasts doing amazing things for the nonprofits presenting them.
Seeking Peace
Organization: Georgetown Institute for Women, Peace and Security
Host: Melanne Verveer, President Obama's ambassador-at-large for global women's issues and the institute's executive director
When they launched: December 2020
Why they launched: The Institute for Women, Peace and Security was generating reams of information — densely written documents read by a small number of academics. A podcast could provide the institute with far more impact and reach, Verveer believed. Communications director Sarah Rutherford says leaders wanted to make far more people aware of the life-threatening issues women struggle with in conflict-ridden countries (including the U.S.). They also wanted to inspire listeners by sharing the courageous work women and their male allies are doing in places like Yemen, Colombia, Afghanistan, Kenya, and more.
Outcomes: Seeking Peace producers faced tremendous difficulties. They interviewed guests fighting for human rights in war zones. Their lives could be improved — or threatened — by publicity. Producers recorded in four different languages. And the pandemic made the work even more difficult than it would have been. Still, Seeking Peace achieved its mission of amplifying the voices of these women leaders, and in so doing, helped them get more local support.
In Yemen, activist Wameedh Shakir was overwhelmed by the impact. She wrote, "Yemeni women and men, youth, activists and journalists wrote and are still writing dozens of posts, shares and comments to express their interest [in her episode, 'Amplifying the Forgotten Voices of Yemeni Women']."
In January, the institute launched a second podcast, Women Building Peace, with the BBC, helping the organization further scale its work around the world.
Where to listen: "Amplifying the Forgotten Voices of Yemeni Women" is available on the website or on Apple Podcasts.
Why it's compelling: In only 17 minutes, Yemeni journalist Suaad Ahmed tells the story of Wameedh Shakir's brave work documenting the abuses of women in civil-war-torn Yemen and of her attempts to help build a democratic society.
Sounds Like Hate
Organization: Southern Poverty Law Center
Hosts: Jamila Paksima and Yvonne Latty
When they launched: August 2020
Why they launched: To spur activism. At launch, CEO Margaret Huang said, "It's our hope that this series will encourage the American public to take a clear look at how hate and extremism appear today and make listeners want to take action against hate in their own communities."
Outcomes: This audio documentary podcast has raised the nonprofit's profile and viscerally gotten its message out. The SPLC has made full use of audio storytelling to investigate individuals involved in hate groups and to explain how big money and politics are exploiting bigotry. It's a great example of how audio storytelling, well used, carries an outsized impact.
Listen to: Season 4, Episode 1, "Red Flags Everywhere," is available on the website or on Apple Podcasts.
Why it's compelling: This episode is a journalistic investigation of the white supremacist roots of the January 6 insurrection. Sounds Like Hate's thesis: It could have been prevented. Why wasn't it? You'll have to listen to find out.
Urban Roots
Organization: Urbanist Media
Hosts: Vanessa Quirk and Deqah Hussein-Wetzel
When they launched: June 2021
Why they launched: Host Deqah Hussein-Wetzel is a Somali-American architectural historian viewing preservation through an anti-racist lens. Co-host Vanessa Quirk says the historic preservation community has ignored places significant to people of color. By telling hidden stories of endangered buildings and neighborhoods, Urban Roots aims to make the profession more inclusive.
Quirk and Hussein-Wetzel also view historic preservation as a form of oral history, one that should value stories with as much reverence as it does buildings. Urban Roots' beautifully produced and sound-designed first season focuses on the little-known Black history of three Cincinnati neighborhoods. One particularly fascinating thread concerns a secret agent of the Underground Railroad working as a barber in order to spy on his customers.
Outcomes: Hussein-Wetzel says Urban Roots is raising awareness of tiny Urbanist Media's historic preservation, oral history, and educational services nationwide. The podcast has won awards that brought it to the attention of local media, city council members, residents, and community activists "as the go-to resource for inclusive-minded preservation and public history work," she adds.
Listen to: Episode 1, "Cincinnati History Is Black History," is available on the website or on Apple Podcasts.
Why it's compelling: Hosts Hussein-Wetzel and Quirk are lively and knowledgeable narrators and pointed interviewers. They share an energetic, sophisticated rapport. They clearly know how to tell stories; at various points I couldn't stop listening.
WGRL NYC (Where Girl Radio Lives)
Organization: Lower East Side Girls Club of NY
Host: Multiple
When they launched: 2015
Why they launched: WGRL launched as a radio show and a podcast out of the headquarters of the Lower East Side Girls Club, offering a way for girls to learn radio journalism and audio engineering from audio professionals. The Lower East Side Girls Club breaks the cycle of poverty by mentoring and offering job training to girls and women aged 8 to 23. On any particular episode, you'll hear different girls serving as co-hosts — and they're good.
Outcomes: First and foremost, the show gives girls a place to share their interests, their skills, and their voices. They drive the agenda and ask their own questions. The idea is for WGRL to be a peer-to-peer show, led by youth. Over the years, WGRL has taught its hosts job skills and built their confidence. But the show also gives the Girls Club a way to showcase its work nationally, helping the organization get press, brand awareness, and funding.
Listen to: December 19, 2021, an interview with musician and trans activist Michael Love Michael and more. The episode is available on the website or on Apple Podcasts.
Why it's compelling: This isn't a show you'll listen to simply because of its nonprofit mission. These interviews are sophisticated and interesting. The music, produced by the girls themselves, is catchy, and the overall production is top-notch.
Design Is Everywhere
Organization: Design Museum Foundation
Host: Sam Aquillano, founder and executive director of Design Museum Everywhere, a Boston-based nonprofit online and pop-up design museum
When they launched: April 2020
Why they launched: To share stories about the ways in which design impacts our daily lives, and to promote the work of this unusual nonprofit. Aquillano holds conversations about the museum's 12 impact areas, which range from the role of design in social justice to mindfulness to civic innovation and healthcare.
Outcomes: Listeners consistently describe this show as providing them with fresh perspectives and a good reminder of the importance of design in our daily lives. Along with a magazine, the podcast brings attention to the museum.
Listen to: "Your Table Is Ready: Designing the Restaurant Experience." Listen to this episode, or one on toy design, to take a break from today's difficult issues! The episodes are available on the website or on Apple Podcasts.
Why it's compelling: Through Aquillano's lens, design applies to the most pressing issues of our day, but also to the playful ones. In this dark pandemic era, listeners say Design Is Everywhere is a "must-listen" show that's hopeful and uplifting.
About the Author
Elaine Appleton Grant leads Podcast Allies, LLC, a podcast training, consulting, and production studio serving mission-driven individuals and organizations that believe in the power of storytelling. Among other nonprofit podcasts, Podcast Allies produces Degrees: Real talk about planet-saving careers for the Environmental Defense Fund. The studio offers Podcast Liftoff, an online and live course that helps nonprofit teams develop, launch, and grow podcasts that help them reach their strategic objectives.
Additional Resources