If your nonprofit wants to remain competitive in today's smartphone-driven world, your organization should consider investing in a mobile app. For the first time, in 2019, people spent more time with their mobile devices than they did watching TV. Today, smartphones account for 70 percent of that mobile time, and that percentage keeps growing.
According to Pew Research, the vast majority of Americans — 81 percent — now own a smartphone. Furthermore, 76 percent of the world's 18 advanced economies surveyed have smartphones. Less advanced global economies are gaining speed, with 45 percent market penetration. The mobile app era is here to stay, and nonprofits cannot afford to be left behind. Fortunately, mobile web apps are now affordable and can be launched quickly and managed easily with the support of a trusted provider.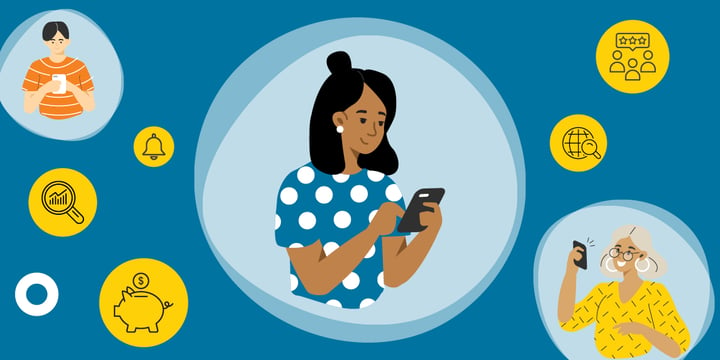 App development consultations are available through TechSoup's Website Services and can cost-effectively convert your website into a mobile app. Here are five compelling reasons your nonprofit should consider converting your website to a mobile app today.
1. Amplify Member Acquisition
Having a mobile web app will increase brand awareness and attract new supporters. Consider that more than 500 million people visit the Apple App Store every day. According to Google, 27 percent of people (PDF) discover apps through their search engine. Having a mobile web app will increase your market penetration and attract new users to your organization. From there, you can take further advantage of the benefits outlined below.
2. Increase Fundraising
Fundraising is fundamental to the sustainability and growth of any nonprofit organization. Investing in a mobile web app opens many new doors and removes barriers critical to your fundraising efforts. Supporters can donate straight through the app, and there's a greater chance of repeat and ongoing donations due to the ease and accessibility of the app. In addition, your app can be used to more effectively drive team and peer-to-peer fundraising among your supporters due to the enhanced security, fundraising capability, gamification, and social sharing available in a mobile environment.
3. Build Community
Apps provide your users a safe environment to share their ideas directly within your app's private communities. For example, an animal shelter may have a specific in-app community for cats. Supporters can share resources, pictures, video, stories, and educational materials for fellow members to distribute to the public and their own teams. These communities can also be leveraged to sign petitions and support donation drives for their feline friends.
4. Enhance Data Collection
Data is the lifeblood of every nonprofit. Mobile web apps collect vital information when users download them from the app store. This app onboarding data can be fed directly into your CRM and enable you to further segment and personalize your communication to the user.
5. Improve User Experience
Finally, mobile apps greatly improve the user experience for all of your stakeholders, from your members, board, and supporters to the communities you serve. Here are just a few reasons why:
Mobile apps are 1.5 times faster than web browsers.
Mobile apps are much more personal since the user has opted to provide their information upon download, and apps learn more about their preferences as they use them.
Mobile apps also provide important push updates and messaging specific to each user when and where they need the information.
The following example outlines how the American Heart Association leverages its Heart Walk app as the foundation for communication, education, community building, team building, and fundraising.
Mini Case Study: American Heart Association — Heart Walk App
The American Heart Association's Heart Walk app makes recruitment and fundraising easier for its supporters. You can update your story or photo, send prewritten emails and text messages, quickly and easily make posts to your social media channels, and deposit checks right from your app. It also provides a great user experience, with a 4.7 out of 5 rating in the Apple App Store.
The following screen grabs from the Wilmington, Delaware, Heart Walk (used with permission) showcase how the benefits outlined above come to life in the app. The app is easy to navigate, and even though the Heart Association is a large nonprofit, the highlighted features are affordable and available for almost any small to midsized nonprofit.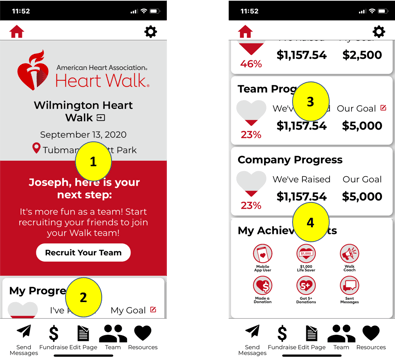 Receive personalized communications
Message directly, fundraise, manage your team, and access resources directly from the app
Monitor data specific to your personal fundraising and your team's
Receive gamification badges for completing steps in fundraising and walker recruitment
Key Takeaways
A mobile app will improve the brand reach and legitimacy of your nonprofit and establish a connected community of engaged users. Your current members and donors will have an improved experience if you empower them to interact with your organization via a mobile web app. Mobile apps will help your nonprofit acquire new supporters as well as mobilize your existing ones. It will be simpler and more cost-effective for you to promote your campaigns and collect key data from users.
About the Author
Joseph DiGiovanni is the co-founder of Tapp Networks, LLC. Tapp is a mission-driven digital innovation agency that serves nonprofits worldwide seeking to accelerate their social impact through the latest advances in marketing technology. He is a member of the Executive Leadership Team of the American Heart Association of Wilmington, Delaware.
Additional Resources