There are now 3.78 billion social media users worldwide in 2021 — about a 32 percent increase from just five years ago. These numbers are expected to continue to grow, meaning social media will become an even more useful tool for nonprofits to connect with their communities.
Each year, there are new trends and technologies to keep an eye on, and this year is no different. From new ways to use video to leveraging chatbots, 2021 is packed with social media trends to keep on your radar in order to improve the way your community engages with your nonprofit online.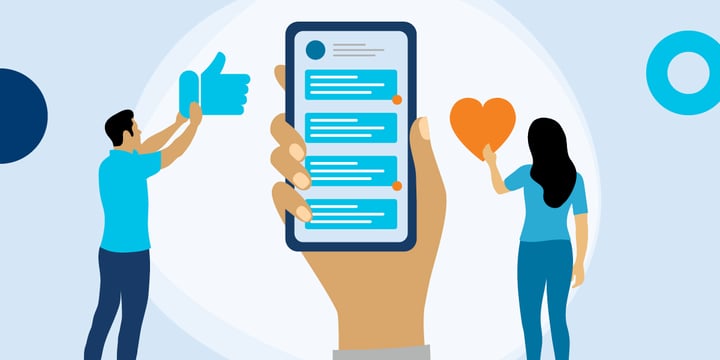 Video Stories and Live-streaming
Video content has become increasingly valuable over the years, and it's expected to become even more important this year. In 2021, Cisco anticipates that video will receive 82 percent of all online traffic. In addition, 57 percent of people who watch a nonprofit video make a donation. If your nonprofit isn't using video as a tool to connect with your community, now is the time.
But video has been around for a while, so what specifically is on the rise? The use of stories and live-streaming.
Stories are quick videos, available for 24 hours to your community to watch, on platforms such as Facebook, Instagram, and Twitter (although on Twitter, they're called Fleets). Nonprofits are using stories to establish a higher reach on their platforms, since these videos typically are more noticeable compared to a simple video waiting in the algorithm's feed. And, if you want your video to stay on your profile after the 24-hour period ends, there's the option to archive the story as a highlight, showing up on your organization's profile. This allows you to create relevant content to post for your community, then archive it for users to watch later.
Live-streaming is another rising video trend to keep an eye on. With most things going virtual due to COVID-19, many nonprofits have opted to live-stream special events to their community. Live-streaming is more interactive, and most platforms such as Facebook, Instagram, YouTube, Twitter, and LinkedIn allow you to notify your community before going live. This is great for nonprofits because it's one less platform to manage, and it's convenient for the viewer because they don't need to leave their preferred social media channel.
Here's a handy blog post that teaches you how to broadcast a Facebook Live in seven easy steps.
TikTok for Nonprofits
TikTok is a social media platform that allows users to generate 15-second videos and host live-streams. With over 800 million active users worldwide, and the record for being the most downloaded app ever in a single quarter (Q1 of 2020), it's safe to assume that TikTok is growing in popularity and therefore providing opportunity for an even wider reach.
Many users think of TikTok as an app for people ages 16 to 24 to create humorous videos and participate in unique dance challenges. But the type of content on the platform is rapidly expanding to more types of videos, such as how-tos and educational reels. With this in mind, there's great opportunity for nonprofits to create a presence on the platform with a possibly new kind of audience. In fact, TikTok has its own TikTok for Good page dedicated to inspiring users to use the platform for good and how they can make it a reality.
Challenges are one way for nonprofits to produce content on TikTok. If your nonprofit can find a way to participate in trendy challenges and incorporate your cause, it's a great method to be discovered by new users on the platform. For example, the British Red Cross jumped on the popular #WipeItDownChallenge, where users wiped their mirrors to a song and after one of the wipes, it cuts to a shot of something slightly different.
UNICEF quickly jumped on the educational video trend, being one of the first organizations to post videos on protecting yourself from the coronavirus. They've also collaborated with popular TikTok influencers to get the word out about specific causes. Below, for example, is when they teamed up with Charli D'Amelio to promote #SaferInternetDay.
UNICEF also got a lot of attention on TikTok when they posted the heartfelt story of a mother reuniting with her child. Not only is it an enjoyable video to watch, but UNICEF is teaching users about what they do at the same time.
WhatsApp
WhatsApp is a cross-platform messaging and Voice over Internet Protocol service owned by Facebook. According to Oberlo, it is the third most popular social media platform on the globe. In the nonprofit sector, many teams use this platform as a communication tool for their teams and communities.
To make it more useful for small businesses (nonprofits included), WhatsApp recently released the WhatsApp Business app, where a nonprofit can build a profile that includes up to 500 fundraising campaigns and product and service catalogs. These campaigns can easily be shared within WhatsApp chat messages, and prospective funders and buyers can access them on a website or forward them on WhatsApp to peers. Since so many people around the world are using WhatsApp, the ability to share campaigns within the platform provides a great opportunity for organizations to reach more people.
Chatbots
If your nonprofit regularly hears the same questions from your community, it could be worth setting up an AI-powered chatbot. Chatbots allow organizations to increase their ability to interact with supporters at any time of day while freeing up staff for other duties at the same time.
AI-powered chatbots allow you to set up different automatic responses based on different rules. The response could depend on the action taken by the user. For example, if a user visits your Facebook page, you can set up an automatic message to pop up on their screen. The interaction could also depend on keywords sent in the message by the user and provide specific responses based on what was said. If a user types a question to your page, for example, you could set up an automatic response that notifies them that your team will follow up shortly. The possibilities are endless to create an almost seamless journey for those visiting your social media pages.
To take the strategy a step further, many nonprofits are now using messenger ad campaigns, sending the bot straight to people's inboxes rather than their feed. This makes it easier to reach the right people and engage in a more efficient way.
Peer-to-Peer Fundraising on Social Media, Specifically on Facebook
Social media is one of the most popular online resources and tools in the world. Once you establish your nonprofit's social media pages, users can engage with your campaigns simultaneously while interacting with friends and family. Thanks to social media algorithms, this engagement then continues to spread to other feeds, causing donations and interactions to flourish.
This way of giving has grown in popularity due to its convenience for both nonprofits and donors. In fact, 88 percent of donors who have given through Facebook Charitable Giving Tools say they are likely to do it again in the future.
For Facebook specifically, you have the option to include a Donate Now button on your page, where users can donate directly inside the platform or can be directed to your external fundraising page. If you visit the Facebook page for The American Cancer Society, for example, you'll see the clear call to action on the right of their page.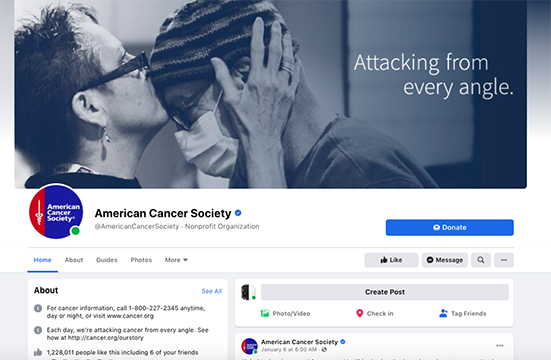 Here you can learn more about obtaining these features on your organization's Facebook page.
Having these features enabled on your profile allows others to fundraise for your organization as well for special occasions such as birthdays. Once you have this feature enabled on your Facebook page, all campaigns will show under the Fundraisers tab.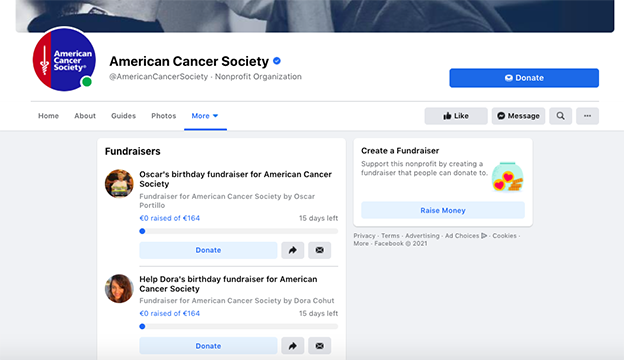 You can also add a donate button to specific posts or ads, or even integrate the button when doing a Facebook live-stream. At any point when users donate directly within the platform, they have the option of making it public, allowing for more exposure and awareness in their own communities. If you haven't attempted to raise funds via your social media channels, now is the time to give it a try.
Whether it's setting up a chatbot or managing a fundraising campaign through Facebook, opportunities for nonprofits in the social media world are only growing. And although these trends won't be the only ones to pop up in 2021, we hope it gives your organization a good start into the new year.
Additional Resources