There's a lot of change happening in the world of social media. The rise of short-form video content has fundamentally transformed the way many of us share, advertise, and connect online. Meanwhile, WhatsApp is increasing its reputation as a secure place for communities to connect. In just the past few months, Twitter has undergone serious changes that put the future of the platform into question.
Here, explore some important trends in the world of social media and learn how they are affecting the nonprofit sector.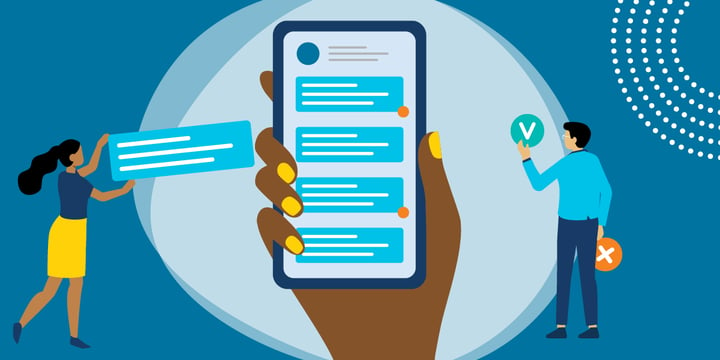 TikTok
Since its launch in 2016, TikTok has grown into one of the most widely used social media platforms, especially among younger demographics. Its short-form, user-generated format has served as a background for many people to express themselves, and the algorithm brings you content based on the videos you have previously interacted with.
As a nonprofit, you can use TikTok to raise awareness about the issue you're targeting, access a different audience of supporters and volunteers, and hone your brand in a different way. A short educational video, tour of your premises, or interview with a member of your staff or a volunteer can go a long way towards getting more eyes on your organization. You should also make use of trending sounds on TikTok, which can enable more people to find you.
Instagram Reels
In 2021, Instagram introduced the Reels feature to the platform. The advantage of creating Instagram reels is that you can use the short, looping format associated with TikTok, but among a different audience demographic. You'll find a slightly older audience on Instagram, but still a lot of crossover with TikTok users. This means that you can cross-post between TikTok and Instagram, but the Instagram audience might be more receptive to statistics or calls for donations, as this group is likely to have access to more disposable income. One feature difference between the two is that Instagram supports shorter previews in the main home feed, which link to the full video.
There are plenty of different ways that nonprofits use Instagram reels. You can use a reel to introduce your organization or show a behind-the-scenes peek of one of your projects. You could also start a fundraising challenge and encourage people to post their results as their own reel, which extends your reach beyond your own audience.
WhatsApp Communities
WhatsApp is introducing a new feature that will help to organize conversations and build robust communities through the app. WhatsApp is already very widely used worldwide, including by many nonprofits. The platform is more secure than most other social media and messaging platforms because it uses end-to-end encryption. It is free and accessible to most people with a mobile phone. In particular, in countries and communities where having a smartphone is more common than having access to a computer, it's a highly effective way for nonprofit organizations to stay in touch with staff and clients, coordinate volunteers, and garner support in the event of an emergency.
WhatsApp's new Communities feature is currently rolling out worldwide and will help individuals and organizations to use the platform more effectively. The Communities feature allows you to combine multiple WhatsApp groups under one larger umbrella, meaning that you can manage multiple facets of your work more easily. For example, if you run a meal service, you might have a WhatsApp group with your core staff, one with your volunteers, a separate one specifically for your cooking team or those responsible for sourcing ingredients. You may also use WhatsApp to communicate with clients. All of these chats can now be brought under a single umbrella.
The update also brings some useful features for communities. Admins can make announcements to all groups in the Community, as well as other privileges like deleting other people's messages. Use polls to make decisions quickly, make video calls of up to 32 people, and share files of up to 2 GB. Note that just like all WhatsApp chats, conversations will be in chronological order, meaning that important information could be difficult to sort through and find. You should always have a separate system for storing, sharing, and indexing important documents.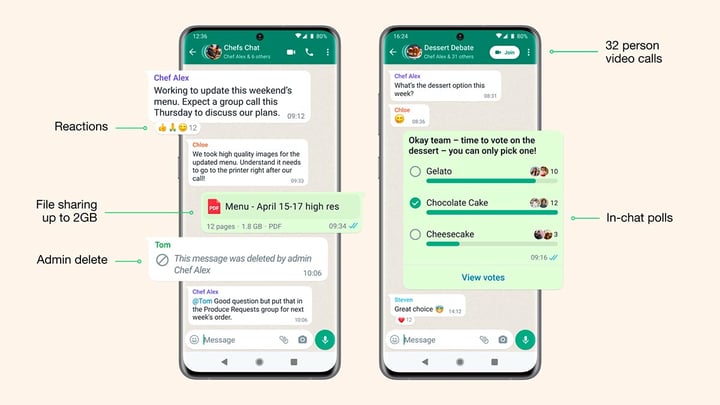 WhatsApp Communities is set to be a useful tool for nonprofits to organize, make decisions, and stay in touch with clients. It's also free for anyone to use, making it super accessible even if you can't afford to pay for a messaging app for your organization.
Mastodon and Other Twitter Alternatives
Twitter has been a staple of social media platforms for years, with its word limit and diversity of users making it a great place for nonprofits to connect with others and promote their cause. Since October 2022, when Elon Musk acquired the platform, its future has been uncertain. Some controversial accounts that had previously been blocked were reinstated, and the blue tick that indicates a verified account is no longer a surefire sign that an account is real. In addition, a paid subscription service called Twitter Blue was rolled out at the end of November. Twitter Blue includes extra features such as letting you customize the theme, navigation bar, and app logo you see; a bookmarks folder; and an "undo tweet" feature.
All of this has caused many people to look for an alternative to Twitter, and some have turned to Mastodon. Any alternative to Twitter will struggle, and in order to be viable, alternatives will need to bring in a wide variety of individuals and brands across the political spectrum. Twitter has managed to do this with very limited content moderation, which is a tricky balance to strike. As it stands, Mastodon attracts mainly left-wing, liberal users, while those towards the conservative, right-wing end of the spectrum are more likely to use Truth Social, another new social media platform created by Trump Media and Technology Group.
The future of Twitter remains to be seen, but if your nonprofit uses it regularly, it may be worth creating an account on an alternative platform in order to avoid losing your audience in the event that Twitter becomes unviable.
Get Social Media Smart in 2023
Social media remains to be an invaluable tool for nonprofits to get closer to their audiences, share stories and encourage users to donate and volunteer. By keeping on top of these trends, you can build a better online presence, diversify your followers, and find out more about the people who support you.
Additional Resources
Top photo: Shutterstock
Image 2: WhatsApp