2020 was a wake-up call for many nonprofits seeking to modernize their digital communications as the pandemic permanently disrupted our sector. As we aim to kick off a successful new year in this new normal, it's time for nonprofits to set their communication goals for 2021 and beyond. It may be technologies you need to update on your website, communication processes you can automate, or new channels you need to explore to enhance your marketing efforts. Whatever your resolutions may be this year, take a peek at our recommendations below to maximize your fundraising efforts and impact in the new year.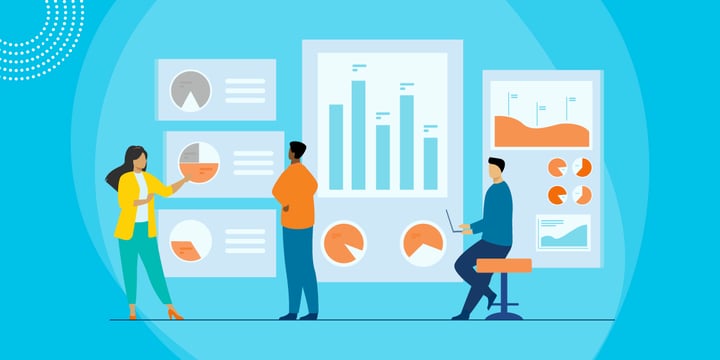 1. Grade Your Digital Marketing Efforts
Are your digital marketing efforts working? How do you measure up to industry best practices? What should you be doing differently in the new year?
Take TechSoup's free nonprofit digital marketing assessment to see how your organization measures up! In just minutes, you'll receive an overall grade on your nonprofit's marketing efforts and get valuable insights into what you can do to improve your digital footprint in 2021.
2. Map Your Customer Journeys
As you revisit your nonprofit's target audiences, such as corporate funders, community members, and advocates, level up in 2021 by creating constituent road maps. To get started, write out every interaction your audience has with your nonprofit across all of your touchpoints, such as your social media, website, mobile app, and events. This will help you to visualize how those engagements drive your target audiences through your desired action steps. Then you can audit your current marketing plan and fill in the content and messaging gaps along the journey to nurture your audiences into lifelong donors and advocates. Need expert guidance? Order the TechSoup Digital Marketing DIY Kit.
3. Stay on Top of Google (SEO)
Organic search is responsible for 53 percent of all site traffic. Google updates its algorithm frequently to improve user experience, which is a good thing. This year, challenge yourself to really stay up to speed with those updates. This means keeping your content at the optimal quality to make Google's search engine happy so more supporters find you. To get off on the right foot in 2021, reorganize your blog posts into content pillars and clusters.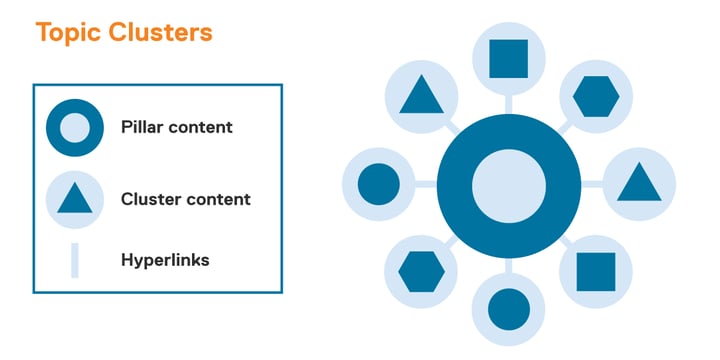 For example, If you are a diabetes organization, a pillar topic blog post may be about diabetes resources. The pillar post would be updated frequently, hyperlinking off to a cluster of interconnected diabetes resource articles you have posted, such as "nutrition," "exercise," and "caregiving." This will enable your nonprofit to secure more search traffic, because you'll have a larger pool of related keywords and phrases to be discovered that will increase the SEO value across your site.
In fact, TechSoup has two pillar pages: Nonprofit Fundraising and Social Media for Nonprofits. Take a look at these two great resources, both for the helpful information and to get inspired to make a pillar page of your own.
4. Upgrade Your Social Media Platforms
Social media marketing is no longer an option but is now a necessity for any nonprofit that wants to succeed in 2021. In the new year, social media will serve as a leading fundraising outlet, event registration tool, and community engagement platform for the majority of nonprofits competing in your sector. Fortunately, there are many affordable social media management platforms available to nonprofits to help. Here are a few of our favorites.
5. Embrace Video
People will spend 100 minutes a day watching online videos in 2021. Your New Year's resolution will be to effectively integrate video into your nonprofit's marketing mix. Social media is the best place to start. It's effective, easy to produce, and simple to integrate into your campaigns. Here are some new and effective ways to get started.
Zoom. Zoom can be one of the best and most useful tools in your video marketing arsenal to educate your audiences and train your advocates. With Zoom, you and your team can record and capture content that you can later use in different marketing channels. Start recording and marketing your zooms.
Facebook Live. It's no mystery why Facebook Live is so popular with nonprofits. Streaming videos see three times the engagement of traditional videos shared on Facebook. Facebook is a great platform to supplement your live and virtual events to drive fundraising. Learn how.
Instagram Reels. Reels is a new content format for Instagram that allows users to create and share short-form video content to followers in a new dedicated feed. Instagram Reels is the perfect way to share your nonprofit's story to raise awareness and engagement.
TikTok. TikTok is a short-form video-sharing app that allows users to create and share 15-second videos on any topic. It is used by 300 million users. TikTok is poised to become the next go-to platform for nonprofit organizations that want to boost online donations and engagement rates with Gen Z and millennial audiences in 2021. St. Jude Hospital has over 2 million viewers of its TikTok page alone.
6. Stay in the Know
Don't wait until next year's 2022 New Year's marketing resolution blog post to stay up to date on all of the latest tips, tools, and trends. Register today for a TechSoup course in 2021. Here are just a few free and affordable marketing courses for you and your team to consider.
While you are at it, bookmark TechSoup's webinars page and commit to attending one marketing-related webinar each month as well.
Want to take your online education to the next level? Visit our Website Services and Digital Marketing Services pages to request a consult to make 2021 your best year ever.
About the Author
Joseph DiGiovanni is the co-founder of Tapp Networks, LLC. Tapp is a mission-driven digital innovation agency that serves nonprofits worldwide seeking to accelerate their social impact through the latest advances in marketing technology.
Additional Resources