GivingTuesday is "a global movement that reimagines a world built upon shared humanity and radical generosity." In 2020, 34.8 million people participated, a 29 percent increase over 2019. The next GivingTuesday takes place on November 30, 2021, and although the movement has a reputation for bringing in a high number of donations, there are many other ways to encourage social change. With the obvious highlight of fundraising success, how else can we leverage the movement to promote and demonstrate generosity in our communities?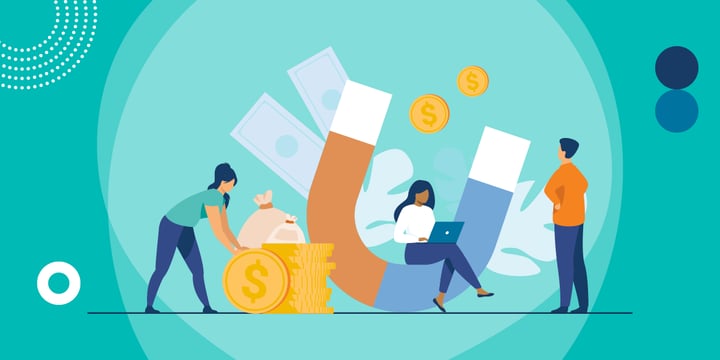 GivingTuesday offers many different resources, aside from the typical fundraising campaign strategies. There are a variety of ways to participate in GivingTuesday, and we've compiled eight useful GivingTuesday resources to help you promote generosity and social change in your community.
1. How to Set GivingTuesday Goals
Before your organization participates in GivingTuesday, establish SMART goals related to your campaign.
If you're not familiar, SMART goals are
Specific
Measurable
Attainable
Relevant
Timely
Woodrow Rosenbaum, GivingTuesday's chief data officer, breaks down some tips on establishing the best SMART goals to give your team and supporters something to rally around.
2. How to Create Accessible and Inclusive GivingTuesday Campaigns
Many organizations now run their campaigns entirely online, and with that, it's important to make sure your content is accessible to all when spreading the word of your cause. Presented by Access Living and Mightybytes during the GivingTuesday 2021 Summit, the following video demonstrates how to bring accessibility and inclusion into your communications workflow. Presenters show tips to make your social media posts accessible to all, how to alt tag and use image descriptions, and how to evaluate accessibility in all parts of a user journey. Check it out.
3. New Ways of Volunteering: Giving Back in the Time of COVID
The last few years have been challenging across the globe for many reasons, but that has not stopped the motivation to do good in the communities around us. In fact, passionate givers stepped up to contribute their time to help establish a better, more equitable world. Laura Plato from VolunteerMatch led a session during the GivingTuesday 2021 Summit on creative ways to offer your time on GivingTuesday, rather than your money.
4. 280 Characters of Good: How Activists, Community Organizers, and Changemakers Use Twitter to Mobilize for Change
Twitter has an advertising audience of over 353 million users and is expected to grow 2.41 percent in 2021. In this replay from the GivingTuesday 2021 Summit, London Lee and Lauren Devoll from Twitter show how to use the platform to build a successful movement, connect with other changemakers, and create a strategic and successful GivingTuesday Twitter campaign.
5. How to Give Your Skills for GivingTuesday (and Beyond)
GivingTuesday has a big focus on fundraising, but how else can we promote and demonstrate generosity? Kimberly Swartz and Joshua Gross from Taproot Generosity discuss ways to give your skills and your expertise to a cause that matters to you, rather than the typical money donation. Check out how to contribute pro bono on GivingTuesday.
6. How to Use the Power of GivingTuesday to Mobilize Entire Communities
In another session from the recent GivingTuesday 2021 Summit, Celeste Flores, communities lead for GivingTuesday, shared how geographic and cause-based communities are using the GivingTuesday movement to inspire their networks to create change at the local level. Watch how to use the power of GivingTuesday to mobilize communities.
7. Using Data to Power More Generosity: Insights from GivingTuesday's Data Commons
It's crucial to be able to both understand and interpret the data you have. The GivingTuesday Data Commons goes deep into last year's data to learn and better understand the fluctuations in, and drivers of, generosity during a challenging year. Watch the replay for possible risks, as well as opportunities for organizations moving forward.
8. GivingTuesday's GivingLab
By gathering data and insights from academic sources and data platforms, GivingTuesday's GivingLab offers a hub of international research on generosity, volunteerism, behavior science, movement building, and trends in giving. Use this hub to search through white papers, insights, and data on everything related to generosity, giving, fundraising, and creating social change globally.
Learn More
There are hundreds of ways that organizations and individuals can get involved and make a difference during this year's GivingTuesday. Learn more about the different ways other nonprofits participate in the biggest giving day of the year.
Top photo: Shutterstock