When it's time for new technology, cost is one of the first things that comes to mind for most nonprofits. It can be a real balancing act. You want to get the right technology to help your organization work more efficiently and achieve your mission. But you don't want to pay for software that you don't need or face unexpected costs down the road.
The good news is that by using a few proven techniques, you can help to ensure that you don't spend more than you should on your nonprofit's technology.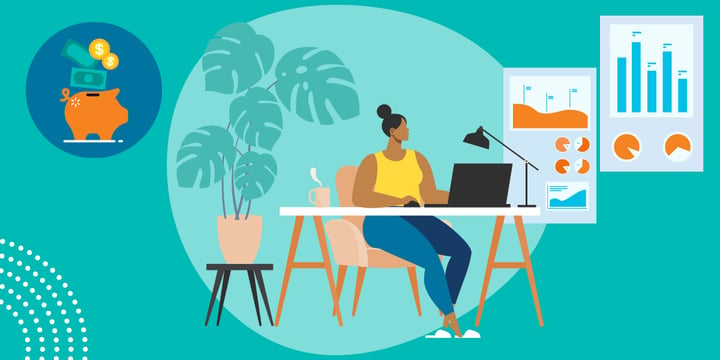 Here are nine effective ways to get the technology you need without overspending.
1. Take a Deeper Look at Fewer Products
You might start with a long list of potential products that you think fit your needs — and that's okay at the beginning. But pricing structures vary from product to product, making it tough to accurately compare a large number of options. It's best to quickly narrow your options to two or three. This will allow you to carefully evaluate the price of the new software you're considering, including fees for licensing, transactions, implementation, training, and support.
2. Have Your Nonprofit's Numbers Handy
As you evaluate the cost of each product you're considering, be sure to arm yourself with relevant details:
Number of users
Number of contacts
Number of donor transactions
Value of donor transactions
Data storage needs
You should ideally know what these numbers are today, but also have an idea of how they might change over the next three to five years. Having these numbers in hand will help you more accurately evaluate the cost of the software over time. For example, you might find that a product looks like a great deal today but will end up being the highest-priced option over time because growth in your user or transaction needs will bump you into a much higher price tier.
3. Don't Purchase Licenses You Don't Need
Different software vendors have different approaches to software licensing, and many even offer a discount if you purchase licenses up front. But this is only a bargain if you eventually use the licenses; otherwise, it's wasted dollars. In most cases, it is more cost-effective to pay for only the licenses you need today and then add licenses as you need them.
4. Watch for Hidden Costs
You probably expect to pay fees for software licenses, implementation, and training for your new software. But be sure to ask the software vendors you're considering about other costs:
Pricing tiers for user licenses, contact records, transactions, storage, etc., that would increase your costs as your use of the product grows
Add-on fees, such as advanced support or overage fees
Associated costs, such as a server that might run on-site at your organization
Potential ongoing costs, such as product upgrade fees
5. Know When Your Existing Software Contracts End
Create a list of any contracts you have for software that will be replaced by your new technology and list the end date for each one. Use this information to help time the implementation and rollout of your new software so that you minimize the amount of time you're paying for both products.
6. Invest in Implementation Planning
If you're about to start a major technology project, it can be helpful to work with a third-party technology services firm to help you define and understand what tools will be put in place and the timing for the implementation before you get started. While this can seem like an added cost, it could save you money and staff time because you can lean on the experience of the services firm.
7. Don't Be Afraid to Negotiate
Some software vendors will adjust pricing to win you as a customer. So, be sure to ask for concessions that are most important to your organization. For example, if you expect a large number of transactions in the next year, you might ask for a small reduction in the per-transaction fee that will make a big difference to your organization. Or, if you anticipate adding a few staff members in the coming months, which would push you into the next band of licensing fee, ask for the lower-band price.
8. Consider the Cost of Doing Nothing
Remember that if the technology systems you are using today aren't working for you, they're costing you in time, productivity, and lost opportunities. As long as you take the time to plan and evaluate new software carefully before making a purchase, your organization will almost certainly benefit from your new technology without spending too much.
9. Plan Across Departments
It's not unusual for departments in an organization to make independent technology purchases to address their needs. The problem with this approach is that it often results in overlapping functionality, meaning your organization pays for the same functionality, implementation, training, etc., multiple times with multiple product vendors. It can also lead to a lack of technology integration, which can incur more costs when these multiple systems need to work together.
A more cost-effective approach is to create a comprehensive technology plan that serves the entire organization. This approach can help you address cross-functional processes before purchasing and thus create a more efficient system. And you don't have to implement the entire plan at once. You can implement it in phases to fit your schedule and budget.
Making the move to new software for your nonprofit doesn't have to drain your bank account. With the cost-saving techniques in this article, you can make the move to new technology that meets your organization's needs without overpaying.
The TechSoup catalog contains a wide range of donated and discounted technology offers. You can also access IT help, training courses, and consultations to help you plan and implement technology changes at your organization.
About the Author
Jett Winders works collaboratively with nonprofits to map their business needs to technology tools so that they can deliver their missions more effectively and raise money more efficiently. Heller Consulting has been focused on helping nonprofits with their technology since 1996. After working with over 1,500 nonprofits around the country, one thing hasn't changed — our passion for helping clients utilize the right technology strategies and systems to significantly expand the impact of their vital missions.
More Resources to Help You Plan for Costs
Top photo: Shutterstock