Every nonprofit organization has an important story to tell, but how can they tell that story effectively? How can nonprofits use digital storytelling to create effective campaigns? What strategy is right for your nonprofit? Over the three days of Lights, Camera, Take Action! — TechSoup's first digital storytelling mini-conference — we were joined by industry leaders who showed us how to build a strategy, use the right tools, and execute successful digital storytelling campaigns.
Read on for a video replay and breakdown of each session. Although the event is over, the content remains very relevant and helpful. We hope you and your nonprofit will watch these expert-led sessions and be inspired to create some great content of your own.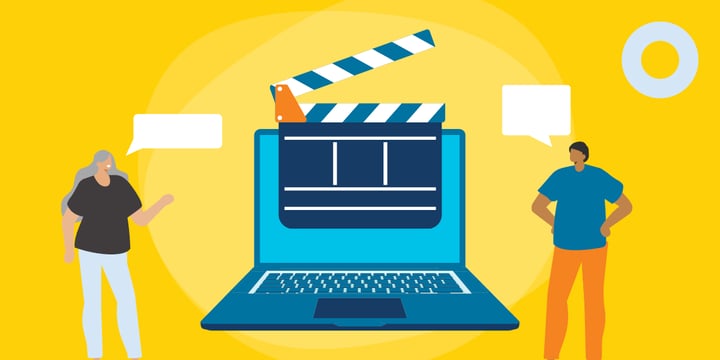 Day One
We covered a lot on the first day, from a high-level overview of producing impact videos to how to best use TikTok at your nonprofit. We also hosted a panel of experts who discussed the importance of raising awareness while maintaining the privacy of vulnerable populations.
Learn How These Game-Changing NGOs Tell Their Global Impact Stories Using Video
In our first session, Shivan Sarna of Storyhunter showed us how to approach video production to create compelling and authentic stories. She showed us everything from the practical bits like budgeting to finding the right talent.
Why TikTok for Nonprofits?
Brett Peters of TikTok demonstrated how nonprofits are using TikTok to propel their mission. Brett shared inspiring examples of how to use TikTok in an engaging way to tell your nonprofit's story.
We weren't able to record the TikTok session, but Brett shared his slides and a template to help you create educational content.
Using Live-Streaming to Tell Your Digital Stories
Live-streaming expert Samantha Barnard of Phambano, TechSoup's partner in Southern Africa, led the third session of day one to teach us how to use live event broadcasting for nonprofits. Sam tapped into her nonprofit experience and shared tools and techniques for being in the live-streaming spotlight.
Fundraising Stories That Protect Vulnerable Populations
We closed the first day with an extraordinary panel of individuals who are deeply familiar with vulnerable populations, moderated by Marie Zemler Wu, executive director of Foster America. The panelists were
Using their experience with the foster care system, they guided us through techniques of masterfully telling powerful stories and raising money for causes, all while protecting the privacy and data of vulnerable people.
Day Two
On day two, we focused on tools to gather authentic impact stories directly from your members, design tips for "nondesigners," and how to use project management tools to keep your video productions on track.
Micro Storytelling with Video from Your Members
It can be difficult to get impact stories directly from our members, so we invited representatives from app developers Tribute, MemoryFox, and Gather Voices to demonstrate how nonprofits can collect grassroots stories and make their storytelling campaigns seamless and easy!
Tribute Demo
MemoryFox Demo
Gather Voices Demo
Design for Nondesigners
You aren't a designer, but you still need to communicate visually. Veronica Belmont of lead event sponsor Adobe taught us design for "nondesigners." Veronica walked us through creating engaging and creative social media graphics and presentations — all using the core skills of proportion, color theory, and typography.
How to Increase Your Impact with Asana
We wrapped up day two with Silver Sponsor Asana's Mark Arnoldy. Mark showed us how Asana can support critical functions within your nonprofit and what the associated costs are. Mark provided tips and tricks for more experienced users of Asana and provided additional resources for us to take full advantage of Asana.
Asana for Nonprofits seeks to accelerate nonprofit sector impact with Asana's product, people, and services. Nonprofits receive a special 50 percent off pricing and help to improve efficiency, connectivity, and visibility.
Day Three
On our final day, our experts shared even more knowledge on the fundamentals of effective and impactful storytelling, as well as how to create videos specifically for crowdfunding campaigns.
From Projects and SMARTs to Storytelling and Personas
We started our final day with Hubert Sobecki, the co-president of Love Does Not Exclude Association. Hubert used his experience and knowledge to explore the key elements needed to create stories and narratives for your nonprofit that will truly engage and connect with the audience.
Storytelling for Crowdfunding Campaigns
How can you make your next crowdfunding campaign a success? Candace Cody of CauseVox showed us how to expand our campaign reach and boost our donations. From tips on writing a compelling crowdfunding appeal to video storytelling tips that will grab attention, Candace showed ways to engage your audience to share your story.
Why This Story, Why This Story Now: The Art of Impactful Storytelling
Rob Kershaw and Allison Myers of StoryCenter wrapped up Lights, Camera, Take Action! with an excellent interactive session on the art of impactful storytelling. Rob and Allison revealed techniques for uncovering shareworthy stories, and attendees learned how to use story prompts to elicit better narratives from the people they impact!
Thank You
TechSoup extends a huge thank-you to everybody who attended and engaged with us over the three days of Lights, Camera, Take Action! Stay tuned for more webinars and events coming from TechSoup. An extra special thanks to our sponsors Adobe, Asana, CauseVox, and Storyhunter. Their critical investments in ensuring that the nonprofit sector has the digital skills to succeed have enabled TechSoup to deliver these workshops.
Top photo: Shutterstock