Among the many environmental changes we face today, proper disposal of electronics and other technologies has become a priority for nonprofits, technology organizations, and local communities alike. In response, many organizations, including TechSoup, have developed initiatives to support waste diversion through electronics reuse.
In 2006, TechSoup developed the Refurbished Computers program (formerly known as the Refurbished Computer Initiative) to address growing concerns about waste diversion and technology access. The aim of this new program was simple: facilitate distribution of reliable, warrantied desktop and laptop computers to U.S. nonprofits at the lowest possible cost. The program offered a solution to two distinct and pressing issues: the necessity for proper waste diversion of electronics, and access to technology for nonprofits and underserved communities.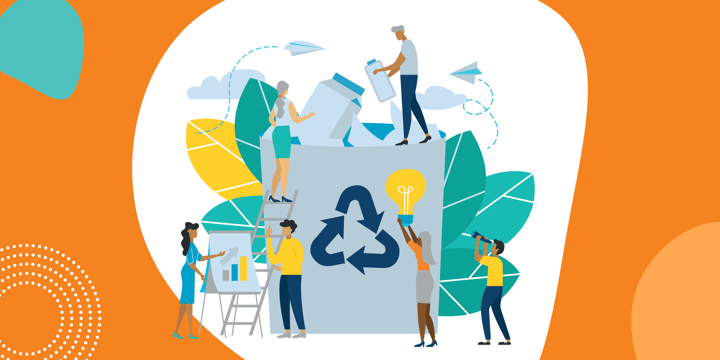 This program was made possible, from its humble beginnings to its current leadership in the field, because of one pioneer committed to addressing equity and sustainability: Jim Lynch, who has been a member of the TechSoup organization since 1995. Jim carefully developed the Refurbished Computers program at TechSoup, creating a foundation for years of impact.
In addition to the Refurbished Computers program, Jim has made a name for himself in the larger electronics reuse field. Over the years, Jim has been a part of organizing efforts for electronics recycling and reuse conferences in the U.S., Europe, and Africa. One such conference is the Electronics Reuse Conference, which he co-founded in 2006.
A Hub for the Best and Brightest in Electronics Reuse
The Electronics Reuse Conference is the sole computer and electronics refurbishment conference in North America. Every year, the event brings together leaders in the field to discuss, build relationships, and plan strategies for innovations in electronic reuse programs and digital inclusion.
The conference also highlights achievement in the field of electronics reuse through a variety of awards that are given out each year, including one in recognition of the most significant e-reuse leader of the year. The Jim Lynch Hall of Fame Award is built from Jim's legacy as an example of what an e-reuse professional should aspire to be, and demonstrates the continued need for innovation in this field.
Previous winners include a variety of e-reuse leaders who are innovating on existing systems to continue to address changing needs. Most recently, Shauna McCaffery, executive director of Renewed Computer Technology (RCT), was awarded the prize in recognition of her reuse work in Ontario, Canada. Shauna and her team work alongside Computers for Schools Canada. CFS has refurbished donated computers and distributed them to schools, libraries, not-for-profit organizations, indigenous communities, and eligible low-income Canadians across Canada for the last 25 years. RCT, which Shauna heads up, is the largest program in the CFS network.
At the Intersection of Environmentalism and Humanitarianism
Leaders in the electronics reuse community like Jim Lynch and Shauna McCaffrey represent both the legacy and the continued relevance of electronics refurbishment as a tool for digital empowerment.
"A lot has changed in my years in the electronics reuse field," says Shauna, "Not-for-profit organizations were not recognized as part of the recycling industry when I started in 2006, and there were no standards in that industry for doing recycling and refurbishment reputably." Today, Shauna is able to engage a wide network of organizations in order to support her community in accessing powerful technology.
At TechSoup, the Refurbished Computers program has enabled Jim to achieve his goals of supporting responsible environmental practices while aiding communities in need. "As someone passionate about the environment and the humanitarian work of charities and libraries," Jim tells us, "the Refurbished Computers program was a way for TechSoup to serve both missions. And for me, being able to do this work has been a dream come true."
Using Innovation to Build a Sustainable Future
The global community continues to grapple with environmental issues and strategies for maintaining a sustainable future. Electronics refurbishment and remanufacturing programs have become essential for alleviating some of the waste burden that has accumulated as a result of these new challenges.
TechSoup continues to develop new programs to address these pressing environmental issues, and the Refurbished Computers program has been at the forefront of this effort. According to the EPA Electronics Environmental Benefits Calculator, the environmental impact of this work is now equivalent to saving the electricity needed to power over 2,000 U.S. households for a year. At TechSoup, we look forward to continuing to enable a global community of pioneers for environmental change to address the most pressing needs for our Earth, and those who are a part of it.
Additional Resources: Refurbished Computers