The Creative Cloud All Apps plan is Adobe's collection of desktop applications, mobile apps, and services for designing and publishing graphics, videos, audio, and printed content. It's packed with industry-standard solutions for those with experience working in these creative mediums.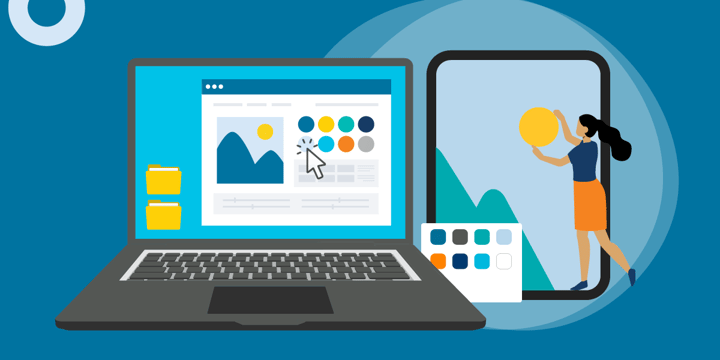 In December 2021, Adobe launched Adobe Express. Express is a quick and easy-to-use app that requires much less expertise than many other Adobe solutions, available as part of the All Apps plan. It produces professional-looking, branded visuals that are ready to share in digital and print, bringing the basic features of Photoshop, After Effects, and Acrobat Pro into a beginner-friendly platform.
Here, we'll lay out the key defining features of each solution, helping you to decide whether to take the plunge with the Creative Cloud All Apps plan or go with the nimble and user-friendly Express app.
What's the Difference?
Adobe Express is a standalone application, and it is included in the Creative Cloud All Apps plan. It's an online and mobile app that you can use to create and edit graphics, PDFs, photos, videos and more. It includes plenty of templates, access to Adobe Stock photos, and easy-to-use editing tools. It is the perfect solution for teams that are low on time and expertise but want to create professional-looking graphics in line with their brand.
Adobe Creative Cloud is a collection of creative design applications. Adobe's All Apps plan includes Photoshop, Illustrator, Premiere Pro, After Effects, and more, and you can harness all of these tools to bring to life pretty much any creative vision. From video and audio content to social media graphics, booklets, and other printed materials, Creative Cloud has highly professional tools to help you create stunning visuals.
Weighing the Options
Before you decide which Adobe solution is right for your organization, think about what you'll be using the tools for, how you'll share your visuals, and how much editing power you need. Adobe Express is an all-in-one option, meaning that you will produce work faster; however, you'll have more control over the results by using a variety of Adobe apps for their specialist purposes. You'll also want to consider the level of expertise you have on your team, as tools like Photoshop and After Effects can require some experience in order to use them effectively. Finally, think about how much money and time you have to invest in creative tools.
In short, Adobe Express is available as a donation to nonprofits and is more accessible for teams without graphic design or editing experience. It provides professional-looking, easily shareable results. The Creative Cloud All Apps plan is more of an investment (although nonprofits get a discount), includes a much wider range of applications, and gives much more control over what you create.
Common Features
Adobe Express is available on its own, but it's also available in the Creative Cloud All Apps plan. If you're short on time and budget, or don't have an expert on your team who can really make the most of the more complex Creative Cloud tools, Express is likely the right choice for you. It's a great steppingstone that can produce brilliant graphics without the need for intricate knowledge.
If the blank page overwhelms you, then the templates available through Express can help you to push through that initial creative block and help you to get to the end product more quickly. You can also export your designs in whatever format you choose or schedule them to publish on your social media accounts straight from the app.
Express includes collaborative features that allow you to share designs with your team, comment on them, and edit together. This is also a time-saving element that allows you to have everyone weigh in without downloading and sending the current design every time.
Adobe Express is also the more affordable option, as nonprofits can get access to the Premium version for free. So, if you lack the budget to invest in Creative Cloud, or the expertise to really make the most of it, but still want to produce eye-catching graphics, Adobe Express is likely the right choice.
Features Exclusive to Adobe Creative Cloud
Outside of Adobe Express, Creative Cloud includes a range of extremely powerful apps. The All Apps plan bundles the best software in the industry for photo editing, graphic design and illustration, video and audio editing, and more. It's the industry standard used by professionals in all creative industries. It also includes specialized apps like XD, which helps you to design experiences for websites, games, and apps, and Character Animator, which helps you to use your own expressions to animate characters in a video.
These apps work seamlessly with one another, which is an advantage if you're building coordinated campaigns across social media, videos, web pages, and printed materials. For example, Illustrator is a graphics editor for professional artists and designers. You can create design elements and dial in your branding here and then use those designs across your campaigns. Drop illustrations straight into InDesign if you're designing posters, e-books or printed items, or into After Effects to make them into motion graphics for your videos.
If you have in-house expertise in the Creative Cloud apps, and the need and capacity to create sophisticated marketing materials from scratch, then you might benefit from investing in Creative Cloud. Note that the All Apps plan does include Adobe Express, so you'll also get access to all of the benefits we mentioned above.
Comparing Adobe Express and Adobe Creative Cloud
| | Adobe Express | Adobe Creative Cloud |
| --- | --- | --- |
| Create visual, audio, and video content | X | X |
| Collaborate with colleagues in-app | X | X |
| Use templates, design elements, and stock photos to build designs | X | X |
| Incorporate your organization's branding, logo, and colors | X | X |
| Remove backgrounds on photos | X | X |
| Animate text | X | X |
| Use the specialist capabilities of different apps | | X |
| Use Lightroom's presets and granular adjustments to edit photos | | X |
| Design and publish books, magazines, and interactive PDFs, incorporating elements from other Creative Cloud apps | | X |
| Design visual elements from scratch | | X |
| Create virtually signable PDFs | | X |
| Create motion graphics, original animations, and expressive animated characters | | X |
| Make use of industry-standard video editing tools, suitable for social media posts all the way up to feature-length films | | X |
| Create and mix sound effects for videos or podcasts | | X |
| Design websites, games, and apps | | X |
How Much Do Adobe Express and Creative Cloud Cost?
The free version of Adobe Express is free to all consumers. The premium version, which is the one described in this post, is available to nonprofits as a donation through TechSoup.
There are two licensing structures to choose from when you access Creative Cloud through TechSoup. If you opt for Creative Cloud for Individuals, you'll get at least 60 percent off the market rate for your first year, and at least 40 percent off in subsequent years. Alternatively, you can choose the Creative Cloud for Education offer, which gives you at least 50 percent off the retail price for as long as you continue paying for the subscription. You don't need to be part of an educational organization in order to access this offer.
Choose Your Solution
Adobe Express and Creative Cloud will both produce high-quality results that can be shared across platforms in order to promote campaigns, educate supporters, or create a better user experience on your website. Which one you choose will depend on the level of expertise in your team, as well as what you need the tools for.
Additional Resources
Top photo: Shutterstock