Adobe Express harnesses the power of Photoshop, Acrobat, and Premiere in an easy-to-use app, allowing you to build beautiful social media or website content, videos, posters, flyers, or any other visual. It offers templates, customizable design, and easy sharing options to those without graphic design experience. If you want more agency over the look and feel of your graphics without the need for designer-level expertise, then Express could be the perfect solution.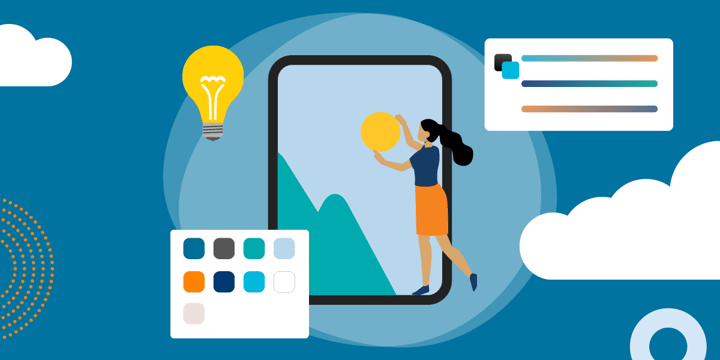 The free version of Adobe Express is available to anyone, but the Premium edition offers more flexibility, better branding, and increased sharing and collaboration options — and it's available as a donation to TechSoup members.
Getting Started
Adobe Express offers a library of templates to get you started. These can help you to create professional-looking images and videos, even without having a designer on your team. You can browse templates for social media posts, flyers, posters, and banners and adjust each one to suit your brand and purpose.
Adobe Express Premium gets you access to thousands of fonts and over 160 million royalty-free photos from Adobe Stock. These can provide a great starting point or design element if you don't have professional photos of your own, and you won't need to worry about copyright. You can also use the Adobe Express app on a web browser or mobile device, helping you to edit on the go.
Design and Customize
Once you've chosen your template, there are a wealth of ways to fine-tune it. You can import your nonprofit's colors and logo so that your graphics are always on-brand and then add or remove design elements as you see fit. You can also explore editing tools such as animation, cutting out and removing backgrounds, and making use of curved type and other text effects. If you're working with video, you can easily crop, resize, reverse, and merge your clips and trim them to the perfect length.
The Express app is designed for collaboration, allowing you to work together with your team, volunteers, or stakeholders. You can also share libraries of graphics with your collaborators. If you ever outsource visuals, this sharing feature makes it easy to share graphic elements, logos, images, and other resources with your designer.
Save and Share
Adobe Express Premium gives you 100 GB of storage, which is more than enough for most nonprofits. It also allows you to convert graphics to PDFs and other file types, and your videos to GIFs, so you can share them in whatever format you choose.
You can also plan, schedule, and publish your images straight to your social media accounts from Adobe Express. This can help you to save your staff time and avoid losing quality on your images, ensuring that your followers see your graphics at their best.
Try Adobe Express
Adobe Express can help you to raise the quality of your nonprofit's graphics. Import, design, and animate the perfect visual that shows your branding and message in the best light. You can use it to collaborate with others, be inspired by a library of images and fonts, and share straight from the app.
In partnership with TechSoup, Adobe offers nonprofits a donation of its Adobe Express Premium plan. The offer provides you with a one-year membership for an individual, and nonprofits can request up to 10 memberships per fiscal year.
Additional Resources
Top photo: Shutterstock