This post is republished with permission from the Center for Disaster Philanthropy. It was originally published on August 15. See CDP's What We're Watching page for news on the status of disasters worldwide, along with relevant disaster-related media coverage.
---
The island nation of Haiti has been dealt yet another devastating blow.
While details are still emerging, we know that an M7.2 earthquake struck the southwest of Haiti early yesterday morning. Based on the similarities between this earthquake and the destructive quake in 2010, the damage from today's earthquake is likely to be similar. Furthermore, Tropical Storm Grace is heading directly toward Haiti, expecting to land on the island of Hispañola (home to Haiti and the Dominican Republic) on Monday or Tuesday. Add to these events the recent assassination of President Jovenel Moise, and the situation in Haiti is not just concerning; it is catastrophic.
In the United States, disaster giving is quick and largely reactive. We know that within a month following a disaster, over a third of private giving is complete. Within two months following a disaster, over two-thirds of private giving is complete. Sadly, our data show that by six months following an event, all private giving stops.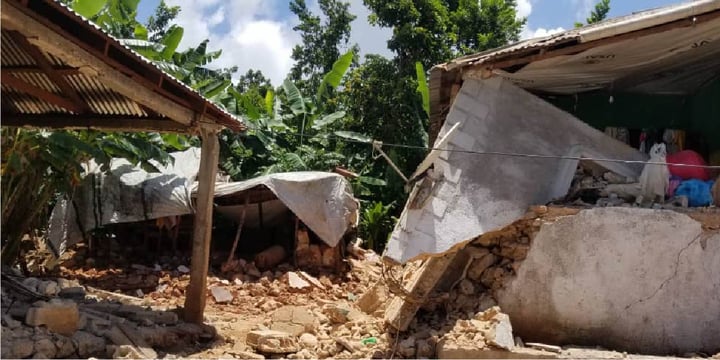 Recovery takes years.
Disaster recovery is the process of improving individual, family, and community resiliency after the disaster. Recovery is not only about the restoration of structures, systems and services — although they are critical. A successful recovery is also about individuals and families being able to rebound from their losses and sustain their physical, social, economic, mental, emotional, and spiritual well-being.
Haiti was still recovering from the earthquake that struck the nation 11 years ago when yesterday's earthquake struck! In 2015, The Correspondent wrote, "At the peak of the humanitarian response, over 10,000 aid organizations were active in Haiti — that's one for every 900 people. Exactly how many, no one knows. The result was chaos: redundant efforts, competition, a lack of coordination, oversight and accountability."
My plea for philanthropy is to use the muscle memory that we have gained since that 2010 earthquake struck.
Take the long view. Even while focusing on immediate needs, remember that it will take some time for the full range of needs to emerge. Power loss, transportation outages, and flood-damaged homes may be top of mind, but it takes a while to truly understand the impact that the disaster has had on people's lives. Be patient in planning for disaster funding. Recovery will take a long time, and flexible funding will be needed throughout.
Recognize there are places private philanthropy can help that government agencies might not. With the increase in extreme weather events, governments cannot fully fund recovery. Therefore, private funders have opportunities to develop innovative solutions to help with recovery efforts and to prevent or mitigate future disasters that the government cannot execute.
All funders are disaster philanthropists. Even if your organization does not work in a particular geographic area or fund immediate relief efforts, there are ways to align disaster funding with your existing mission. If you focus on education, health, children or vulnerable populations, disasters present prime opportunities.
Support the sharing of best practices. Florida, for example, has developed stringent building codes to mitigate destruction from hurricanes. Interested donors could help support the transfer of expertise from one region to another before the next disaster occurs. Other areas for best practices research and sharing include efforts to coordinate volunteers and the distribution of supplies.
Connect with other funders. Collaborative philanthropic response to the disaster leverages combined expertise and maximizes the value of the human, financial and technical resources donated. The Center for Disaster Philanthropy (CDP) works closely with community foundations, regional associations, funders and responding nongovernmental organizations (NGOs) to share trustworthy information and analysis.
Look to past disasters for guidance. There are often lessons learned that could be used to create better policies and procedures. Consider funding disaster risk-reduction research or projects that could inform more effective disaster preparation and response policy.
We have launched the CDP Haiti Earthquake Recovery Fund to support the medium- and long-term needs of earthquake-affected people and communities. Our Funds are driven by humanitarian principles and focus on ethical and responsible philanthropic response to any situation. Our expert team of grantmakers will steward every dollar with care and sensitivity.
Photo courtesy of CORE