If you are involved in fundraising, part of your plan needs to involve disaster preparation. That's because when disaster strikes, you need to spring into action, share timely information with concerned constituents — and reach out for financial support if necessary.
Leila Pitchford of The Advocate, a newspaper based in Baton Rouge, Louisiana, recently shared information from the Better Business Bureau for potential donors, on the heels of Hurricane Laura.
"Beware of charities that spring up overnight. Investigate before you donate. Do not be pressured into making a donation right away. Legitimate charities will take your donation today, tomorrow, or next month. Don't provide personal or financial information, like your Social Security number, bank account numbers, or credit card information to just anyone who solicits a donation. Make sure they are reputable first." (September 1, 2020)
What does this suggest for nonprofit fundraising staff? What can you do to ensure that your nonprofit presents itself as a trusted institution? Let's take a look at a few best practices for nonprofits that find themselves needing to fundraise in the wake of a disaster.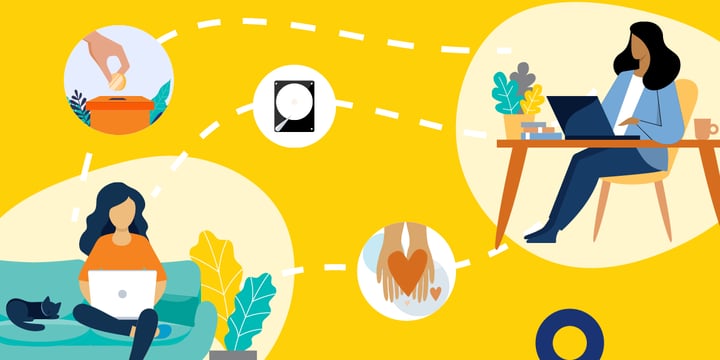 Establish a Meaningful Presence Online
Your website is your nonprofit's digital "front door." Make sure it inspires confidence. It should also be optimized for mobile device viewing. Your website's text should be grammatically correct, and its design should be easy to navigate. Be sure your mission statement, organizational history, and contact information are easy to find, as well as the names of key staff members and those of your governing body. These measures help ensure that potential donors can cross-reference through other sources, like LinkedIn profiles, that the website they are viewing truly is yours (also make sure that key staff members have updated LinkedIn profiles with your organization information).
Your website and your social media presence keep your organization's heart beating online. Keep them updated regularly, especially if a disaster occurs. Do not allow visitors to get the impression you are not paying attention, as they will no doubt be hungry for status updates. Today, Facebook should be one of your primary social media outlets. With that in mind, officially "verify" your page with Facebook before disaster strikes. This will help establish your credibility online.
You should also claim and update your GuideStar profile so all your contact information is current, and consider securing one of GuideStar's Seals of Transparency, which are completely free for nonprofits. GuideStar (Candid) uploads the Form 990 tax returns of all nonprofit organizations in the United States. Why not claim your profile, flesh it out as fully as possible, and activate the "donate" button? And, if for some reason you do not have a gift processing function available when disaster strikes, you can activate a "donate" button on your website that directs donors to GuideStar for that purpose. Keep in mind, "claiming" your GuideStar profile is free of charge. The more information you share, the higher level "seal" you attain. Once your profile is complete, download the seal packet GuideStar will share with your designated representative and place the new seal on your website.
Ensure the Security of Online Donations
Have you set up electronic funds transfer (EFT) to your nonprofit bank account for convenient and secure grant and gift transfer? Many grantmakers prefer electronic transfer — bank to bank — rather than sending hard-copy checks via ground mail services.
Do you have an online gift processing platform in place and linked to your bank account? Have you placed the DAF Direct (donor advised fund) "widget" on your website, so donors wanting to contribute via their donor advised funds may do so with ease? When deployed in advance, these simple measures can save the day when disaster strikes. Do not be caught off guard, scrambling to implement these measures at the last minute. By allowing donors to give securely and quickly online, you both avoid ground delivery services that may be temporarily incapacitated during emergencies. And you will receive your much-needed donations more quickly.
I have found most reputable gift processing software platforms allow users to create donation forms in advance and store them until needed. Why not create a special disaster donation form you can access quickly and install on your nonprofit website at the necessary time? And when you create the form, be sure to affix your logo and organizational information to the top to ensure that when donors click on the link, they have confidence it truly is your nonprofit requesting support and not an imposter.
This brings to mind the need for cross-training when it comes to website management. If you contract out for website management and for any reason that service becomes unavailable, can someone on staff step in to do the basic work required in the event of an emergency?
Crowdfunding: Yes or No?
The Better Business Bureau frequently shares advice to help disaster response donors avoid scams. This includes crowdfunding, as some platforms can become opportunities for illicit solicitations. And the platform fees can be exceptionally high!
Some nonprofits and their supporters respond to a disaster with, "let's set up a GoFundMe page!" But should you? Why not post information on the front page of your website with a link directly to your predesigned disaster response form. Alert your well-meaning constituents to follow your lead before launching their own crowdfunding fundraisers. By thinking this through in advance, you can ensure security and raise money with integrity. I also observe that individual Facebook fundraisers — when tied to your "verified" Facebook page — are a secure form of crowdfunding.
If you are caught off guard during a disaster without online gift processing in place, focus donors on your GuideStar profile, where you can activate the donation button provided by Network for Good. But remember, if you want donations delivered electronically, you will need to make arrangements with them in advance.
Hard Copy and Cloud Security
I have worked with nonprofit organizations that maintain hard-copy documentation and correspondence dating back decades. They have stored these items in cardboard boxes in a closet in the office, or in a storage unit offsite. Ideally the most critical documents should be scanned and stored in the cloud as well as in hard copy. There are many great free and deeply discounted cloud storage options for nonprofits, including Box, Microsoft 365, and G Suite for Nonprofits. If you do have hard copies, make sure you store your historical documents in waterproof, fireproof containers in locations where they are secure from floods and fire.
Have you digitally scanned the crucially important hard-copy documents and uploaded them to the cloud for safekeeping? For encouragement to move your documentation into the cloud, read Cameron Jones' article for TechSoup, Why 2020 Is the Year to Consider Digital Transformation at Your Nonprofit.
Not long ago, I worked with a disaster-impacted nonprofit that lost boxes of major gift campaign documents in a hurricane flood. It took several weeks to recall the names of the donors who contributed to the most recent campaign, all by memory. TechSoup strongly recommends moving to a cloud-based CRM or donor management system so you're not reliant on paper documentation. Be sure your hard-copy fundraising documents are secure, and wherever possible, scan and store them in the cloud.
TechSoup provides a variety of cost-effective technology tools for nonprofits. It is free to sign your nonprofit up on the TechSoup website and to avail yourself of the many discounts provided. Follow this link to the product catalog online. In addition to discounts on cloud providers and software, you will find new and refurbished computer equipment that can replace your lost equipment. And if you need help developing your nonprofit's disaster plan, follow this link to the Disaster Planning and Recovery page on the TechSoup website. There you will find downloadable documents to use as needed. For more in-depth planning, consider taking the online TechSoup course, Disaster Preparedness for Nonprofit Organizations, created in partnership with the Center for Disaster Philanthropy.
Even if disasters seem unlikely, take the time to plan for fundraising in advance. You will shine among your constituents, fellow staff members, and board members when emergencies occur by your well-planned response. Always be prepared for the worst, and be thankful should you avoid disaster altogether.