Email marketing continues to be an important part of many nonprofits' outreach efforts. It is a way of delivering information and updates about your organization and nudging subscribers to support you. Constant Contact is an online marketing tool that helps you to scale and grow your outreach efforts using email and social media. It also includes some great automation features that can help you to win back some of the time you spend on email marketing and make better use of your engagement data.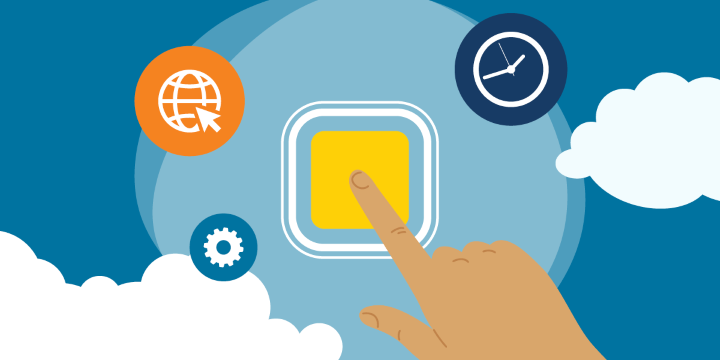 Note that some of the features mentioned here are only available in the Email Plus plan. You can see a breakdown of features in both the Email and Email Plus plans on Constant Contact's website.
Scheduled Messages
Scheduling messages for subscribers to receive is a great way of staying at the top of your contacts' mind. A welcome email and birthday and anniversary messages can build subscriber loyalty and provide opportunities for contact that feel more personal and less "salesy" that your standard newsletters (although you should send those too). According to Constant Contact, birthday and anniversary messages have a 12 percent higher open rate than a standard automated email.
Sending each and every subscriber a welcome email and keeping track of their birthdays and anniversaries would be quite a task. That's where email automation comes in. Using Constant Contact, you can collect birthdays on your subscription web form and store the subscription date. You'll then design a birthday or subscription anniversary email and set it to automatically send to your subscribers on their relevant date. You can do the same for a welcome email: Simply design the email you'd like new subscribers to receive and set it to be sent following a new subscription. Then, track the impact of your messages as they go out and fine-tune them over time to boost engagement.
Triggered Campaigns
Your subscribers will have different levels and types of communication that they are likely to respond to. Constant Contact can help you to send the right message at the right moment by executing a drip campaign, or triggered email campaign. First, you'll decide what your "trigger" will be for the campaign. It might be simply joining your email list, or you might decide to send a certain campaign to those who open an email or click on a link. You'll then create your series of up to 15 emails, designed to boost engagement, encourage donations, or move towards the goal you have for your email outreach.
Once you have activated your drip campaign, Constant Contact will do the menial work of sending each subscriber the correct emails over time. From that point, you can access reports showing how many contacts were sent each email and how many opens and clicks you got, which will help you to fine-tune your email drips in the future. This is a fuss-free way of giving contacts plenty of meaningful, tailored ways to engage with your organization.
You can also encourage non-openers by resending an email with a different subject line to those who didn't open it the first time around. This is a great way of reusing the same content to create as much impact as possible
List-Building
Constant Contact can help you grow your subscriber list in your sleep, simply by making sure you're marketing yourself in the right places. Create a brilliant sign-up form or lead generation landing page, get discovered on social media, and build engaging Google ads that reach the right people. This will help you to invite a group of engaged and interested subscribers into your world. You can also store relevant information about your subscribers, such as location, company name, and previous email engagement, and segment your subscriber list accordingly. This will help your drip campaigns become more tailor-made and effective.
Work Smarter, Not Harder
Constant Contact takes much of the tedious and menial work associated with email marketing off your hands. Once you have done the high-level work of creating email campaigns, you can stand back while subscribers receive your engaging and informative emails. As time goes on, you'll have access to data that helps you send exactly the right email, to the right person, at the right time.
Additional Resources
Top photo: Shutterstock