In 2021, the pandemic continued to upheave nonprofits worldwide. Executive directors had to rapidly accelerate their digital infrastructure and communications to survive. Email marketing leads the way as a tool to engage key stakeholders, funders, and communities.
It was an arduous learning period for nonprofit marketers across the globe. For the nonprofits that adapted, they saw an increase in membership and fundraising directly due to the power of email marketing.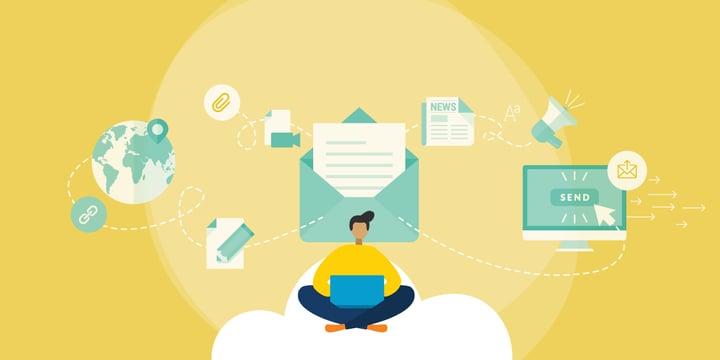 2022 will be the Year of Nonprofit Digital Transformation led by the integration of new email marketing strategies, tools, and technology into the marketing mix. In this post, we outline six 2022 email marketing trends that will transform nonprofits forever.
1. Email Digital Integration
Email marketers can now compile personalization data across their digital properties such as social media, website landing pages, advertising, and forms. These highly targeted segments are based on your nonprofit audience's interest, behavior, and engagement with your digital marketing properties. Once these lists are personalized, marketers can trigger automated customer journeys with personal content and calls to action to drive donations and impact.
2. Email Personalization
Imagine if your nonprofit could reach every one of your supporters as though they're your trusted BFF. You address your supporters by name, provide them with personal messages they embrace, and deliver content that's perfectly tailored to their interests. As a result, your subscribers look forward to receiving emails from your nonprofit.
Email personalization happens when nonprofit marketers use data from their subscriber list to create tailor-made content for their supporters. It is proven to increase open rates and drive revenue by as much as 760 percent because it helps cause-related marketers provide funders with more relevant, customized content. By gathering subscriber data (such as a first name) and segmenting subscribers into more detailed lists (volunteers, funders, community leaders, students, parents, etc.), nonprofits can now step away from mass messaging and make their supporters feel like celebrity VIPs.
3. Behavioral Segmentation
Nonprofit behavioral email marketing is taking personalization to the next level by sending automated, targeted emails to the contacts in your database based on their engagement (triggers) with your organization across multiple digital channels: social media, email, your website, and beyond.
A study conducted by Mailchimp of 11,000 segmented campaigns sent by roughly 2,000 users found that segmented emails have a significant impact. Compared with nonsegmented emails, segmented emails saw approximately
10 percent fewer unsubscribes
4 percent fewer abuse reports
14 percent more opens
11 percent more unique opens
101 percent more clicks
5 percent fewer bounces
Nonprofit behavioral email segmentation is the process of sorting people into groups based on the actions they take. Segmented email campaigns are based on subscriber actions, are more personal, and will elicit a positive reaction from your list.
The following are the four basic buckets to begin segmenting.
Geographics
This is a key segmentation strategy for nonprofits with multiple locations or businesses with an international audience. You might segment contacts by country, region, town, zip code, time zone, or language.
Demographics
Segmenting by demographics is a common place to start since it's based on more concrete information. Demographic segmentation factors include age, gender identity, life stage, family status, and income
Engagement
The engagement that contacts take or don't take also offers insight about their interest in your nonprofit's call to action. Email engagement metrics to track include open rates and clicks as well as interactions with your website, donation history, and use of your cause's content or service.
Psychographics
Psychographic segmentation goes a step further than demographics as you consider not just who a contact is but also the psychological factors motivating consumer behavior. These may include interests, lifestyle, and values.
4. Email Automation
Marketing automation has transformed our ability to deliver timely, customized content that makes supporters feel connected and engaged. By establishing a close relationship to your email list early on in your relationship, funders will remain invested in the work that you are doing so you can continue to grow your nonprofit's cash flow and impact.
Email marketing automation eliminates time-consuming tasks, such as preparing donor email lists, sending generic member messages, or scheduling fundraising events manually. This gives nonprofit marketers and development directors more time to work on projects that require their attention or cannot be fully automated.
Looking for a fully integrated solution to handle multiple lists and drip campaigns? HubSpot's email marketing automation tool is centered around workflows, which are a predetermined, triggered set of actions your nonprofit can set up in advance to do all the work for you and increase the ROI of your campaigns.
5. Email Mobilization
A surging percentage of your supporters are reading your emails on a smartphone, a tablet, or another mobile device. According to Litmus, mobile has become the most popular way of reading, with 42 percent of all emails being read on a mobile device. What this means for nonprofit marketers and fundraisers is that getting your cause's email newsletter to display optimally on mobile devices is just as important as viewability on a desktop device.
A responsive email is an email that's optimized for any device, including a phone, desktop, or tablet. It adapts to multiple screen resolutions, which is particularly useful as demand for mobile-friendly content continues to increase. Responsive emails are also more accessible since they allow subscribers to read on their preferred device on the go.
You should start with a mobile email design because if it looks good in a mobile view, it's going to look good on a desktop. Failing to think mobile-first could diminish response rates.
6. AI-Driven Emails
Artificial intelligence (AI) is common in business-to-business and consumer marketing, and it is now gaining acceptance in the nonprofit sector.
There is a tremendous amount of vital data pouring in for every nonprofit digital interaction and donation, whether it is from online member registration, a fundraising event form, or website interaction.
With the power of AI, it is possible to analyze tons of data in seconds and deliver actionable results. For example, your cause might plan to launch a fundraising gala but is still unsure on how to design your emails, what subject lines to use, and what copy and images to add. Using AI makes it possible to analyze multiple combinations based on historical data and find the optimal choices for you to use to drive the most opens and registrations to your event.
Here is a sample of the countless measures that AI could optimize:
Improving donation drives
Maximizing send times
Picking effective subject lines
Arranging email campaigns
Predictive analytics
Mailing list cleanup
AI can not only improve your nonprofit's fundraising effectiveness, it will also save you time and costs incurred on countless trials.
Get Started Today
Investing in these five modern email marketing tools, technologies, and trends will prove to be the key catalyst of your digital transformation and marketing campaign success in 2022.
Additional Resources
Top photo: Shutterstock