Nonprofit hiring practices no doubt feel a lot different than they did at the beginning of 2020. Today, you may be hiring candidates remotely, or you may be thinking about how you will manage your recruitment and hiring process as restrictions begin to ease. Either way, there are a number of best practices to keep in mind.
In our previous post in this two-part series, we covered setting up your recruitment process and advertising open positions. Now it's time to interact with interested candidates and guide your hiring team into making the right hire. Let's walk through some important things to consider during the final steps of the hiring process.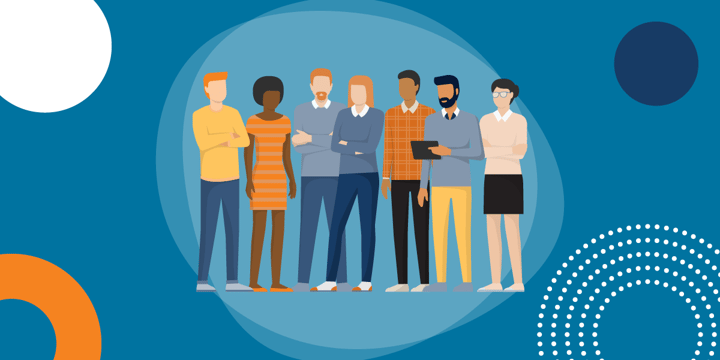 Reaching Out to Candidates
Whichever method you choose to reach out to candidates, it should be consistent and easily trackable through that system for documentation purposes. While tools like Outlook or Gmail are probably the primary traditional methods of reaching out to candidates and sending calendar invites, you may choose to use a tool like RingCentral to call your candidates if you are looking for a quick response.
Lately, there has been a trend towards texting candidates: It's more familiar to some candidates and is easier to reply to. However, this method is harder for others on your team to track. If you email candidates, there are tools that provide automatic follow-ups and reminders that integrate directly into your email.
Of course, if you have an Applicant Tracking System (ATS), you may also find that it has messaging capabilities that allow your teams to see what progress has been made. Some ATS solutions have also started integrating tools such as Calendly into their platform so you can connect the system to your work calendar and more easily schedule interviews.
Collecting Feedback
After you've started interviewing, you must have a place for the hiring team to store feedback. Federal laws dictate that hiring records must be kept and stored for one year. A great storage solution is an ATS. An ATS like Greenhouse or JazzHR allows the storage of feedback on the candidate's profile so all documentation is in one place and is accessible to the right people.
If your organization is too small or is unable to get an ATS, there are other options. You may choose to have the team email you the feedback, message you the feedback in a private group in Slack, or set up a Zoom call so the team can discuss their feedback. If you choose to go this route, you should be able to store the feedback and notes in a document repository like Box, Google Drive, or your HR information system (HRIS). If you need more information on HRIS, please refer to our previous post.
Maintaining the Recruiting Process
Managing where you are in the recruiting process is important because candidate statuses change daily. As the name suggests, an ATS is the most obvious solution since it's designed to track the status of candidates and move them through the process.
If you are not using an ATS to track your recruiting, you could use a project management tool. Using tools like Asana or Trello allow you to collaborate with others on your team and across teams, assign tasks, and change candidate statuses easily.
With a project management tool, you can customize how you want to track each position being offered and customize the appropriate actions to take within each step of the process. You also have the option of storing documents here, but it's not recommended as an official document storage system. If you use a project management tool, you will also need to set up custom workflows specifically for the recruitment process. If your team already uses the tool to track other work, it could be a great resource in lieu of an ATS.
Collecting Signatures
Once you've completed the recruitment process and have selected the best candidate for the role, you must go through the process of making the hire official, which involves paperwork. For legal reasons, you should ask for at least an application and have the candidate sign an offer letter. After the candidate is hired they will also have to sign new hire documents, such as NDAs, tax forms, and any other housekeeping items you wish to include.
For these steps, it is recommended to collect electronic signatures. Of course, getting a "wet" signature is fine, but it's always good to have an electronic copy, in cases where you are remote or the physical document becomes damaged. Tools like DocuSign and Adobe will have the capability to send out forms for verified signatures and return them to the appropriate parties. Once they're signed, we recommend uploading them somewhere secure, like Google Drive, Box, or your HRIS.
The Right Tech Can Help Attract the Right Candidate
There are many steps to the recruitment process. Being able to show your candidates that your organization cares about technology and process may be the thing that makes you stand out as they talk to other companies. Everyone's recruiting strategy is different, but the right technology makes the entire process easier and more efficient for everyone involved, and saves a lot of time overall. By taking the recommendations and using the resources mentioned in this two-part series, we hope to have helped you protect yourself from potential liabilities and improve your operations and overall strategy for recruiting and hiring great talent for your nonprofit.
TechSoup's Elaine McKay contributed to the development of this blog post.
Additional Resources
Top photo: Shutterstock