If you were to sit down and quantify the amount of time it takes you to prepare a document, send it, and capture a written signature, how long do you think it would be?
In an effort to drive organizational efficiency, nonprofits are increasingly using electronic signatures. For example, nonprofits send out multiple proposals and grant reports to individuals across the world. In addition, they may have various community outreach activities or remote volunteers who are involved with their organization.
An electronic signature, or e-signature, is any electronic process that indicates acceptance of an agreement or record. Common electronic authentication methods to verify identity include email, social ID, passwords, and phone PINs. They are legally binding in nearly every industrialized nation. In addition to supporting the broadest range of legal requirements, electronic signatures are compliant with specific industry standards.
An Efficient Solution from Adobe Document Cloud
Implementing digital solutions can be daunting. However, with Adobe Sign (an Adobe Document Cloud solution), you can automate signing and approvals across a wide range of departments and business processes in a nonprofit, all without relying on your IT department. Adobe invented the Portable Document Format (PDF), and all documents in the Document Cloud are converted to it. This allows you to preserve the look and feel of your documents and allows recipients to work with your documents across multiple devices.
Once documents are in Acrobat DC, you can fill and sign them yourself or send them and get them signed instantly. Acrobat DC includes basic signature functionalities that can be leveraged using Adobe Sign. Recipients will receive a unique link to view and sign the document online. The benefit is twofold: Signers are not required to purchase or sign up for an Adobe Sign account, and senders can track when the document is viewed and signed in real time. All parties receive a copy of the signed agreement, and signed documents are automatically archived on secure servers, where organizations can access them at any time.
After The Global Fund — a nonprofit aimed at raising funds and resources to fight the HIV/AIDS epidemic — began using Adobe Sign internally, it saw a great boost in efficiency. Now, it's looking to expand and roll out electronic signatures to its Grants Management division, its largest and most important department.
Best Practices for E-Signatures
Here are four best practices to keep in mind for using Adobe Sign at your nonprofit.
1. Evaluate and Map Your Digital Workflow
Depending on your nonprofit, you may be creating and delivering hundreds of documents every week. Ask yourself how documents are being created, how many approvers your documents require, and how can you improve efficiency in the way you deliver them. Take a moment to capture all your current steps and map your process in a workflow diagram. Below, you'll find a generic example of how one of these might look. In this case, if any one of the three copies of the proposal were lost, it could hold the entire process up a great deal.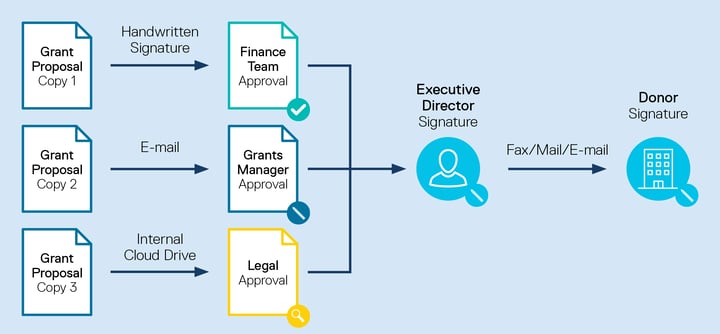 Three Copies of a Grant Proposal Sent to Three Separate Approvers
At this time, you should start start thinking about how to avoid the redundancies of the process illustrated above.
For example, you may no longer require a sign-off from your legal team confirming that the document has not been tampered with during the current paper or digital process. Electronic signatures provided through Adobe Sign come with a legally binding document known as the audit trail. The audit trail includes a tamper-evident seal and a series of chronological events from when the document was created up until it was signed and sent back to the initiator of the document. The audit trail also includes a date, time stamp, and IP address for a particular transaction.
2. Select and Prioritize Internal Business Processes
Understand your nonprofit's needs and pick a starting point. Where will an e-signature solution have the biggest impact on your nonprofit? Choose a use case from a particular department that can demonstrate the benefits that e-signatures can provide. Start by transforming your most manual and repetitive processes within a particular unit of your nonprofit into a self-service, friction-free workflow that accelerates process cycle time.
The Global Fund uses Adobe Sign in its HR department in addition to Grants Management. It began by laying out a division of its digital workflow, which demonstrated the value of an e-signature solution to internal functions. The organization focused on recruiting practices, and by integrating Adobe Sign into the HR recruitment flow, it reduced the time-to-sign panel evaluations from five days to less than a day.
Employees at the Global Fund no longer need to run documents throughout the building: The automated tracking in Adobe Sign provides a far more accurate audit trail. Managers can now fill positions faster and gain the talent that they need to solve their mission of tackling critical grant issues faster.
3. Test Acceptance by Users
When you are ready to start testing your use case, make sure to perform a trial of the workflow with the people in your nonprofit organization who will be the day-to-day initiators of the process. Reach out to external stakeholders and ask if they would be willing to help you test your new process on an upcoming agreement. Once the trial is complete, collect feedback at all stages of the process from both internal and external testers. Make improvements to address any issues in the process. Test again.
4. Develop an Implementation Strategy
Use the key learnings and feedback from your pilot testing program to develop a standardized approach for subsequent units or regions of your nonprofit. Develop a plan that will help ensure a quick and realistic adoption and leverage components of the previous successful approach. Tailor the approach to each unit by including its individual goals and objectives as milestones and measurements of success.
The Result: Savings
A Forrester Total Economic Impact study (PDF) of e-signatures demonstrated not only a reduction in paper use, but also savings of 1.3 hours per transaction by reducing manual signature steps. It found $11 per transaction saved by reducing paper documents. Switching to e-signature processes can help your organization not only to reduce costs for shipping, paper, ink, printers, and scanners but also to deliver agility, efficiency, cost savings, and positive customer experience. You can now take back a large portion of that time you spend on redundant processes and actually use it on activities that help strengthen your nonprofit's mission and impact across the globe.
Additional Resources: Adobe Acrobat