If you're feeling stuck with your social media strategy, identifying the key performance indicators (KPIs) for your organization is a great starting point. In this post, we'll give you an overview of which social media KPIs tend to be most useful for nonprofits and how to track them. We'll also highlight some great tools that provide extra insight, automation, and other great features.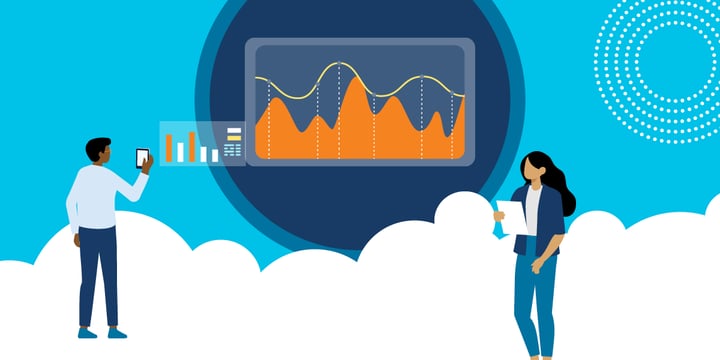 Choosing Your Engagement Metrics
Which performance metrics you track depends, in part, on your goals. Want to grow your audience? Shares and follows are a good indicator of whether you're heading in the right direction. Looking to push traffic to your website? In that case, clicks could be a better indicator.
Likes and Reactions
Whether you track them closely or not, likes are publicly visible indicators of the popularity of a post. They don't necessarily indicate that a viewer has spent more than a second or two looking at your content, but comparing likes on different posts, and tracking which posts get the most likes, can be a useful indicator of the relevance and success of your content.
You don't need any extra tools for this. Social media apps will show you, and everyone else, how many likes a post gets. What may be useful is a system that ranks your posts based on this, showing you at a glance which ones are the most effective.
Shares
While likes give you a general idea of how popular your content is, shares can indicate that a post is relevant enough for your audience to share it with their community, too. This helps to extend the edges of your network beyond your own follower base. Not only does it get your brand on more news feeds, but it helps you to know what your followers think is good enough not just to read, but to pass on to others. If share numbers are high, that's a good indicator that your content is resonating with your followers and therefore that your strategy is heading in the right direction.
Depending on the platform, share numbers may be public. On Facebook and Twitter, you can see these statistics on the post itself. Instagram, however, won't always let you know when a post is shared.
Clicks to Your Website
Clicks are one of the best indicators that your audience is actively engaging with your content. Using this metric in conjunction with others can provide extra insight into how people are interacting with your social media posts. For example, if a post gets lots of likes but no clicks to your website, that may prompt some questions about what you're sharing.
As well as being a great indicator that your audience is interacting with your content beyond a quick scroll, clicks are likely to lead to more engagement with your organization going forward. This is because if someone gets onto your website, they may continue to learn about your work and subsequently donate, volunteer, or engage in other meaningful ways.
Unfortunately, social media platforms will not show you data on clicks to your website. To see these statistics, you'll need to use a third-party platform that can dig them out for you. Some such platforms are detailed later in this post. It's worth noting that there are no clickable links within Instagram. For this reason, it helps to use a tool like LinkTree to include a number of links in your account bio, which also allows you to track clicks.
Comments
While comments don't provide the layered insight that some other metrics do, they can be a great way of following the conversations started by the content you share. Comments indicate that people are actively engaging with a post and that it may be sparking conversations among your followers.
Comments can be viewed by anyone, including your team, and so no third-party tool is needed to see them. While other metrics may be more useful for guiding your strategy, comments can show you what the most engaging topics are and can help provide ideas for future content.
Tools for Tracking KPIs
While some insight can be gained from monitoring likes, comments, and other engagement straight from the relevant platform, third-party tools can be a huge help in aggregating data and displaying it in a more easily digestible way, helping you to easily understand the implications of the statistics. It's helpful to have a way of seeing your stats at a glance, finding the best-performing posts in a given week or month, and getting more general insights that you wouldn't be able to see by going into each individual post.
There are some great tools available that can help you track your KPIs more effectively and provide extra insights to help you guide your strategy.
Sprinklr
Sprinklr offers social media engagement tools that allow you to schedule and publish your social media content easily. Generally used by larger organizations, its social media engagement and sales product includes support for publishing across up to 35 different channels, as well as tapping into relevant conversations outside of your community. The Publisher Console helps you to plan and publish your posts and measure their success along the way using popular KPIs. It also allows your team to collaborate effectively, while AI-driven message filtering can help you to target relevant conversations.
If you're looking to automate more of your content and get constant feedback about how to better curate it towards achieving your goals, take a look at Sprinklr.
HubSpot
HubSpot is a constituent relationship management (CRM) platform that includes a wide range of tools for marketing, sales, content management, and more. As well as being a social media scheduling tool, HubSpot gives you deep insights into the performance of your content. You can view and export reports, as well as view real-time graphs that help you to understand how your content is performing. You can monitor multiple metrics at once in order to compare the performance of your content across platforms, publishing times, subject matter, and more.
Tweepsmap
Tweepsmap is a Twitter engagement platform that helps you to learn about your community and discover new users who might be interested in your content. Dig deep into who your users are, including their location, language, and what they're tweeting about. For example, you can find out where in the world your audience is growing (and declining) and who your most influential followers are. You can also see reports letting you know the best times to tweet, along with engagement data for individual posts.
This is also a great platform for discovering how best to focus your energy in order to grow your community. You can search for users by location, language, and other demographics. You can also use filters to specifically search for users with certain keywords in their bio. For example, you could create a list of users in New York with "food bank" in their bio. This will generate an exportable list of accounts based in New York that are representing or related to food banks. A useful trick is to further narrow down this list by follower count and tweet frequency. This will ensure that you are reaching out to organizations that are actively tweeting and that have few enough followers that they are likely to notice and engage with you.
Additionally, you can use Tweepsmap's Twitter publishing functions such as scheduling threads, polls, and retweets to help you plan ahead.
Tweepsmap is available at a nonprofit discount through TechSoup.
Audiense
Audiense Connect is a Twitter marketing platform that uses rich audience insights to help you build and explore communities, identify audiences, and engage directly on Twitter. It allows you to to build lists of your followers and the people you follow using a range of filters. These include demographic factors such as location, gender, and language, as well as how many followers they have, whether they follow you back, keywords in their bio, and more.
You can create Twitter lists straight from Audiense, which are a great tool to categorize your community and reach out to them accordingly. Audiense will also help you find the best times to tweet based on your followers' activity, alongside other useful reports. You can get access to detailed analytics breakdowns for each tweet, including clicks to your website, which can help you to analyze the kinds of content that are resonating with your audience the best.
By accessing Audiense through TechSoup, you can get a 30 percent discount on a one-year subscription, or a 50 percent discount on a two-year subscription to its Audiense Connect and Audiense Insights plans.
Hootsuite
Hootsuite is a social media management platform that allows you to promote content, increase engagement, streamline your customer service, and report on results. Organizations can use Hootsuite to easily plan, create, and schedule content across multiple social networks and grow their online communities.
Widely used by nonprofit organizations of all sizes, Hootsuite also allows you to manage content and ad campaigns across social networks using a single dashboard. Nonprofits using Hootsuite say they've saved 130 hours per year on average thanks to tools like Hootsuite's AI caption writer, scheduling calendar, recommendation tool on best time to post, Canva templates, and a unified inbox.
By accessing Hootsuite through TechSoup, you can get up to a 75 percent discount on monthly and annual subscriptions to its Team and Professional plans, as well as a 50 percent discount on Hootsuite Academy courses and certifications. Check out Hootsuite and find out more about how it supports nonprofits through its HootGiving Program for Nonprofits.
Make Your KPIs Count
Your social media platforms are a gold mine of useful performance indicators that can help you to understand your audience better and learn more about the content they are engaging with. By identifying the KPIs that lead you towards your social media goals, and investing in the right tools to help you keep track of them, you can use your platforms to build awareness and support for your organization.
Additional Resources
Top photo: Shutterstock