Due to the pandemic and the lack of in-person engagement, organizations of all types and sizes are accelerating their digital transformation efforts. There's never been a better (or more relevant) time to optimize your digital presence and reach supporters where they're at — starting in the palms of their hands.
Text messaging offers a 90 percent open rate, a major untapped resource for nonprofit communications. With the majority of nonprofit website visitors browsing on mobile (51 percent), it's easy to see why this communications tactic can no longer be ignored. A few simple strategies can help to optimize your nonprofit text messaging outreach, resulting in connected supporters who are personally invested in your mission.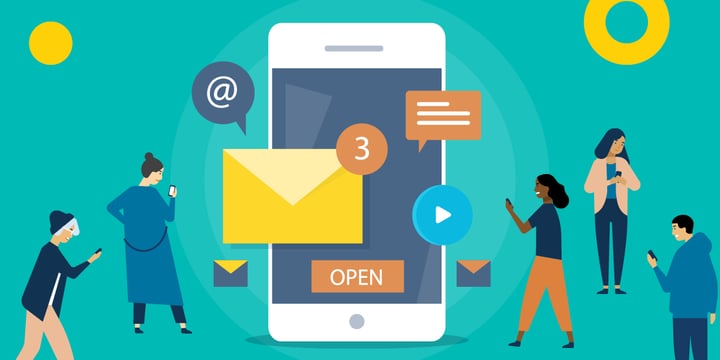 At its core, effective marketing begins with understanding your audience. Luckily, with the shift in modern-day philanthropy came an abundance of tools and platforms that allow organizations to deliver relevant content at scale.
In the last decade, message relevance and personalization has increased the lifetime value of customers and supporters for businesses across sectors. Today's sophisticated digital marketing landscape is focused around data collection, optimization, and personalized communications. Strong personalization tactics can increase visitor engagement, improve the donor experience and brand perception, and ultimately increase conversions and donor acquisition. Combine this personalized approach with your SMS marketing outreach to foster relationships and increase lifetime support with those who fuel your mission.
Taking the time to properly organize your SMS outreach will make all the difference once it's time to press Send. The following steps and best practices will ensure that you've built a robust backbone to your multichannel approach, with an optimized text messaging flow in mind.
1. Define Your Audience
User-driven marketing can be defined as reaching users on their preferred platform, with their preferred message, at their preferred time.
There's no such thing as a "one size fits all" message, so defining your audience is a critical step in building your text messaging strategy. A common mistake is to leverage text messaging only for donation appeals. The personal nature of this channel offers the opportunity to build long-lasting relationships with your supporters. Rather than focusing exclusively on solicitations, you can share updates on programs, include field and volunteer photos, thank your donors and volunteers personally, or communicate important, timely updates.
Consider this: Do you really know who your nonprofit supporters are? Your donors, fundraisers, volunteers, and advocates? Do you know what inspires them to get involved with your organization? What about the barriers or skepticism that keeps them from making a gift or volunteering their time? Answering these questions is a necessary first step to identifying your nonprofit audience. It greatly helps your organization determine where to focus your time and efforts to improve your marketing and communications strategy. Consider how you might address a volunteer versus a monthly donor and tailor your approach and message accordingly.
Here's a list of common audience segments for nonprofits:
One-time donors (within the last 12 months)
Monthly recurring donors
Lapsed donors (have not made a gift within the last 12 months)
Volunteers
Fundraisers
Advocates
Event attendees
Corporate sponsors or partners
Newsletter or email subscribers
When you develop these messages, your audience, not staff, should be at top of mind, since employees have a much deeper understanding of the mission, challenges, and impact.
Below is an example of a text message you might send a monthly donor, personalized to meet an appropriate giving level based on their individual giving history. Note how this message includes a personal greeting, a topical reference to the moment, and a specific, time-bound call to action.
Hey, <Name of Supporter>! My name is <Your Name> and I'm volunteering with <Organization> today to connect with valued supporters like you. As temperatures drop, we're aiming to raise $XX by the end of 2020 so we can continue to provide essential supplies like food and medication to people in need across the country. Can we count on you to upgrade your monthly gift by $X? <link to donate>
2. Identify What Motivates Your Audience to Take Action
Once you've defined your audience, encouraging each segment to take action will depend on why they are motivated to get involved with your organization. This is a necessary but often overlooked step in the quest to personalize your message to drive conversions and engagement.
Powerful storytelling makes all the difference when inspiring giving. Your goal is to create an emotional response from your supporters that results in an investment in your mission. Supporters want to see themselves in your organization, in the work you do, and the stories you share.
Positioning your supporters as the heroes in your nonprofit's evolving story accomplishes this goal and can make your supporters feel like their contribution of time or money is valuable. Because it is!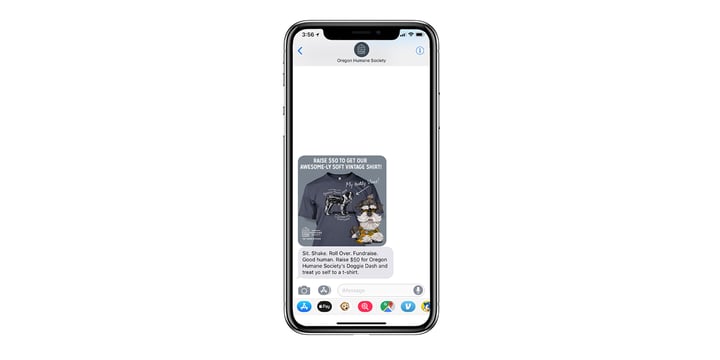 This example is from Oregon Humane Society's Doggie Dash fundraising campaign, where segmentation, testing, and optimization significantly increased conversion rates. By developing three primary personas — the athlete, the hipster, and the fundraising coach — and leveraging playful, relevant text messages to these key segments, Oregon Humane Society saw a 92 percent increase in registrations and a 121 percent increase in donations from the previous year.
3. Define Your Value Proposition
A strong value proposition communicates the mission and focus of the organization in roughly four to seven sentences. Your value proposition is the place to address your donors directly to communicate that their gift to your organization translates into positive outcomes. You likely won't be texting your value proposition verbatim to supporters, but it's important to keep your core offering in mind as you build the story arc for each campaign or initiative.
When crafting your value proposition, clearly define what makes your organization unique and what sets you apart from your competitors. Keep these tips in mind:
Be succinct. Highlight what sets you apart while remaining clear and concise to ensure that it's easy for your audience to grasp.
Keep it simple. No need for superfluous language or jargon here.
Define the challenge you're working to solve. What challenges are you facing as an organization? When you're up front about how donor support can help impact your story, there is a greater sense of urgency.
4. Get Permission
Opt-in for text messaging communications is required by local laws and carrier industry guidelines. It also builds trust with your audience and helps prevent your messages from getting flagged as spam. There are two common ways to obtain opt-in: SMS-based and non-SMS-based.
For SMS-based opt-in, you provide a phone number for people to text in to. This is effective if you're running a campaign, holding an event or telethon, or sharing the option to text in on your website.
Pro tip: Since opt-ins are campaign- and context-specific, ask users to text a keyword so that you can associate people with that campaign and ensure that any messages you send in the future are relevant to your audience. For more guidelines on SMS compliance, see the Twilio SMS Compliance Guide.
For non-SMS-based opt-in, you can use a webform, request opt-in via email, or offer the option to receive updates via text when someone makes a donation. Just be clear about the types of communications that people are opting in to.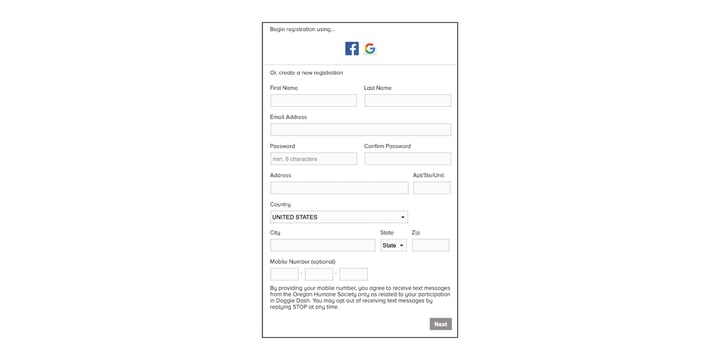 For its annual Doggie Dash fundraiser, Oregon Humane Society gives registrants the option to receive text messages and provides clear information about what messages to expect and how to opt out.
5. Prepare for Scale
One of the benefits of text messaging is that you can reach a large audience quickly. But keep in mind that when you send a text, some people will text back, so it's important to make sure you're ready to respond to inbound messages. If you don't have enough staff to manage inbound inquiries, you can automate responses with an SMS bot or route people to on-demand resources, such as your website.
DoSomething.org uses an SMS bot to drive audience engagement and automate common tasks like user signups.
Depending on the scale of your messaging campaigns, you may need a specific type of phone number or multiple phone numbers. Phone numbers can send a limited number of messages per second or hour, depending on the type of number. For high-volume messaging in the U.S., we recommend high-throughput toll-free numbers and short codes.
6. Deploy A/B Tests and Measure Outcomes
It's tough to know exactly what message will resonate, but if you've taken the time to understand your audience's needs and motivations, you have an excellent starting point. If a message isn't performing in the way that you expected, have a backup solution ready to fire at a moment's notice. If 2020 has taught us anything, it's that things can change at the drop of a hat, and the news cycle can feel impossible to break through. Having variants ready to go is a great way to counteract a message that may have fallen flat!
Try out different variants, messaging, and imagery. See how they perform, document key findings, and adjust. Test two similar messages against one another and switch up one element to see which CTA (call to action) or content may resonate with your audience. Running an A/B test, also known as split-testing, allows your organization to try out different elements of your marketing strategy to find what works best for your unique audience.
The example below highlights the performance between two different subject lines sent via Mailchimp. Addressing the supporter directly resulted in a higher open and click rate.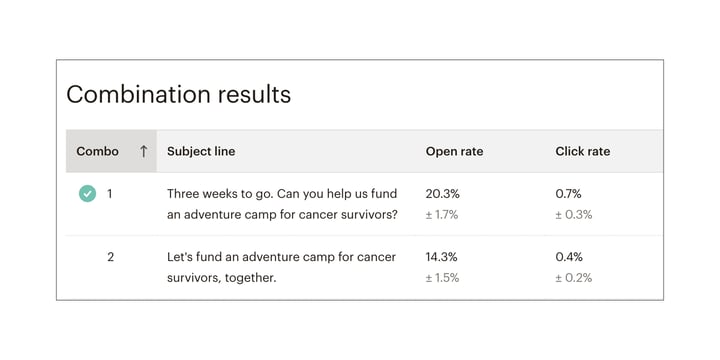 Set a goal, determine what you would like to test (CTA versus content, for example), and measure along the way and after the campaign has wrapped. The time of year, type of email or text message, and cadence are all factors that can impact your metrics. So it's good to keep that in mind as you incorporate text messaging into your approach.
Time to Get Texting
We hope these best practices help get your organization on a roll as you build your messaging strategy and start engaging your supporters. Our last piece of advice is to remember that SMS is just one piece of your engagement and communications arsenal. While some people prefer mobile messaging, others respond best to email, voice, or direct mail.
As you select which channels to use for your audience, always keep people's preferences and your campaign goals in mind, and you'll be off to a great start. Happy messaging!
Additional Resources