With a myriad of computer types available in today's tech-forward world, it can be a challenge to select the right ones for your nonprofit. There are some important considerations to make when investing in computers, but one of the first fundamental steps is choosing the right type of machine to meet the needs of your team.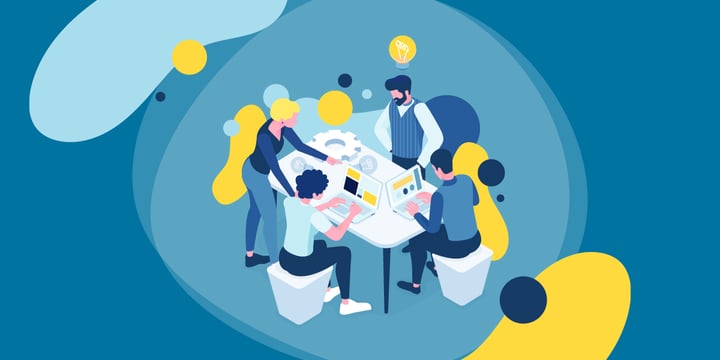 Laptops
You don't need anybody to tell you that portability is the new norm when it comes to both work and home life. Both our social lives and our work happen on the go to an increasing extent. In October 2020, over 71 percent of the U.S workforce had transitioned to working from home, and many continue to do so. But that doesn't mean everybody has a well-suited home office. For those with less space, laptops can be a great choice of computer. They're lightweight, mobile, and don't require a separate monitor or peripherals. The mobility also benefits workers and volunteers who spend their days hopping from one meeting room to another or from their home office to their workplace.
Gone are the days when manufacturers struggled to fit powerful components into smaller machines, and desktops were the default. All modern commercial laptops have the ability to run most software that you'll use in your day-to-day operations, from email to accounting, to streaming video content. There are some details you can look at to ensure that the laptops you acquire can keep up with the workload for as long as possible. You'll want them to be equipped with at least 8 GB of RAM and an Intel Core i3 or Core i5 or AMD Ryzen 3 or 5 processor released within the last five years.
For storage, a solid-state drive (SSD) is recommended because it will allow the laptop to start and load software more quickly. However, a hard-disk drive (HDD) can be slightly cheaper and will also do the job for most organizations. If most of the files and software are saved to cloud services like OneDrive, Google Drive, or on your local network servers, a 120-GB capacity should suffice. If most files and software are saved on the laptop, you might want to consider at least 256 GB.
When looking for commercial laptops, be sure not to skimp on the warranty. A three-year comprehensive warranty can save your employees a lot of downtime when problems arise and often saves you money in the long run.
If you don't have the budget for commercial computers with long warranties, there are suitable lower-cost options that lie between the commercial and consumer categories, like the Lenovo IdeaPad line. Whichever the case, TechSoup offers a wide range of laptops to meet your organization's needs and budget.
Desktops
The desktop computer is slowly waning in popularity as alternatives enter the fray. While the number of computers shipped worldwide has grown from 370 million in 2010 to 517 million in 2021, desktops accounted for 42 percent of those sold in 2010 but only 16 percent just over a decade later. However, that isn't to say they can't still be an ideal choice for your organization.
The primary benefit of choosing a desktop computer is the cost. It's considerably cheaper for manufacturers to fit all of the components into a desktop's larger frame. Desktops also aren't intended to be moved around as much as laptops, which means they don't have to be meticulously designed with mobility and durability in mind. For these reasons among others, desktops can have lower production costs for the manufacturer, and these savings are reflected in the final price tag. With computer monitors available for as little as $100 or $200, and peripherals (keyboards and mice) costing far less than that, a total package can still cost less than a laptop.
What a desktop lacks in mobility, it makes up for in security and connectivity. If you need a computer to station at a front-desk kiosk, in a public-use computer lab, or at an employee's desk, there's very little risk of theft in comparison to a laptop. It also has more space for multiple ports such as USB, HDMI, and Ethernet.
For organizations with the expertise or resources to fix and upgrade their computers, the repairability of desktop computers is an advantage. Making simple upgrades and repairs to a desktop computer is a lot easier than you'd think, and doing this can save you money and reduce your environmental impact by extending the life of the computer.
Tablets
Tablets designed for business use have come a long way in recent years and are now available from a number of leading manufacturers, including Microsoft, Samsung, and Apple. In the past, tablets were not viable options for businesses because of their high price point and limited functionality. This is no longer the case.
Perhaps you have workers out in the field, collecting census data from people in your community, or ambassadors frequently traveling to fundraising events. They need capable computers that are extremely lightweight, and that's where more advanced tablets thrive. These will cost more than a laptop or desktop with similar capabilities, especially once the additional peripherals like detachable keyboards and cases come into play, but the extra expenditure can prove worth it if the convenience is truly needed.
Generally speaking, you should steer clear of tablets designed for at-home consumers. While sub-$100 products might seem appealing, they carry subpar specifications, including insufficient processing power, short battery life, and screens that are unfriendly to the eyes after prolonged viewing.
Chromebooks and Chromeboxes
A newer type of computer on the market is the Chromebook or Chromebox. These are very affordable options that run the Google Chrome operating system (OS). The Chrome OS is a speedy, secure, and simple operating system that allows you to get great performance out of a machine that has basic components inside. Note, however, that there is a range of software that will not run on these computers, so you should check that your organization's tools are compatible before you buy.
These computers run almost all of their software — and save files — from and to the cloud. They're a great option for volunteers or community members who perform basic tasks online. Your IT admins will be able to manage user accounts and policies easily using the Google Admin console.
Thin Clients and Workstations
Other alternatives include thin clients and workstations.
A thin client is a bare-bones computer that connects to your network and relies on your servers to handle the storage and computing. You can connect your monitor and peripherals to it and use it like a long-distance remote control for a server-based virtual desktop. Thin clients are very affordable, extremely small, and ideal for scalable IT infrastructures. This can be a good option for libraries and community centers offering computers for patron use, or for staff or volunteers who only need access to an organization-issued computer for a few hours a week. Note that thin clients require a capable network to support them.
Workstations are essentially high-end desktops or laptops. These are computers built with the most modern and powerful hardware available and are usually reserved for those working on tasks such as heavy video editing, AutoCAD design, and processing of large datasets. As a result, they carry a higher price tag than a typical desktop or laptop computer and aren't necessary for most people's daily use.
The Right Choice for Your Team
Selecting a computer for your staff members is a personal endeavor, influenced by your budget and operational needs. TechSoup offers a wide range of discounted and refurbished hardware to suit organizations of all sizes, and we can help you to choose the right machine for you.
Additional Resources
Top photo: Shutterstock