When it comes to choosing the right hardware for your small office, myriad factors come into play. You certainly want to ensure that you have the right hardware to further your organization's mission, and yet you don't want to spend more money than necessary on equipment beyond your team's needs.
A key piece of hardware for most offices is the printer. While much of your organization's documentation may reside on hard drives or in the cloud, there are still important tasks that require the printing of essential documents, flyers, mailers, photos, and more. As you begin seeking the right printer for your office, it's important to begin by assessing your team's unique needs.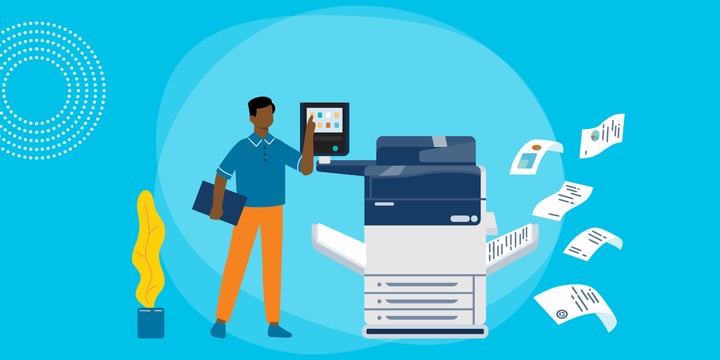 Printer Primer
Before individualizing the process, there are some key distinctions you should understand about your overall choices in printers. Different types of printers excel at different types and sizes of print jobs. While there are functions such as scanning, copying, and faxing that you will need to consider down the line, the two main types of printers you will choose from will likely be inkjet and laser printers.
Inkjet Printers
Inkjets are versatile printers that may appeal to your initial startup budget. If you use a printer at home, odds are that it's an inkjet printer. Inkjet printers use ink cartridges containing dozens of tiny nozzles controlled by the printer's software. The ink cartridges use a liquid base and a coloring agent in order to distribute ink onto the page through a process using heat and physics.
Most inkjet printers can be relatively inexpensive upfront. Depending on your printing needs, much of your printing costs may come from the ink cartridges. Inkjet printers can also boast ease of use when it comes to initial installation and replacing ink cartridges. However, the drawback to an inkjet is the lower page yield per ink cartridge, diminished precision when compared to laser printing, and slower printing speeds.
Laser Printers
Unlike inkjet printers, laser printers work with toner. In essence, printer toner is a powder made from granulated plastics. Compared to ink, toner provides greater accuracy and control over the printed image.
For laser printing, a singular electrostatic charge is projected to a printing drum, which transfers the toner powder to the paper. The paper is then heated to melt the plastic toner particles, allowing the image to properly set on the paper without smudging. This is all made possible by lasers, which imprint the electrostatic charge.
Due to their sophisticated technology, laser printers often cost a bit more upfront than inkjet printers, though this gap in price has narrowed over the years. Toner cartridges also cost more than traditional ink cartridges; however, they can print more sheets per cartridge than traditional ink if you're primarily printing text and not graphics.
If you find that your office will predominantly print monochrome, text-based documents, toner's deep blacks and large print quantity are strong reasons to choose a laser printer. According to Chris Kingston, account manager at Hewlett Packard, laser printers "are the best and most reliable way that you can do just pure black printing." Laser printers also boast much faster pages per minute (PPM) printing speed than inkjet printers.
Assess Your Printing Needs
Now that you know a bit about both inkjet and laser printers, it is time to take into account the specific printing needs of your organization. From this, you can begin to narrow down the precise printer for the needs of your small office.
The Number One Question: Color or Monochrome?
The first and most important question you should ask yourself is this: do you need color printing, or is monochrome printing enough? Are you printing colorful, graphic-heavy flyers or mainly just black-ink text documents? Assessing your team's overall printing needs, with regard to color, is the first step toward narrowing your printer hardware.
As Chris Kingston explains, "It's not the printer that costs you money, it's the supplies." With this in mind, if your organization is solely printing monochrome documents, go with a laser printer, which will save you money down the line by stretching the high-printing capabilities of your monochrome toner cartridges. However, if you plan to engage in photo printing, you should consider an inkjet printer.
How Much Do You Print?
Your next consideration has to do with your team size and how much they intend to print. These factors are generally built into the specs for printers. For example, a small team of four likely doesn't need a workhorse machine, just as a larger office likely can't get by with a single, small inkjet printer.
If you plan on printing less than a ream of paper a month (a ream is 500 sheets of paper), then your team may be fine with an inkjet printer. If you print more, then you might factor in the speed and quality of the toner-based laser printer. Again, while toner cartridges may set you back more upfront, you will get more mileage out of them, assuming your print jobs are predominantly text-heavy documents.
Additionally, be sure to factor in quality reams of paper when budgeting for your overall printer needs. "When it comes to printers, jamming actually has a lot more to do with the quality of paper than the printer itself," says Chris at HP.
How Will You Use Your Printer?
A printer isn't just for printing. Most printers now have a variety of functions. It is important for you to decide which functions are necessary for your team to do its work. Do you need to scan documents? Are you planning to make copies? Is faxing a part of your workflow?
Multifunction (MFP) printers, also known as all-in-one printers, can be a great workhorse for most small and large offices. Many can handle printing, scanning, copying, and faxing, and most are available as either inkjet or laser printers. Additional features may include double-sided printing, different-sized paper and card stocks, scanning to the cloud, and even printing wirelessly from a smartphone or office computer network.
Keep in mind that most multifunction printers are larger, more powerful, and more expensive than standard printers. However, this larger upfront investment may pay off for your office if it keeps some of the work in house.
Networking and Security: What Works for You?
Once you have determined your color needs, printing quantity, and multifunctional options, you'll need to look at both the networking capabilities and security features of your prospective printers.
These days, printers are more like computers than office accessories. They have Internet connections and hard drives, giving your team the ability to connect through Ethernet or even wirelessly. There are also options to connect through Bluetooth and Apple Airprint.
But as much as networking can open up accessibility to your team, more access brings more risk. As Chris at HP explains, "If you have a wireless printer, that means you have an open door." Each year, thousands of data breaches expose billions of personal data records, and it's not just servers and computers that are being hacked — any device connected to a network is vulnerable to attack. If you do opt for a network-connected printer, be sure to follow a few protocols in order to keep your office safe from attack:
Be smart about which of your printers have Internet access, and be sure to properly configure your printer network to tailor it to your team's needs.
Encrypt your files, protecting your data even if there is a breach.
Stay up to date on your printer's firmware.
Invest in secure printers with advanced print security features like automatic attack detection, usage tracking, and sign-in options.
Next Steps
In the end, a printer is simply a tool to help further your organization's mission. In order to select the proper printer without going over budget, you need to accurately take the pulse of your small office. Assess the type and quantity of your printing needs. Consider additional functions beyond just printing. Weigh the benefits of accessibility against the risk of data breach, and be sure you have security features top of mind. A printer is a key piece of hardware for your office, and asking the right questions will go a long way.
TechSoup members can receive discounted pricing on all HP.com printers through the HP.com for Nonprofits program.
Additional Resources
Top photo: Shutterstock