Nana Afadzinu is the executive director of West Africa Civil Society Institute, a partner in the TechSoup Global Network.
The economic, social, and political impact of the COVID-19 pandemic in West Africa has been heavy and will have long-lasting effects. Our biggest hopes for a healthy future rest not only on our beloved healthcare workers, but also on a strong civil society. Now is the time to empower civil society with the resources, digital skills, and technology to collaborate with communities and policymakers to solve long-standing challenges.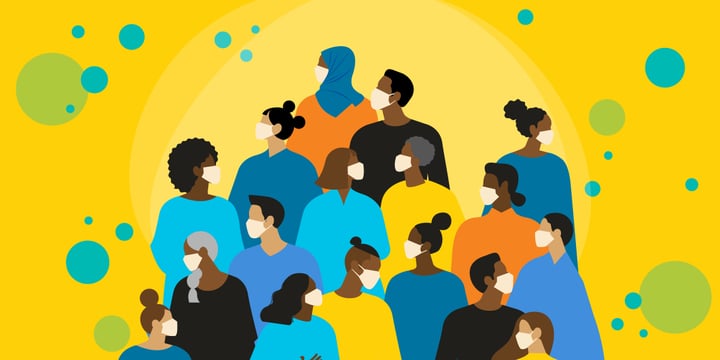 Millions are unemployed — sinking into poverty without a safety net. Public services are hard to access because the decentralization of public finance is often in name only. There is also a huge digital gap. Misinformation is on the rise, preventing individuals from receiving accurate information on local resources that could improve their well-being.
As social inequality has been exposed across West Africa, development stakeholders in the region have been slow to collaborate to confront the pandemic. The critical role of civil society in delivering solutions to tackle both immediate needs and challenges in the region — particularly in the social sector — is absent from both public and private sector responses.
Civil society drives social impact through evidence-based advocacy that influences policy. Civil society groups support a variety of institutions to form policies, laws, and local actions that can save lives. Think tanks, academia, faith-based associations, local groups, and everyday citizens can all contribute in diverse ways..
Over time, civil society has contributed to a huge variety of responsive policies across West Africa. Here are a few examples of how civil society serves individuals in need.
Combating Misinformation
During a pandemic, accurate information that is available in local languages is critical for preserving the health of local communities. Civil society organizations can work with NGOs to rebuild trust between citizens and the Internet — ensuring that they get the information they need without having to encounter harmful or dangerous material.
As West African governments continue to enable economic activity, civil society can further protect citizens by discouraging irresponsible behavior such as sharing inaccurate data and conspiracy theories on COVID-19. It can also promote education around best practices for staying healthy and safe — from families sheltering in place to businesses reopening.
Community Assistance
Major civil society organizations have been distributing food and essential supplies during the pandemic. In Ghana, the Civil Society Platform for Sustainable Development Goals (SDGs) established a COVID-19 recovery fund.
Faith-based and other civil society groups have also provided resources and funding to vulnerable communities, police, and frontline health workers.
West Africa Civil Society Institute (WACSI), the organization I lead, supports community-facing organizations throughout 17 countries in the region with professional and communications training, technology at a discount, and leadership in the civil society sector. We serve thousands of civil society organizations at the frontlines of need. The nonprofits we serve are in great need of financial support to match this moment and equip their staff with the 21st century skills they need to collaborate and solve together with community leaders.
Protecting Domestic Violence Survivors
Sheltering in place has been particularly difficult for victims of domestic violence during the COVID-19 pandemic. Civil society organizations, noting a rise in violence against women and girls, are complementing local government outreach to individuals living in abusive households. These resources include healthcare, mental wellness, education, and utilities. And with most students out of school, some civil society organizations are deploying innovative remote education solutions for children in these households — particularly those without Internet access.
Defending Human Rights
The pandemic has brought out the best of civil society, but it is also exposing systemic inequalities that affect the lives of West Africans in unimaginable ways.
Police brutality was on the rise, with the violent enforcement of lockdowns targeting the low-income and under-resourced. According to Nigeria's Human Rights Commission, police killed at least 18 civilians while trying to enforce its state lockdown. At the same time, government surveillance threatens freedom of speech in the region. In countries such as Togo, social justice activists are wary of working remotely for fear the state will eavesdrop on them.
Civil society organizations are responding to the needs of everyday citizens and building up their cybersecurity training and digital skills to protect basic human rights across all online platforms.
Challenges We Face During COVID-19
As civil society addresses the diverse needs of local societies, it is struggling to acquire enough resources to meet its challenges. NGOs and community-based organizations often lack funding and adequate staff support. They usually have limited access to technology and resources to navigate complex laws and regulations.
To meet the needs of citizens, mission-oriented organizations are turning to platforms such as TechSoup, our partner in the TechSoup Global Network, to boost their technology capacity so that they may collaborate more effectively with like-minded organizations and meet the needs of the people they serve.
As civil society organizations across West Africa navigate a new reality around the pandemic, it is clear that cross-sector collaboration is needed to heal the region. ECOWAS, the economic regional body in West Africa, has made some efforts towards this goal, but much more needs to be done to include civil society in driving social progress.
The goals of civil society to meet the needs of people can only be achieved if all hands are on deck — from the government to the private sector. By coming together and engaging with citizens at all levels, all of West Africa will be able to thrive long after the pandemic is over. The time to do so is now.
Additional Resources