Google Analytics (GA) is a free tool that shows you how people are using your website or app. You can use it to monitor growth in your site, spot the more popular pages or blog posts, and assess the effectiveness of your marketing strategies. This can help you to tailor your site and strategies towards potential volunteers and supporters, building awareness and growing donations. In this post, you'll find step-by-step instructions to connect your site to GA and some suggestions for a few metrics to track that will provide insights into your site activity.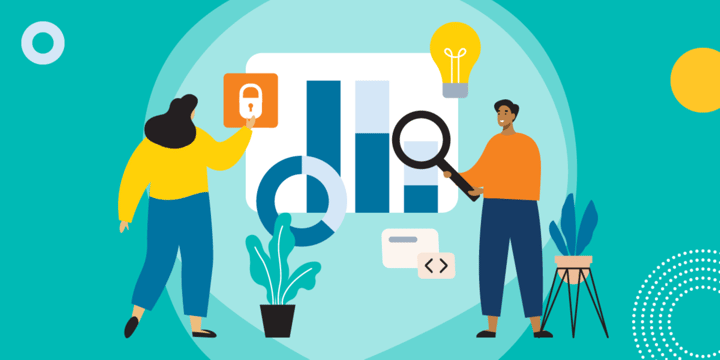 Please note that all information in this post refers to Google Analytics 4 (GA4), the most recent edition of Google Analytics. Universal Analytics (UA), the previous version, will be retired on July 1, 2023. Therefore, we strongly recommend that you create any new properties in GA4 rather than UA.
Before we get started, there are a few terms we'll use throughout this post that may be confusing to the GA newcomer.
Property: This is a website, app, blog, or other domain that you associate with a tracking ID in order to collect analytics information. Multiple properties can exist within one account.
Data stream: This acts as the pathway between your website and your analytics dashboard, allowing data from your site to appear in your GA property.
Event: This refers to an action performed on your site, like a click, view, or form submission.
Set Up Google Analytics
The first thing to do after you open an account is to create your first property. In the Admin tab, click Create Property, give your property a name, and select the time zone and currency you'd like it to operate in. You can add up to 100 properties to your Analytics account, but your website is a good place to start. Click Next and add your industry category and business size, and then click Create.
Next, you'll need to add a data stream. This allows GA to link the property you've created with the correct website. Head to the Property column, click Data Streams, then Add Stream. You can choose to add data from a website, iOS app, or Android app. Most likely, you'll be adding the data stream from your website. Enter the URL and give the data stream a name. You'll be asked whether you want to allow enhanced measurement. If you want to automatically track views, conversions, and other events, you'll need to agree to this. Click Create Stream to complete the process.
The final step you'll need to complete is to set up data collection by adding tags to your website. There are a few different ways to do this, and you may need to ask for help from a member of your IT staff or someone who helped you build your website. The process will be different depending on how your website is built and whether you have used a service like Wix or WordPress. You can also use Google Tag Manager to load GA4 and add tags for additional data collection.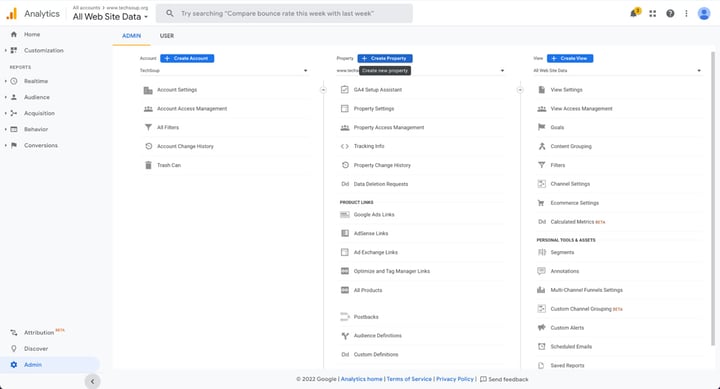 Three Basic Metrics
There are hundreds of ways to track and use the data you're getting through your GA dashboard, and it can be hard to know where to start. Here are three metrics that you can use to understand your website traffic and track growth in a way that is useful for you without spending hours on the GA platform each day.
Users
Users refers to the overall number of users visiting your site. Noting the number of users over time is a great way to understand what normal site traffic is for you and to watch your website grow over time. When you launch campaigns or marketing efforts, the number of users visiting your site can help you to see how successful your efforts are.
Page Views
Tracking the number of views on specific pages allows you to see the distribution of traffic between them and how this changes over time. You might be particularly interested in views on the donation page, for example, or a recent blog post. If you're running a social media campaign that links to a certain page, then a rise in views on that page will be a good indicator that the campaign is having a positive impact.
In particular, if you want to increase the number of new contacts reaching your website, pay attention to unique page views. This metric helps you to draw comparisons between new and returning visitors. It won't be completely accurate, as someone viewing a page from a new browser or device, or incognito mode, will show up as a unique view. However, tracking it over time can help you to see increases in new people discovering your organization.
You can also use this data to spot issues with elements on your site. For example, if your volunteer sign-up page is getting a lot of views, but you are seeing very few completions of the sign-up form, that is worth investigating. It could be that there is an issue with the form, that the call to action (CTA) is not displayed prominently enough, or that the form is too long and that is putting people off completing it.
Conversions
In previous versions of GA, the only event that could be seen as a conversion was a purchase. However, a conversion can be a wide range of things. It might be a donation, a completed volunteer form, an event registration, or some other action. In GA4, you can set any event on your site to register as a conversion, so you'll get a more accurate picture of how your organization is achieving its goals.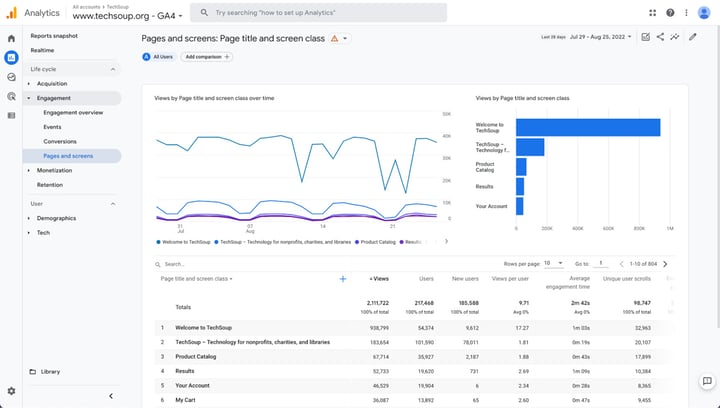 Use Your New Knowledge
Once you've set up your property, installed it on your website, and decided which metrics you'll focus on, leave some time for data to come in. Once you've been collecting data through GA for a while, you'll have something to compare to once you start testing out some techniques to increase your views, conversions, or other marketing metrics.
Now, all that's left is to observe the normal levels of engagement on your site, consider some strategies that might help you to meet your goals, and use your GA dashboard to assess your progress and learn more about your audience. GA is free to use, but you can access other Google technology through TechSoup. You can also make use of self-paced learning materials from TechSoup Courses to help you make the most of your GA properties. Our Gotta Get Google Analytics bundle is a great place to start — you'll learn how to build dashboards that work for you and discover more about who, exactly, is on your website.
Further Resources
Top photo: Shutterstock