Note: EGS is no longer offered through TechSoup.
TechSoup is partnering with Stewardship to provide effective fundraising solutions for nonprofits. It's also our first offer geared specifically toward faith-based organizations, and we couldn't be more excited.
For more than two decades, Stewardship Technology has served more than 15,000 faith communities and nonprofits by offering cost-effective, user-friendly donation management tools and resources. Its cloud-based giving platform, Electronic Giving Solutions (EGS), combines donation processing, tuition payments, event registration, and more. Read on to discover what Stewardship can offer your nonprofit!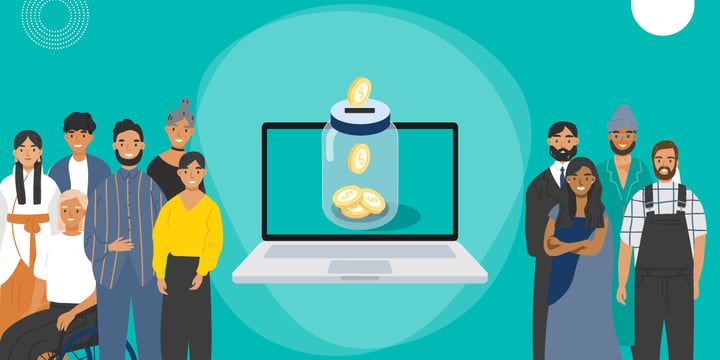 The TechSoup Offering
Stewardship's new partnership with TechSoup gives our members access to a 74 percent discount on the Electronic Giving Solutions (EGS) donation management platform. This gives your nonprofit access to a range of online tools for fundraising and event management for just $10 per month. The contract is flexible, allowing you to cancel anytime with no fees, and setup fees are waived.
Financial Solutions for Nonprofits
Stewardship Technology designs solutions with all nonprofits in mind and supports clients in faith-based, education, and healthcare industries. Stewardship offers a range of services to help you manage your finances easily and effectively. Included in the EGS donation management platform are unlimited online and mobile gift forms, text-to-give, crowdfunding, event registration, and more. Stewardship provides all the tools you need to fund your mission in one place.
Receive and Track Donations
Stewardship helps you to make it easy for supporters to donate money to your organization. Unlimited, customizable giving forms and mobile-enabled pages give donors everything they need to contribute to your mission in whatever way they choose. They can make a one-off donation or set up a recurring payment with ease by creating an account on the Giving page, or choose to use the simple text-to-give option. The mobile giving app makes donating even easier — your supporters can make or adjust payments at the touch of a button, straight from their phones. Stewardship makes the giving experience simple and enjoyable on mobile, web, and text, driving donations for your organization.
It's important — and often encouraging — to closely monitor growth in your donations. Stewardship provides customized reporting to help you understand trends in what your organization receives, who is donating it, and more. By understanding how your supporters are giving, you can more effectively appeal to them and other potential donors, helping you to drive your mission forward. Stewardship allows you to export registration, donation, and communication reports so that you can gain and share an in-depth understanding of your donations and where they come from.
Support and Training
As well as providing you with the tools to fund your mission, Stewardship offers some great resources to help you use these tools effectively to drive donations. Dedicated customer support allows you to ask questions at a moment's notice, while training workshops help you to grow your skills and fundraisers more effectively.
Their marketing toolkit can help you to promote your organization with professional techniques, and seamless social media integrations enable you to use your social accounts to their fullest potential. On top of that, webinars cover everything from event management to ad grants. This can help you to navigate the complex world of fundraising while directing as much of your supporters' money as possible towards your organization's mission.
Get Your Mission Funded
Stewardship states that its mission is to fund your mission. They are dedicated to providing excellent fundraising solutions, as well as support and educational resources to help you drive donations. By using Stewardship through TechSoup, you can get access to fantastic fundraising support and resources at an affordable rate. Check it out today!
Additional Resources