The Heart of Florida Legal Aid Society (HOFLA) was founded in 1968 to work to protect survivors of domestic violence and to promote economic self-sufficiency through legal advocacy for the Tenth Judicial Circuit of Florida.
In 2020, HOFLA decided to update its technology, but when the pandemic hit, its previous tech provider wasn't able to finish the job it started. HOFLA reached out to TechSoup to figure out what to do, not only to update its systems but also to simultaneously prepare staff members for working remotely.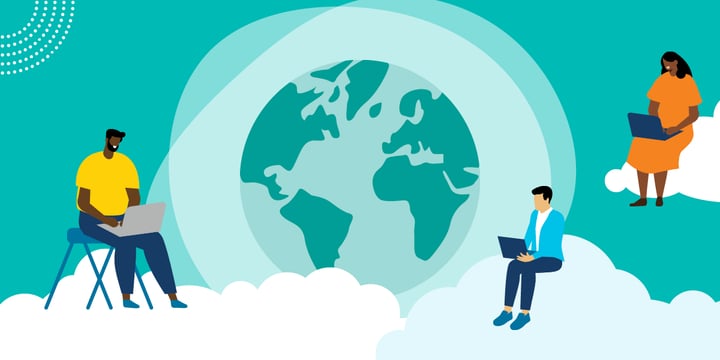 A Tech Audit, Already Underway
Before working with TechSoup, Carly Wohl, the executive director of HOFLA, had already gone through a tech audit with an independent advisory company. However, the organization still found itself with a number of tech issues, and the pandemic prevented it from continuing work with its in-person provider. That's when Wohl decided to reach out to TechSoup.
When we began working with TechSoup's Managed IT Services, we had a number of tech issues that we had to resolve, our tech was pretty old, [and] we were transitioning to Microsoft 365 and SharePoint. There were some additional security features we were looking to implement.
— Carly Wohl
After an initial consultation, Wohl was reassured that her needs could be met remotely via TechSoup's Managed IT program.
Personalized Advice and Implementation Projects
Once HOFLA was in TechSoup's hands, it received personalized advice on how to optimize the technology that it worked with on a daily basis. TechSoup's Managed IT team worked with HOFLA to determine how to transition its technology to the modern era while providing training to all of HOFLA's staff to ensure that their work wasn't disrupted as they worked remotely. Wohl noted: "Our Managed IT consultant helped us select technology so we could work more efficiently. They did a great job of telling us what we needed and how to get there."
Wohl received expert advice on the best hardware for her organization's unique work. Without this advice, she said she would have wasted countless hours of precious time just figuring out the basics of what she needed.
I think the most valuable piece for me was having someone knowledgeable and reaching out and telling them that "these are the needs that we initially need to do," and I knew what I wanted implemented, but I wasn't sure on how to go about doing that and they were able to help us implement it.
HOFLA then got to work on a few larger implementation projects to get its tech stack ready for the future. Once the organization purchased new laptops, TechSoup's Managed IT team helped staff members set up their SharePoint and multi-factor authentication and migrate their emails. TechSoup's Managed IT team helped train the staff after the setup. HOFLA was now ready to face the pandemic with the right tech tools.
Comprehensive, Ongoing Support
HOFLA still uses TechSoup's Managed IT Services to help when small issues arise to ensure that the organization understands the new technological implementations. Recently, Wohl realized that their copier wasn't capable of printing directly from SharePoint, so she called her Managed IT technician, who was able to look into it and fix the issue.
Currently, HOFLA is enjoying the shift away from the added stress of dealing with technology issues internally. Now its team members are able to focus more time on their mission with the assurance that their tech stack is fully managed by TechSoup.
"I have consistent monthly meetings with our Managed IT consultant, and I've been pretty satisfied with everything that has rolled out so far, said Wohl. "And if there's any issues in between those meetings, I just reach out to them. We're really grateful, and it's been a great time working with them."
How to Get Managed IT for Your Organization
TechSoup's Managed IT Services offers organizations the expertise of a fully fledged IT department specifically with the nonprofit community in mind. We understand that no nonprofit is the same, so each Managed IT experience is unique to every nonprofit. Once an organization reaches out, a consultation will be scheduled to identify needs and goals and develop a personalized support plan.
Personalized services include live help desk support, security monitoring, system and backup management, technology advice, and a hardware update program. For HOFLA, Managed IT services was incredibly helpful for its mountain of technology challenges. We'd love to help your nonprofit as well.
Whether you know your organization's technological needs or you're in need of a tech audit, a Managed IT consultant can help configure your next steps for your organization's technological well-being.
Additional Resources
Top photo: Shutterstock