One of the best things you can do to increase productivity and save time at your nonprofit is invest in a work management tool. By incorporating an app like Asana, you can automate many of the admin-heavy tasks such as assigning work, managing requests, and drawing out timelines. Here, read about how Atlanta Mission has used Asana to streamline tasks in its organization, saving staff time and enabling them to channel their energies towards chasing their mission.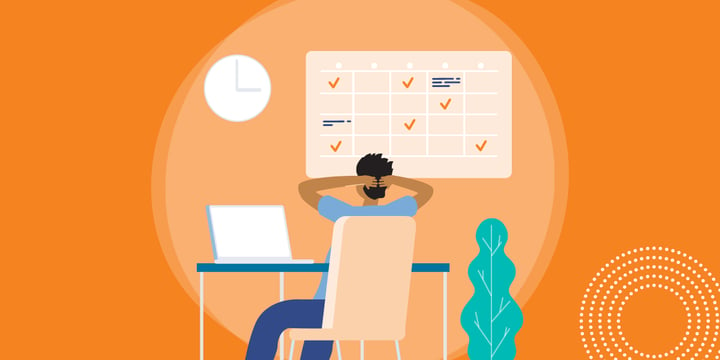 Atlanta Mission
Atlanta Mission is a homeless shelter with four campuses across metro Atlanta, serving up to 1,000 people on a daily basis. More than meeting an immediate need, Atlanta Mission strives to address the root causes of homelessness, helping individuals to be sustainable and successful in the long term. It uses Asana to manage IT requests, triage and assign tasks, and keep track of projects. All of this helps keep everyone on track without excessive manual administration.
Using Asana, Atlanta Mission has been able to collaborate more effectively across its organization. James Barrell, chief information officer at Atlanta Mission, told us that their team has been able to implement a range of new projects that simply would not have been possible before using Asana. These include a new donor and volunteer database, a new website and phone system, a client service program overhaul, and more. Its IT request form ensures that they can stay on top of any issues with the new systems.
Read on to learn how Atlanta Mission uses both the projects and forms features in Asana to keep employees on track, implement changes effectively, and mitigate errors as they arise.
Projects
Projects in Asana are used to track the progress of a task and its subtasks, assign the correct teammates, and map out due dates. Projects also contain space to comment and chat, allowing assignees to ask questions or share relevant information.
Automatic task creation, predetermined timelines, and various project views help to keep everyone on track while saving time on admin. "I really like the flexibility of Asana as well as the ability to collaborate," says Barrell. He explains that Atlanta Mission recently migrated its employee documents from an internal server to SharePoint and used an Asana project to manage the process.
Asana's website contains guides to help you implement projects within your own team, using templates or starting from scratch.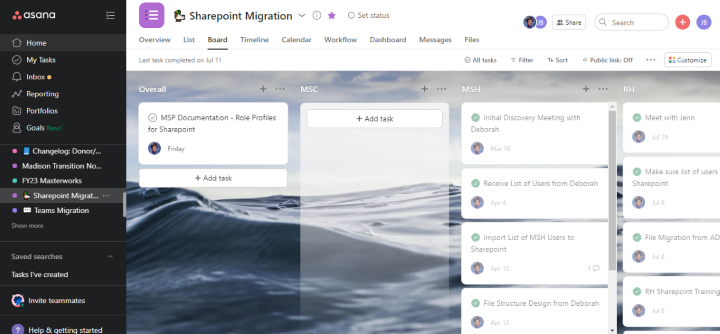 Barrell notes that projects help to manage employee workload. Managers can see the number of tasks assigned to each team member, allowing them to gauge who needs extra help. He also says that his colleagues appreciate the narwhals streaming across the screen when a task is completed — sometimes a little motivation goes a long way.
IT Request Forms
Barrell also explains that Atlanta Mission uses forms in Asana to manage its IT requests. If someone in their organization needs, for example, a new field added to a database, they submit a form detailing what they need, when they need it, and how urgent their request is. Based on their responses and preset rules, a project will automatically be created, with the information attached and the relevant teammates assigned. By using Asana's projects and forms in tandem, they are able to quickly resolve issues, automatically assigning the tasks to the correct team member.
Asana's highly customizable forms can be used in a wide variety of ways to collect information from colleagues, partners, or website visitors. The responses will appear in your Asana space, helping you to quickly process and act on the information. If the submitter is part of your Asana space, you can also add them as a collaborator on the task in order to discuss the submission further. Check out Asana's guide to all things forms to learn how to customize this feature for your organization's needs.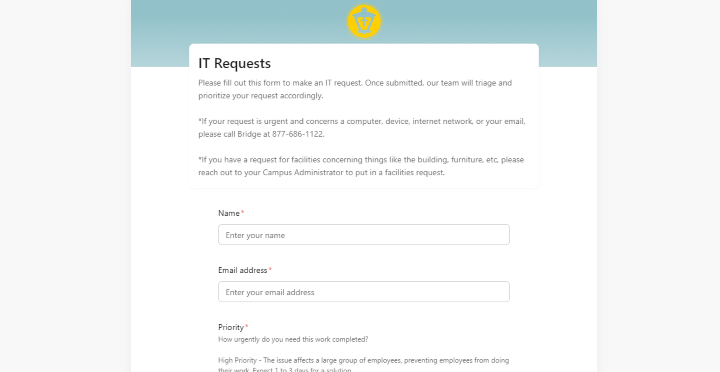 Build More Effective Workflows
Atlanta Mission has found that Asana helps to keep staff members motivated, plan and implement projects, and manage requests quickly. Asana's easy-to-use layout, team workspaces, and collaboration features are ideal for nonprofits with time-strapped staff. Using these features can help to keep everyone on the same page while cutting out much of the time-consuming admin associated with project management.
Nonprofits can get access to the Business and Premium versions of Asana at discounted rates through TechSoup. In addition, Asana's website contains in-depth guides, webinars, and courses to help you make the most of your subscription.
Additional Resources
Top photo: Shutterstock