As your organization balances everything from donor relations to delivering on your mission, staying efficient and organized is critical. Back-office and other administrative duties can feel as if they are getting in the way of bigger-picture activities, but you can't let them fall by the wayside.
In fact, your funding, grants, and tax-exempt status may depend on audits, getting all the numbers right, and limiting the amount of administrative work you do. That's where a good tech stack can help.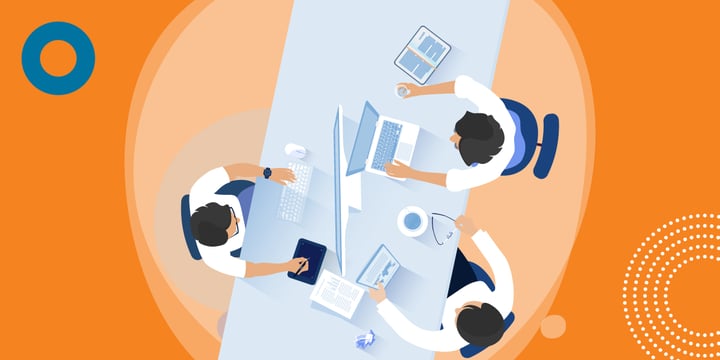 What Is a Tech Stack?
It does sound a little jargony, but a tech stack is just the software you use. It becomes a "stack" when the different elements of each tool work together to help you save time on business operations such as accounting, invoicing, and managing donor relationships.
Since data is at the heart of most of your big decisions, the first thing to focus on is getting it all organized — and secured — in one spot. Once that's set up, consider all the projects your team works on and create a list of functions that could be running more efficiently.
Using a Tech Stack to Button Up Your Back Office
There are a few ways a well-organized mix of technology can streamline day-to-day duties for nonprofits.
Automate Repetitive Tasks
HR teams can spend entire days on new hire onboarding and not enough time recruiting. Or in smaller operations, these onboarding tasks might fall on another department. Instead of bogging staff down with stacks of paper forms, you can have new team members self-onboard and e-sign documents. On a similar note, integrating time tracking, payroll, and accounting software can eliminate double data entry.
Simplify Contributions
Many nonprofits encourage online giving, and a tech stack can be the key in taking efforts up a notch. By adding a website portal that's set up to process financial information across multiple devices — or even text-to-give platforms — accepting donations any time of the day is easy and convenient. It also simplifies collecting and storing data from donors for future campaigns. And when you have an integrated tech stack, doing all the bookkeeping and follow-up can be easy, too.
Empower Your Personnel
Most people who work in the nonprofit space are looking for more than a paycheck — they want to make a difference. By helping staffers spend less time on grunt work, you can help them find more ways to carry out your mission. Moving employment-related documents into the cloud, for example, can make it easier for employees to answer HR-related questions on their own.
Improved Data Analysis
Get a better understanding of trends or red flags. Having all the data at your fingertips can help you get a read on everything from cash flow, to how you're spending grants, to how donor behavior might be changing.
Many nonprofits know the benefit of using tools to keep connected with their top donors and fundraise more efficiently. But some may not realize the positive effect back-office tools can have on a work schedule. For example, using payroll software can put an average of 17 hours per month back on your calendar, compared to running payroll on your own.
Payroll isn't the only process ripe for increased productivity, though. You can also take things up a notch with accounting and HR tools, too. Here's how often small businesses use different types of software.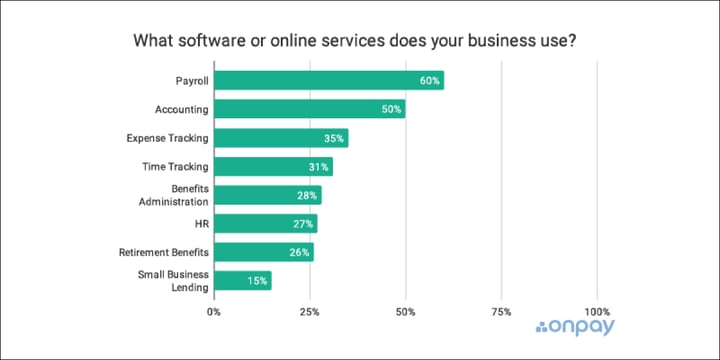 Choosing the Right Technology
You can research tech solutions in just a couple of clicks. Resources such as G2crowd, Capterra, or Getapp make it simple to compare different options. However, you'll also want to think about which tools play nicely with each other. TechSoup's product catalog contains discounts and donations of many tools and services.
Structuring Your Tech Stack
The best way to start assembling your tech stack is by assessing the technology you already have. For example, your current customer relationship management (CRM) may have out-of-the-box functionality that integrates with other solutions. If you're starting from scratch, choose one tool to build your stack around. Payroll and accounting software are the two most common solutions used by smaller companies, so that can be a good place to start. Find out who your preferred provider integrates with and use that information to make decisions about secondary software choices.
Happy planning as you pull together a tech stack that keeps your mission front and center. As you look for tools to build around, OnPay is a cloud-based payroll and HR system with straightforward monthly pricing, which offers nonprofits a special discount through TechSoup.
With a thoughtful approach and a little resourcefulness, you'll have your back office better organized, you'll simplify compliance, and you'll win back time to spend pursuing your mission.
Additional Resources
Top photo: Shutterstock