Springwater Wayland EMS (SWEMS) is a volunteer rural ambulance service that provides primary emergency basic life support transport service to 4,300 residents in 39 square miles in upstate New York. The entire organization consists of 35 individuals willing to volunteer their time and expertise to save lives.
In this post, I'd like to share my organization's experience from the pandemic, and how using the free solutions for nonprofits offered by Google for Nonprofits — specifically Google Workspace (formerly G Suite) — helped us keep our volunteers in the field and our operations running smoothly.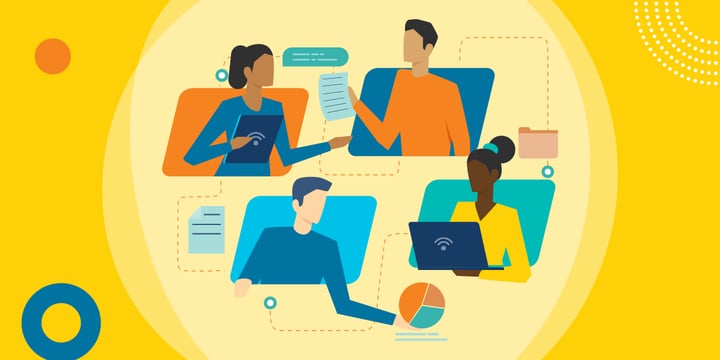 Getting Set Up
First, you need to have a domain name. Register a domain with any of the many domain name registrars that are available. When you register a domain, you are basically leasing the rights for that web address for a certain number of years. You also need to ensure that you renew it on time so everything continues to work. The cost for a domain name is usually around $8 to $20.
Once you have your domain, you can register for Google for Nonprofits through TechSoup. The staff at TechSoup can help you with this process.
After you have been approved, you will need to modify your domain's DNS (Domain Name System) records to point the MX Record to Google's servers. This is how email will flow to your domain through Google. This process can take 24 hours to become active.
Using Google Meet for Interactive Training
SWEMS started using Google Workspace under the Google for Nonprofits program in 2016, so we had some of the infrastructure in place to maintain communication with volunteers during all hours of the day. But when COVID-19 hit last year and we could no longer conduct in-person training sessions and regular meetings, we scrambled to figure out how to maintain operations while complying with the government orders.
The obvious answer was to expand our usage of the features that Google offers within Google Workspace. We had already issued every volunteer a personal email account under our domain name, and they all had access to a shared drive with organizational documents.
But we had to do more. The state Department of Health extended expiration dates for certifications and allowed exceptions for yearly required trainings. But SWEMS is an absolutely essential service for our community, so the leadership felt it was necessary to communicate the rapidly changing guidelines to our members quickly and in person for the safety of our volunteers. In order to do so, we began using video conferencing with Google Meet.
It's crucial that volunteers understand the proper procedure for donning and doffing protective equipment, and this is much easier to demonstrate live, where students can ask questions. Google Meet made this interactive training possible, and we worked out policies to ensure compliance while maintaining our level of training and readiness.
We were lucky to receive a $3,000 grant from a regional foundation just before the pandemic hit. We used this money for training equipment, including a 55-inch display for our meeting room. We hooked that display up with a webcam and had instructors run Google Meet sessions from there. For members who had poor Internet, we allowed them to attend in person and maintained the required social distancing. Google Meet was one of the most important features of Google Workspace that we implemented. It helped maintain readiness and camaraderie among all our volunteers.
Coordinating Meetings and Volunteers with Google Calendar
Google Meet is also integrated into Google Calendar, so that when you create an event you have the option to add a prearranged Meet session.
Within Google Workspace, you can add "resources" — items that can be added to a calendar event. We set up a space at our headquarters for our trainings and meetings, as well as resources for our Stop the Bleed and CPR mannequin kits. This lets our instructors track when a training kit is in use. Our instructors teach CPR and Stop the Bleed classes to the public and other neighboring agencies, so these kits are sometimes used offsite. Google Calendar helped us coordinate the usage of the meeting space, along with which resources were in use at a given time.
Another great feature of Google Workspace for virtual meetings is Jamboard. Looking at Jamboard's marketing page, you would think that you have to buy an expensive piece of equipment, but that is not true. The shared whiteboard component is included with Google Workspace at no charge. This is a great tool for committees to brainstorm ideas when working remotely, and we use it all the time for the aforementioned meetings and trainings.
Using Google Classroom and Forms for Volunteer Training and Feedback
In order to maintain our level of readiness, we also needed to incorporate organized training that can be offered at different times and places throughout the day in order to account for ever-changing volunteer schedules. Google Classroom allows for this. Our training officer and instructors easily adopted Google Classroom and posted videos and created quizzes to prove that the volunteers completed the training session at a time that worked for them.
They also created a classroom for our yearly training requirements, including those around HIPAA, bloodborne pathogens, and other mandatory yearly classes. Another classroom was created for new volunteer onboarding and one for additional monthly training sessions. When we replaced the child car seats in the ambulances with a specialized set of nylon webbing restraints designed to secure patients from 4 pounds to 90 pounds, we created a video to demonstrate usage with a short quiz. This was then followed by a request for each volunteer to schedule a time to meet with an instructor to do the hands-on portion of the session to maintain minimal contact.
Google Forms proved to be a great solution for conducting quizzes on our trainings. But not only do we use Forms to create the quizzes in Google Classroom, we also use them to get feedback from our volunteers. We set our options to not collect email addresses, receive responses only from agency accounts, and restrict each person to one response. In this way, we can have secret ballots on voting and receive only a tally of responses, which allows us to comply with the voting procedures outlined in our bylaws.
Using Productivity Tools in Google Workspace
Google Forms is one component of Google Docs, which includes Docs, Slides, and Sheets. These are web-based comparable tools to Microsoft's Word, PowerPoint, and Excel. You can even import many Microsoft documents into Google Docs, but be aware that some of the more advanced features within Word and PowerPoint may not import correctly into Google Docs or Slides. It is trial and error, but most items will import without issue. One great feature of using this free component of Google Workspace is the ability to collaborate on documents using comments and to track changes in near real time with multiple collaborators.
How Google Groups Streamlines Distribution Lists
Getting back to email, our organization uses Google Groups to handle distribution lists. Since every member has their own agency email, we are able to set up groups for all members (a single email goes to everyone at once), every committee, the board of directors, and our operational officers.
So if any volunteer wants to email our five board members at once, they simply send an email to the directors email address. This makes it easy to send emails to the proper team. We can add the groups to calendar events, which makes it easier to schedule meetings and also improves communication within the committees. Each group can either allow receiving external emails or be internal only. Another feature of groups is that you can apply permissions to Drive folders by group.
Google Drive: A Great Cloud-Based Storage Solution
Next up is Google Drive. Many people are familiar with the features of Google Drive for individuals. With Google Workspace, every email address gets 30 GB of individual drive storage, and you can share files from there. However, one powerful feature only available in Google Workspace for Nonprofits is Shared Drives. These are Drive folders that are not tied to a specific person. Have you ever had a person using their personal Gmail account leave the organization and then disable their Gmail account? All those files are lost. This won't happen with a shared drive. The files in a shared drive belong to the drive, not the person.
SWEMS created several shared drives to improve operations. We have the Membership Files drive, which grants "viewer" access to all volunteers and "editor" access to our leadership groups (again utilizing the groups feature to manage permissions). Within this shared drive, we have folders for organizational documents (forms, bylaws, etc.), policies, committees (with subfolders for each one), financial reports, and officer information. Giving all members the ability to view everything whenever they have time gives them more ownership in the organization and has improved the flow of new ideas from our volunteers to our leadership group.
We've also set up shared drives for our board of directors that is limited to board members. One drive is for leadership. The board and officers use it to brainstorm ideas before presenting to the whole organization. Another drive is for archives, where we store pictures and scans of articles involving our organization. Keeping track of our history is just as important as maintaining current operations.
Staying Connected with Google Chat
Another feature we use is Google Chat. It directly integrates with Gmail on both the desktop and the mobile apps. Chat allows you to send files and video chat directly with other members of your organization. If you are so inclined, you can block the ability to chat outside of the organization from the admin console. We use it to maintain a consistent and secure environment to communicate individually or in groups. Using rooms, we are able to send quick messages to committees or the leadership team.
Managing Everything from a Single Admin Console
Google Workspace is relatively easy to manage. Google has created a wealth of well-written help documents.
You can manage everything from admin.google.com. The interface is laid out in an orderly fashion, and if you can't find a setting, you can use the search bar to look for it. For example, under "users," you can simply click the Add New User button and then follow the prompts. If you mouse over a user, you see options to reset password, add to groups, and complete other actions. As you drill down into the settings, you see more and more permissions or features.
If there are parts of Google Workspace that you want to limit or set policies on, you can go into Apps, then Google Workspace, and then choose the component to turn on or off. If you set up Organizational Units (OU), you can set permissions for apps by OU.
So, for example, we have junior members who are under 18, and we wanted to restrict their email usage to only internal emails. We are able to go into the Gmail settings, select the Juniors OU, and then change their specific permissions to limit what they can do. This is described in the Google Help center.
If you want to distribute the management duties across multiple staff members, you can do this within the admin console from the admin roles page. For example, our membership officer has rights to manage user accounts and groups but cannot access other parts of Google Admin.
The number of admin options and security features is way too much to cover in a blog post, but I hope this gives you an idea of how powerful Google Workspace can be.
Google Workspace: Foundational Software for Our Organization
As you can see, our organization has built our operations around Google Workspace. It has allowed our board and leadership to function even when not able to meet in person, and our volunteers are more in tune with what is going on within our organization.
Going forward, we are going to maintain usage of all of the systems we put in place during COVID-19. The flexibility of training programs that Google Classroom allows for is an absolute winner for organizations that have staff or volunteers that work across different shifts. We are continuing to use Google Meet for all of our meetings, even when a majority of members can be present, simply because it allows more attendance when our volunteers work further away.
Google Workspace has helped our organization overcome obstacles from the pandemic and has improved our operational efficiency. It can help improve your organization as well.
About the Author
Fred Grambs has been the chief of operations for Springwater Wayland EMS, a 501(c)(3) nonprofit, since its inception over five years ago. His full-time job is as a senior computer services assistant for a local school district, and he has over 20 years of IT experience.
Additional Resources
Top photo: Shutterstock