Membership management software stores all of your organization's member data in one place. Using these details, you can send personalized communications to members, learn more about and draw conclusions about your membership base, and more. In addition to organization, this type of software offers automation. For example, it can capture and store contact information as soon as someone signs up as a member. All of these features come together to give you a tool that cuts down on the amount of time you spend on routine tasks.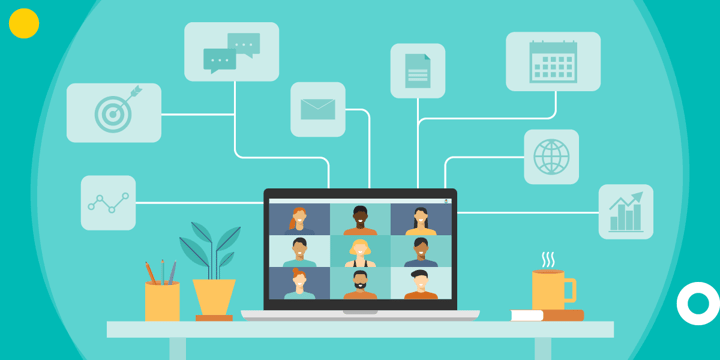 Choosing membership software is no easy feat. Between the different features, prices, and providers, it can be confusing to know where to begin. Let's go through the steps that you need to take to find the right software for your nonprofit.
Understand the Different Types of Software
Understanding your options is probably the most difficult yet important part of the shopping experience. Taking a close look helps you see how each type affects user experience, price, and more.
Software as a Service
Software as a service (SaaS) describes an application that you get over the Internet. It works on a subscription basis, and you use it through a web browser or by downloading an application. HubSpot, Google for Nonprofits, and many other products available through TechSoup operate in this way.
Typically, SaaS software allows for a lot of personalization and comes at a reasonable price. As your organization grows, you can adjust the software to your new needs, either by adding new licenses or upgrading to more feature-rich versions. Because of the flexibility and ease of use, many nonprofits find this type of software valuable.
Downloaded Software
With downloaded software, you pay an upfront fee and download a particular version onto your computer. While it is functional with a lot of features, you may end up paying for updates as new versions come out. Since you don't necessarily need an Internet connection to use it, downloaded software is particularly useful for nonprofits that work in remote areas. Many SaaS products, including some Microsoft 365 subscriptions, include downloaded versions of their products.
Custom Software
Custom software is created specifically for your organization based on the key requirements you lay out. This is useful if your organization has complex needs that other software can't fulfill. For example, a food pantry might need to track appointments, inventory, client choices, and volunteer hours in one platform in order to be more efficient. Be careful, though. Custom software can come with a high price tag. It may also require a lot of work to adapt your custom software to work with your organization's growth.
Audit Your Current System
After you decide what type of software you want, it's time to take an honest look at how you currently handle membership management. First, write down the pain points that you currently face:
Write down everything that you already know is painful.
Then, spend two or three days tracking your time to see what's taking longer than you thought.
Also draft a wish list of tasks that aren't causing problems but you wish were easier.
Knowing exactly what you need and want keeps your team and any software companies that you are working with focused.
Find Software That Meets Your Needs
After you perform the audit, consider what kinds of software have the potential to meet your needs. Here are a few common features of membership software to help get your brainstorming moving:
Customer relationship management: Custom fields, filters, groups, transaction history. HubSpot is a CRM tool with various "hubs" offering different functionality.
Membership management: Custom applications, renewals, online payments, customizable fees. Springly is a membership platform that also helps you to manage accounting and online payments.
Money management: Payment tracking, receipt management, accounting. Intuit QuickBooks offers accounting and financial management software.
Communications: Emails, newsletters, follow-up messages, automated messages. Constant Contact can help you keep your community informed on email and social media, including automated email capabilities.
Event management: Ticket creation, event promotion, event follow-up. For virtual events, Bevy can help you market and manage conferences, workshops, and training.
Zero In on Your Budget
So, how much should you expect to spend on software?
SaaS software for membership management usually costs $29 to $70 per month, billed monthly or annually, while downloaded and custom software requires upfront payment, though the exact amount varies widely.
Create a budget before you even begin looking at providers. This will help you filter out the programs that are out of your budget and focus on those that are realistic options. It might help to find out what you pay for your other tools in order to budget for your membership software.
Start Your Shopping
Finally, the fun part! There are so many to choose from that you can't do the following steps with all of them. Narrow down your options to five or fewer. There are discounts and donations available through TechSoup, including the membership management platform Springly, which combines a CRM with membership, accounting, and online payment features.
Book a Demo
Most software companies offer a free product demonstration. By seeing the tool in action, you can start imagining how to adapt it to your organization's needs.
Try the Software
Try out your potential tools. You can either make use of a free trial or pay for one month of a SaaS tool to see how easy it is to use and how it fits with the other technology you have. This is also an opportunity to test the provider's customer service. See if you receive a proper level of guidance, training, and support.
Read the Reviews
Read all of the reviews you can get your hands on. Check Google, Better Business Bureau, Capterra, G2, or even Facebook. The nonprofit community is vast, so also get the opinion of others that used the software previously or are still using it.
Manage Membership More Effectively
There are certain processes that you need to automate to continue growing, and membership management is one of them. When it comes time to shop for this type of software, don't be intimidated. You've got this!
Additional Resources
Top photo: Shutterstock