Membership programs are a great way for organizations to generate consistent and reliable revenue from their most loyal supporters. Member-only benefits are enticing and help to increase impact by forming passionate, aligned groups of supporters.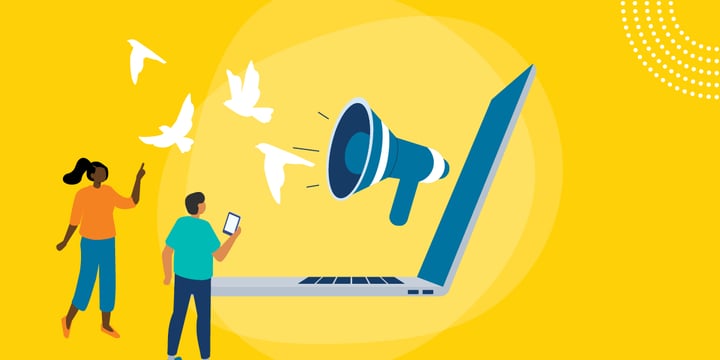 If your organization has a membership program, your website is the perfect place to incorporate improved access and benefits for members. Depending on the content management system (CMS) you use for your website, there are several tools that can be directly integrated with your existing site. These are some of the most popular membership tools:
HubSpot CMS Hub
MemberPress (WordPress only)
Wix Bookings (Wix only)
Wild Apricot
If you're considering adding one of these tools to your site, let's look at some ways they can help you increase and maintain memberships and get more value from your current members.
Enable Convenient Membership Management
If your organization has an active membership program, but doesn't currently facilitate it online, the process of beginning and maintaining a membership might be tedious for your users. If they have to take any action in person, over the phone, or via email to initiate their membership, you're adding unnecessary extra steps and risking low renewal rates due to these barriers.
Studies have shown that 76 percent of consumers will stop doing business with a company after just one bad customer experience. A multi-step offline process can easily become a frustrating process that results in a negative experience.
With online membership registration and management, users have full access to control their membership at their convenience. Most membership platforms or plug-ins allow users to
Purchase or register for a new membership
Upgrade their membership level
Set their auto-renew preferences
Manage payment methods
Edit contact information
Not only is this convenient for members, but it also conserves resources within your organization that would otherwise have been dedicated to fulfilling these types of requests.
Drive Interest with Member-Only Content
Exclusivity is one of the inherent benefits of membership for any group or organization. Your organization's website can enhance this benefit by serving as a hub for access to exclusive content, such as impact stories, training and webinars, or event recordings.
Be sure to keep your target audience in mind when deciding what content to make available. Some examples of valuable content are
On-demand videos
Webinars
Training
Research documents
Journal articles
Brand assets
Membership badges or other branded digital graphics
Reward Loyalty with Events and Ticket Sales
By joining your organization as a member, these individuals are showing their loyalty and support for the programs or services you offer. To reward that loyalty, you may want to consider offering members discounted pricing or early access to tickets and events. Many membership platforms will integrate with your event or ticketing system to allow you to offer various pricing and access dates.
It is likely that your members will attend or participate in more of these events or programs than nonmembers. So while you're offering them a discount, the benefit of their loyalty and attendance at multiple events throughout the year will likely outweigh the loss of revenue on a single transaction.
If you have events that have limited capacity or tend to sell out quickly, offering members early access to purchase tickets is another way to reward their loyalty. This level of access would be an incentive for nonmembers who had a high level of interest in a specific event to join.
When event registration or ticket purchases are available via your website, this offers a prime opportunity to showcase the benefits of becoming a member. By displaying the member discount or early access to the general public, you're demonstrating one of the key benefits and further enticing them toward membership.
Generate Additional Revenue
Tiered membership options are beneficial for both your members and your organization. Members have the flexibility to join your organization at a level that works best for them, and your organization likely gains more members overall by offering several options. A new member who has not yet experienced all of the benefits of membership may join at the lowest or least expensive level. The member portal on your organization's website can be a great place to showcase the benefits of a higher level of membership and encourage lower-tier members to upgrade.
Many membership management tools allow you to set specific user roles or access levels based on a user's membership tier. When low-level members are browsing available content, show them not only what they can currently access, but what they could access if they upgraded. For instance, if you have a library of videos available, show the low-level members the full library, but only allow them to click on or watch some of them. Clearly mark the others as exclusive content for higher membership tiers.
By offering the upgrade option online and at the convenience of the user, you've now created a significant volume of upsell opportunities that you would have otherwise missed out on.
Get Started with Memberships
By bringing the membership experience online, you open many opportunities to increase your organization's overall membership and enhance engagement between your organization and its membership base. If you've already established a membership program or have one in mind, the first step is selecting a membership platform or plug-in and ensuring that your current website can support the required features.
If your website doesn't support membership plug-ins or features, it may be time to upgrade! The TechSoup Website Services team builds custom websites for nonprofits looking to scale and grow. Ensuring that your website has the features and functionality necessary to grow is the first step in generating awareness, ongoing support, and memberships.
Get in touch with TechSoup's web and marketing experts to learn more.
Additional Resources
Top photo: Shutterstock