Note: This post has been updated to reflect price changes that took effect on September 1, 2022.
As the pandemic wears on and faith-based organizations have some services and programs that are in-person and some online, it is hard to keep members interested and involved month after month. By faith-based organizations we mean churches, synagogues, mosques, Hindu, Sikh, Buddhist, and other temples — as well as charitable organizations affiliated with a religious group. Faith-based and religious organizations can now get the same Microsoft and Office 365 discounts and free offers that 501(c)(3) charities get. We'll explain what these licenses can do for you and how to get them.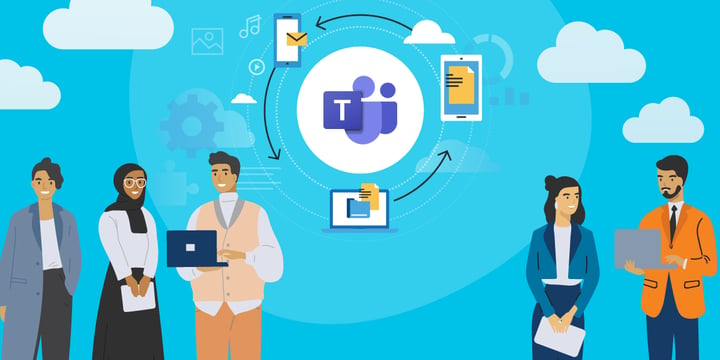 TechSoup's Recommendations
Microsoft 365 is a bundle of services that includes an array of Microsoft Office 365 applications, plus hosted email, online file storage, enhanced security features, Microsoft Teams video conferencing, Intune for device management, and upgrade rights to Windows 10 Enterprise. We have a good summary of what you can get here.
We recommend that all organizations (including faith-based and religious organizations) take advantage of the donated Microsoft 365 Business Premium offer for your first 10 licenses. These licenses are available for free and include both cloud and installed (or desktop) versions of Office applications that you are familiar with, such as Excel, Word, PowerPoint, Outlook, and more. Microsoft 365 Business Premium also includes Teams for communications, cloud storage, Windows upgrade rights, and device management solutions. If necessary, organizations can acquire additional licenses at $5.50 per user per month.
Each license comes with Windows Defender Antivirus and BitLocker encryption. With so many members and staff interacting remotely from personal devices, there are many more cybersecurity concerns than ever before — for instance, more phishing and ransomware threats. Microsoft 365 has powerful security features built in. You'll also receive all the most recent security and software updates automatically, reducing costs for IT and overhead.
Key Features for Faith-Based Organizations
Microsoft 365 has so many useful applications for faith-based organizations. This bundle of services has become extremely popular, particularly since the pandemic hit. As an all-in-one collaboration platform, it has useful features for connecting small and large groups. Here are its main features.
Office Applications like Outlook, Word, Excel, PowerPoint, Publisher, and Access are included in all Microsoft 365 licenses. For users hesitant about using the cloud version, the installed (or desktop) versions of most applications are also included in all Microsoft 365 licenses (with the exception of Business Basic).
File Sharing tools such as Teams, SharePoint, and OneDrive let your staff and members easily find, share, and edit files simultaneously in real time. You get version history, automatic backups of your data, and the ability to access this information from up to five devices per user.
Live-Streaming (Teams) can be used to host a live event like broadcasting worship services to your congregation. You can have up to 10,000 attendees. You will need a just a single discounted Microsoft Office 365 E3 or higher license (PDF) for the event host and organizer. Attendees do not need Microsoft Teams licenses.
Video Conferencing (Teams) can be used for smaller and more interactive ministry meetings like staff meetings, board meetings, counseling sessions, support groups, volunteer coordination, fundraising, and donor events. This feature includes screen sharing, meeting recordings and meeting transcripts that you can share with people who can't attend. The service even does translations into different languages.
Chat (Teams) enables both staff and members to send messages by mobile phone or computer for one-on-one conversations or group chat for informal get-togethers or to share upcoming meeting agendas from your calendars. One unique thing that Teams Chat can do is to enable teletherapy consultations via video chat. When combined with Microsoft 365 security features, confidential personal information can be made HIPAA compliant.
Mobile Device Management with Microsoft Intune lets you control how your organization's mobile devices and mobile applications are used, including mobile phones, tablets, and laptops.
Protecting Against Email Threats, which are a major source of malware. SpamTitan controls, cleans, and protects against spam emails. This tool blocks phishing, spoofing, malware, ransomware, and zero-day threats before they can harm your organization. This is some of the best protection for email available anywhere.
Robust Security Overall in Microsoft and Office 365, which have very robust security features including end-to-end data encryption. They also feature multi-factor authentication for times when it is essential to share very personal information.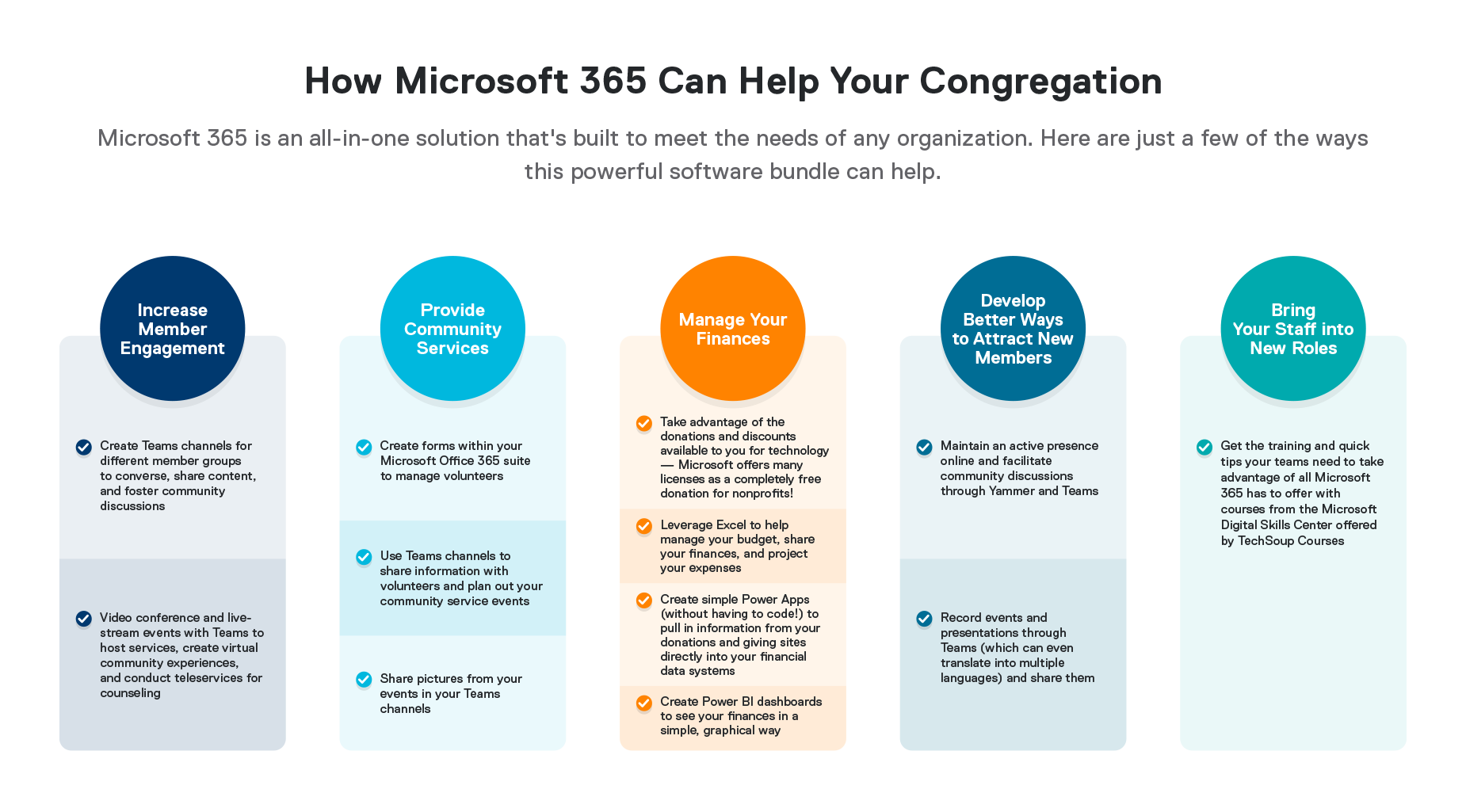 Keeping Everyone Interested and on the Same Page
With Microsoft 365, you can mix and match licensing, and you can upgrade or downgrade your plans at any time. You might want robust versions of Microsoft 365 like Business Premium for your ministry staff. Microsoft 365 Business Basic with its 300 free licenses per organization might be suitable for more occasional users. Microsoft Office 365 E3 could be just right for those in your organizations that need live-streaming access or enhanced security features or HIPAA compliance.
If you would like to request Microsoft 365 with Teams for your faith-based or religious organization, simply go to TechSoup's Microsoft 365 Nonprofit Cloud Subscriptions page and log in with your TechSoup ID or join TechSoup here at no cost.
Additional Resources