Note: This post has been updated to reflect price changes that took effect on January 4, 2023.
Office 365 is now renamed to Microsoft 365. This change occurred on April 21, 2020, with specific product names also changing to reflect this new update.
Office 365 Business Essentials and Office 365 Business Premium licenses are now known as Microsoft 365 Business Basic and Microsoft 365 Business Standard. Both offers are currently available, and up to 300 licenses may be requested at special nonprofit pricing.
Also, Microsoft 365 Business is now Microsoft 365 Business Premium.
These are only name changes, with no pricing, product, or feature changes. Also, this name change does not currently affect Office 365 Enterprise licenses, such as Office 365 E1, E3, or E5 offers.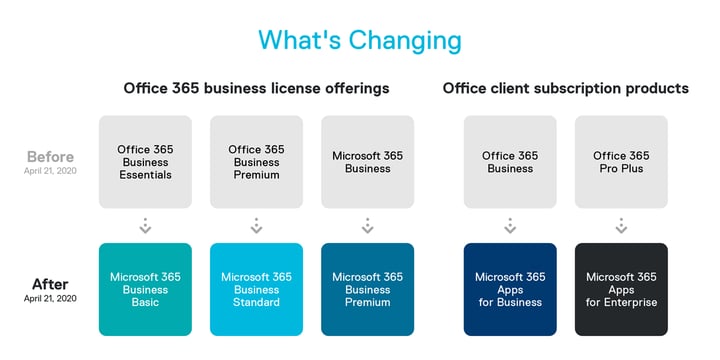 For several years, the value in the Microsoft cloud solutions has expanded beyond the traditional Word, Excel, and PowerPoint offerings. Today, Microsoft cloud offers also include features and applications that bring the true power of the cloud to productivity suites. These include Teams for collaboration and communication, cloud file storage and sharing, as well as security and identity solutions to help safeguard your data.
The name change also helps make it more clear how different licenses build off each other to add increasing features and value. Don't worry, the Office applications that we all rely on every day are still very much part of the Microsoft 365 family. Take a look at the license features here: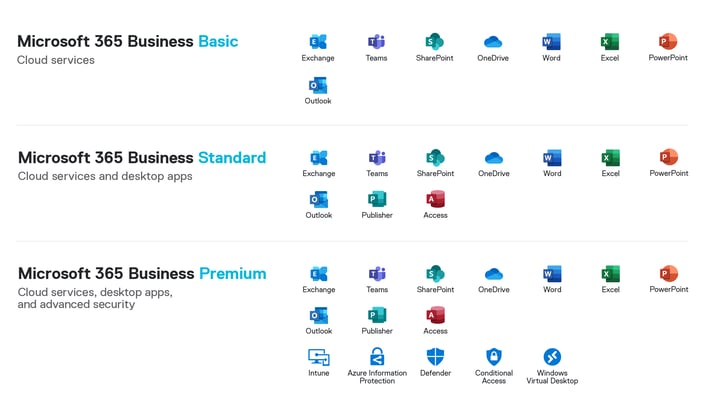 Microsoft 365 Business Basic
Microsoft 365 Business Basic was formerly Office 365 Business Essentials. It is available at $1 per license per month for up to 300 licenses.
This license offers cloud-only applications. This license works best for organizations that are looking for cloud storage and need Microsoft Teams. Desktop versions of Office applications are NOT included. The cloud versions will integrate with desktop solutions from Office 2019, Office 2016, and Office 2013. Previous versions of Office, such as 2010, may work but with reduced functionality.
Microsoft 365 Business Standard
Microsoft 365 Business Standard was formerly Office 365 Business Premium. It is available to nonprofits as a discounted product for up to 300 licenses
This license offers both cloud applications and desktop applications. It also includes Outlook, Publisher, and Access. You will also be able to leverage the Microsoft tools Bookings to schedule appointments online and MileIQ to track mileage for reimbursement and reporting.
Microsoft 365 Business Premium
Microsoft 365 Business Premium was formerly Microsoft 365 Business. It is available at $1 per license per month for the first 10 licenses, with additional licenses available at a discount at $5.50 per user per month.
This license has all the features of Microsoft 365 Business Standard, and also includes powerful security features currently available through Microsoft's Enterprise Mobility + Security suite and an upgrade to Windows 10.
We strongly recommend that organizations take advantage of this offer. For license needs over the 10 donated licenses, either purchase additional licenses at the discounted price or select a Microsoft 365 Business Standard license or existing Office 365 E1 or E3 licenses.
Enterprise Licenses vs. Business Licenses
You may be wondering how Enterprise licenses compare to the Business licenses under Microsoft 365. Enterprise licenses are meant for larger organizations that have more than 300 seats. Though the licenses offer similar features to the Microsoft 365 Business licenses, there may be a few small differences. We've summarized the key features and availabilities in an at-a-glance table that you can download. Click the image below to display the full-sized table as a PDF file.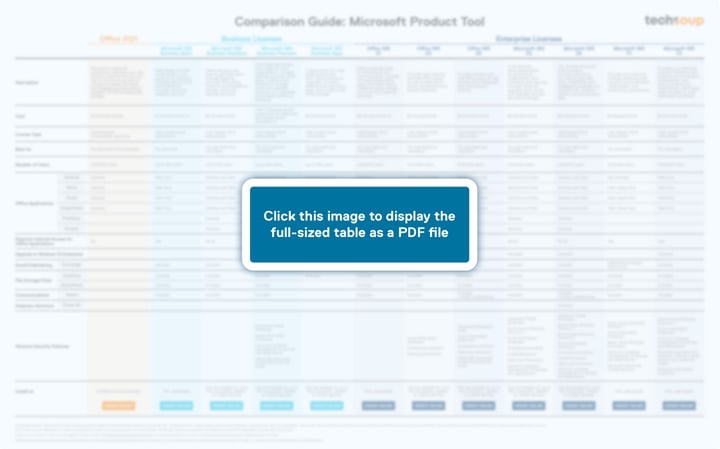 Get Your Best License
We know that these changes can be confusing — but the most important thing to remember is there is probably a license that best meets your organization's needs. We are here to help you navigate these choices. Let us know what you need, and we are happy to help you figure out the licenses that provide the most value and the lowest cost for you!
Additionally, all Microsoft Office and Microsoft 365 cloud licenses obtained through TechSoup now include Cloud Support Services delivered by TechSoup. This service will allow us to help nonprofits and libraries determine which Microsoft Cloud licenses are right for them, how to activate those licenses properly, and how to fully realize the value of this powerful but complex platform. Contact us here to get started.