Did you know that Meta (formerly Facebook) launched a new, free collaborative platform (built for both commercial and nonprofit organizations) back in 2016? It's called Workplace, and it's sort of like an internal Facebook just for you and your employees and volunteers. It's a separate application from Facebook personal accounts, and it's designed to help teams communicate, share, and make decisions together in a secure and private space online.
The advanced version of Workplace is normally available for $3 per active user, per month. However, this higher-tiered version — with tons more features — is now available to registered nonprofits at zero cost.
Let's take a closer look at Workplace Advanced. Larger organizations may be especially interested in capabilities that include single sign-on, Active Directory support, and integrations with other applications such as the G Suite, Okta, and Windows Azure AD.
With Workplace Advanced, you get admin capabilities to help better manage your teams, and it's secure — you own the rights to your data. It also includes free one-on-one support for Workplace administrators.
Workplace can be a great, free alternative to similar collaboration platforms — and that's especially true for the advanced version. It may also prove easier to adopt organizationwide since many of the features work in a similar (or identical) way as they do in a personal account.
How You Can Utilize Workplace at Your Nonprofit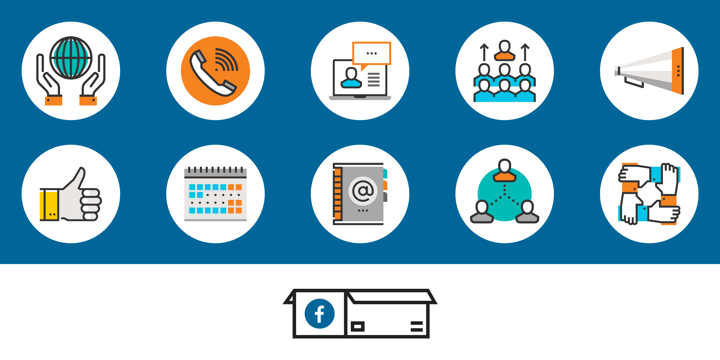 Either version of Workplace allows you to create groups within your organization, live-stream video, use the chat function (including group chat), and more. It offers unlimited file and video storage and allows you to create an unlimited number of groups for projects — even across different organizations. Also, tagging and notifications work just like they do in Facebook, so it's easy to notify people when items or conversations require their attention.
Visit the Workplace pricing and features page for a full list of features. Also, check out the Workplace for nonprofits page for more information on how your nonprofit can use Workplace.
How to Get Started
For nonprofits, getting Workplace Advanced for free is nearly as easy. Visit the Workplace for Good page, and you'll be directed to enter your email address, then validate your nonprofit's eligibility through TechSoup. Follow the steps from there, and you'll be using Workplace with your team in no time.
Additional Resource: Workplace for Good
Facebook offers an exclusive webinar designed for nonprofit and education organizations. Workplace for Good team members will provide an overview of Workplace and its key features. They'll show the main use cases and a case study of how other NGOs use Workplace. There will also be an opportunity to ask questions.