TechSoup offers a range of courses based on nonprofit needs with topics on fundraising, social media marketing, grant writing, digital skills, technology tools (including those for the cloud) and more. Not only does TechSoup offer courses at a price with nonprofit budgets in mind, our team is dedicated to helping learners apply course content to their organization's needs.
We'd like to take a moment to share some insights into the development of our courses and provide an overview of the different types of courses that we offer. Read on to find out how TechSoup Courses can help your nonprofit!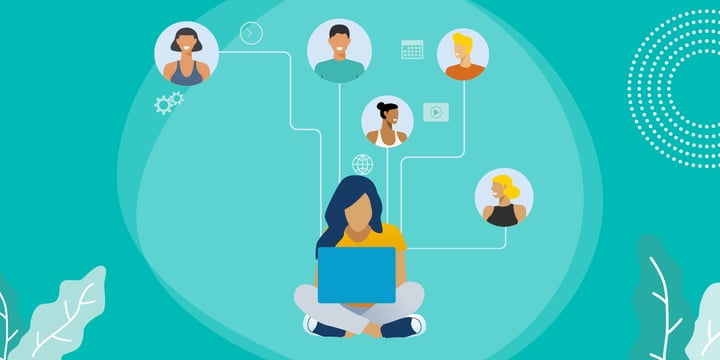 The Planning
Our courses are designed to help nonprofits learn and use the skills they need to maximize their work. Before production begins, our team researches and identifies relevant course topics and direction to ensure that our courses address training needs not found elsewhere and align with the digital transformation needs of nonprofits in today's world.
We collaborate with other nonprofit organizations and accomplished subject matter experts who bring in extensive experience from the nonprofit and tech sectors. We especially seek out experts with the knowledge of navigating situations unique to smaller nonprofits to ensure that their perspective is included in the course design.
This might mean working with a grant writing expert with 20 years of experience like Dalya Massachi. Or it could be someone like Marti Grimminck, who brings in years of Remote Work experience. In any case, the courses are taught by those who demonstrate mastery of the content in their professional lives for nonprofits of every size.
The Process
Once a topic is chosen, it can take anywhere from a few months to over a year to develop a course fully. From designing and implementing the interactive modules to shooting the content itself, the process from start to finish is designed with the specific needs of nonprofits in mind.
Our senior instructional designer, Shuya Xu, has a Ph.D. in instructional systems technology with a focus on instructional design. She brings years of experience in education and design along with her team of instructional designers. Our team implements the ADDIE instructional design model (analysis, design, development, implementation, and evaluation). This creates space for the instructional design team, in conjunction with the subject matter experts, to contextualize course activities specific to nonprofit needs.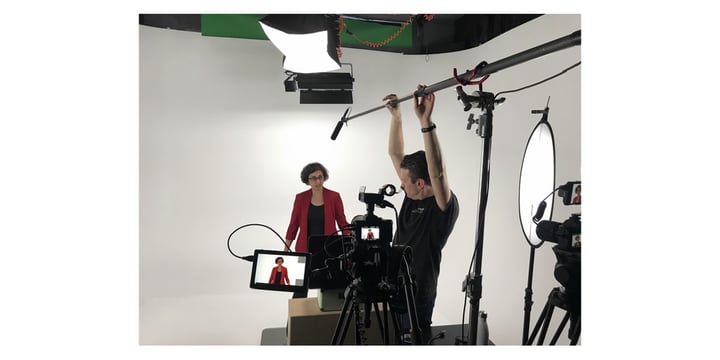 Dalya Massachi records a Grant Writing and Management course with the TechSoup Courses team
After course design is complete, our team continues to work diligently behind the scenes to ensure that audio and video run smoothly, questions are answered quickly through email or Zoom calls, community message boards are moderated, and learners are able to get connected to subject matter experts. One team member shared that they are dedicated to their work because the human interaction we provide in our online learning environment goes a long way towards the collective learning experience of our users.
What TechSoup Courses Has to Offer
TechSoup offers over 200 courses to over 49,000 learners with different content levels and support. From Ask the Expert sessions to 300-level courses, all courses are designed to provide customized support for nonprofits at every level of their technology needs.
Ask the Expert
Ask the Expert sessions allow learners to interact with subject matter experts in a live Q&A session in addition to offering additional resources. Recent Ask the Expert sessions have been on HIPAA Compliance and Remote Fundraising.
100-Level Courses
Courses at the 100 level serve as a basic introduction to topics that learners have little or no experience with. These courses can help you learn about a new topic at your own pace from the ground up. For example, Cybersecurity 101 helps organizations ensure the privacy and safety of sensitive information and systems.
"I was overwhelmed about the thought of digital security at first, but this course explained it very well so that I can understand each item on the checklist. This has boost[ed] my self-esteem in my own ability to be the human firewall for my organization."
— Cybersecurity 101 Learner
200-Level Courses
Courses at the 200 level are intended for those who are accustomed to the topic and are looking to build upon their foundational knowledge. If you have a basic understanding of a topic but are looking for more advanced material, 200-level courses are a great option.
300-Level Courses
The most advanced courses we offer use a blended-learning method that pairs on-demand content with weekly live sessions. Learners can expect to work in smaller groups with the guidance of an expert over six weeks to complete a project. Our last cohort learned about website management, and our upcoming cohort will be learning about managing remote teams for nonprofit managers.
Microsoft Digital Skills Center
The Microsoft Digital Skills Center provides the additional support and resources needed to make technological adoption successful and sustainable. The Digital Skills Center catalog includes over 50 free and paid Microsoft courses. Over 27,000 nonprofit staff and volunteers have been able to better organize their remote work with Microsoft Teams, manage their data and reporting with Excel, and communicate organizational impact with Power BI.
"I would recommend this course to a colleague because of the ease in navigating the course work. The modules are engaging and informative at the same time. I am able to learn at my own pace and then apply what I've learned as needed in my workplace. This site is absolutely what I was looking for to bring me up to speed regarding technology"
— Word 101 Learner
Start Learning Today
Whether you're looking to lay down a digital foundation or you're interested in touching up your Excel skills, there's a course for everyone. In order to get started, create a free TechSoup Courses account or take a look at our catalog to see how we can help your nonprofit today.
Additional Resources
Photo: Jim Catechi