Nonprofits often don't have the resources of a for-profit business and can be tempted to cut corners by using free, personal accounts to manage their email, document sharing, and other cloud computing services. While this might seem like a way of saving money on your cloud computing costs, it has negative implications for the cybersecurity, credibility, and branding of your organization.
A domain-led account, on the other hand, allows you to better secure and maintain control of organization and client data, build relationships with your community, and grow your reputation as a legitimate and trustworthy organization. Domain-led refers to email accounts that include your organization's domain name instead of a generic one. For example, "name@techsoup.org" as opposed to "name@gmail.com."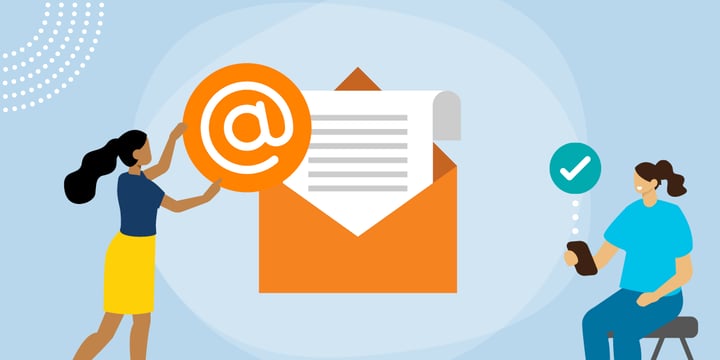 Here are some more detailed pointers to convince you of the need to use domain-led email accounts.
Cybersecurity
When your organization has a business account with a service like Outlook or Google, you can manage your whole team's accounts from one interface. You can set strong password policies, require multi-factor authentication (MFA), implement end-to-end encryption, and use an antivirus system that scans incoming and outgoing emails for malicious links.
When your team members each use a personal email account to conduct their duties, you lose the ability to enforce organizationwide security measures. Instead, you can require employees to use domain-led email accounts to log on to their central productivity tools — such as Office 365 or Google Workspace — as well as other cloud-based tools like Asana, MURAL, or Acrobat Pro DC. This provides another layer of control behind who can access these environments.
It also makes it more difficult for someone to impersonate a staff member to gain access to your systems and commit fraud in a number of ways. All of this puts you at much lower risk of data loss, cyberattack, or a GDPR violation, especially if you deal with any kind of sensitive or personally identifiable information.
Credibility
It's easy to see that a branded domain-led email address brings much more credibility than a generic Gmail or Outlook address. When offering care to vulnerable people and asking others to donate their time or money, as nonprofits often do, it's very important that you demonstrate your legitimacy as an organization at every opportunity.
For someone interacting with your nonprofit, a domain-led email tells them that you come from an established and legitimate organization, that you are well organized, and that you have invested in the infrastructure of your organization. A vulnerable person seeking help is also much more likely to feel comfortable reaching out if they believe those things to be true of your nonprofit.
Furthermore, if you plan to grow your organization to the enterprise level, domain-led email is a requirement. This is both for the security concerns listed above and the fact that it's now become an industry standard for all larger organizations. Domain-led email also better equips you to bring on more volunteers and staff in a sustainable way.
Using a generic email domain can also harm your email deliverability. On the other hand, using a domain-led email domain raises the likelihood that your email will actually reach people's inboxes rather than their spam folders. If you send out a newsletter, or reach out to funders and prospective partners, this will likely lead to more engagement, more responses, and in turn more partnerships, support, and funding.
Branding
Using a generic email address weakens your branding, which is deeply interlinked with your credibility. When interacting with people outside of your organization — including prospective clients, partners, funders, and volunteers — you should make it easy for them to recognize your brand. If your team's email addresses use your organization's domain name, a recipient can quickly identify where an email is coming from.
Nonprofits often grow by becoming known in their community. The reputation they build in order to become a household name or the go-to place for a certain service in the area is part of their brand, whether they see it that way or not. You want to attach credibility and trustworthiness to your nonprofit's name and logo, and using a domain-led email address that includes the name of your organization is a great way to do so.
Branding and trust also helps you to strengthen relationships with your network of supporters, funders, and volunteers. Using your domain-led email to send out regular content that is informative, interesting, and useful to your subscribers helps them to become invested in your work. This aids in solidifying your brand and builds the likelihood that, when you do send out an email asking for donations or volunteers, your subscribers will respond positively.
Get Started
TechSoup is currently developing a service to help nonprofits set up domain-led email for their organizations. We expect to roll that out in the coming months, so stay tuned!
In the meantime, if your current email solution is not cloud based, we strongly recommend that you make the switch to either Outlook in Office 365 or Google Workspace. This is the best first step in preparing to use domain-led email. Take a look at our Email Migration Services today, and learn how we can support your nonprofit in making the move from your current system to a more secure, flexible, and easy-to-manage solution.
Additional Resources
Top photo: Shutterstock