Moving is the pits.
I'm in the middle of a move to a new place. We're very excited about it — it ticks all of the boxes for us, and we get on great with our new neighbors. But now that we're deep in all of the admin that comes with a move, the happy shine of our new home is less sparkly. Don't get me wrong — we're still looking forward to settling in, but wow, I forgot just how annoying it is to move.
This might all seem rather irrelevant for a blog post about adopting technology tools. Maybe you're thinking, "what does this have to do with my new volunteer management system?" Well, let me explain.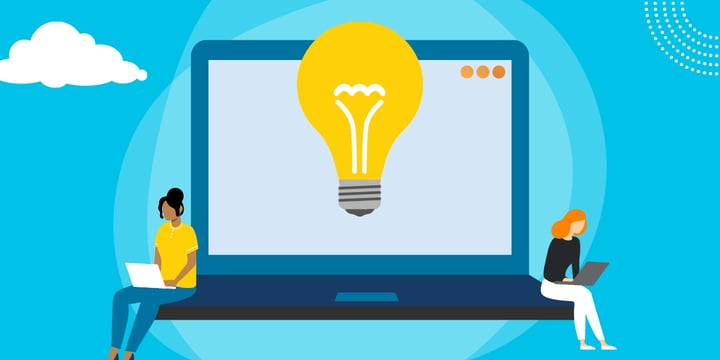 This Seems Very Familiar
A residential move is, in some ways, exactly like moving into new nonprofit tech. In both the process of moving and of adopting new technology, you'll likely find yourself doing these things:
Making a million decisions (about your business processes)
Cleaning (your data)
Dealing with contracts (and paying for things in two places for a while)
Learning a new way of doing things (how do I enter a gift?)
Finding new resources (trainings and tutorials)
Building new relationships (with your migration team and software partner)
My partner and I can keep our spirits up because we know for sure that this is the right place for us. Most nonprofit teams are not so confident in their technology selection process. Even in the best cases, you can find yourself feeling a lot of nervousness and worry during the transition process. In the worst-case scenario, you discover that you have chosen the wrong system. Lots of time, money, and importantly, trust, flies right out the window. And before you know it, you're looking into something to replace the thing you thought would work for you.
Are You a Frequent Mover?
Some nonprofit teams move in and out of technology every year or so, and that makes me feel sad. They quickly select a product that won't break the bank, have a fast and dirty setup, and sometimes even skip the training. Six months later, it's clear that this is not a system that will work for them. And the search begins all over again. These teams' attitude quickly goes from excited to exhausted. Sometimes even your best, most patient people can't take it anymore, and they leave.
Finding the Right Nonprofit Tech Doesn't Need to Be Terrible
And this brings me to my point: There are easy ways to make sure you pick the right nonprofit tech. You can decrease your risk of failure, help tired teammates remain optimistic, and find the most efficient technology solution for you.
Using a solid process and paying attention to the right things in the sales cycle can prevent deep buyer's remorse. You do not need to be a technology genius to buy nonprofit tech. And in today's ever-changing nonprofit software market, it's a huge relief to feel confident that you are making the right move. And when you feel confident, your team starts to relax and get that optimism back.
What About All That Jargon?
"But wait," I can hear you say. "I'm just a development director/marketing manager, office assistant/CEO. I don't know anything about technology. I don't even really like it!"
This is another place where using the right process will help a lot. I make sure that my clients ask the right questions and get answers in plain language. No one knows everything — even the experts are experts in just a few areas. We all have gaps in our knowledge, and it's good for us to learn new things. I see this over and over again: Building your technology muscle can help you become more confident in other areas of your work life. Maybe you'll even start getting invited to weigh in on other decisions related to systems and business processes.
Defining Your Needs Is an Inside Job
Our hunt for a home started with a list of the things we like about our current place. We also reached agreement about what we needed from our new living situation, versus the unnecessary extras that might be nice to have. We set a budget and a timeline and considered how long we planned on living in this home.
The steps to buying nonprofit tech follow the same path. Here are some things you might want to get clear on first:
Strategy: How will new tech help us meet our organizational goals?
Functionality: What do we need the new system to do, and how will we use it regularly?
Data integration: Does this new product need to "talk to" our other systems?
Budget and time investment: How much can we spend, and when will we be ready to move?
Business relationship: What's important to us when working with a new technology company?
Once you've reached agreement on these things, then you can start to set up meetings and demos to see some shiny new tools in action.
Getting It Right (Even If You've Been Wrong Before)
If my partner and I had made wrong choices around living situations in the past, I'd be a lot more nervous about what lies ahead — and I'd be feeling a lot more resentful about all the work we've been doing to move in. But even if we made mistakes in the past, there's no reason why we have to keep making the same ones.
It doesn't matter whether you're looking for a new financial system, a new fundraising database, or an HR system. Using a decent process will take the risk and guesswork out of your search. It will help you and your team get on the same page (and stay there). It will help you communicate your needs to senior leadership (and possibly the board). Your case for funding this new nonprofit tech will be easier to make. And if you picked the wrong system the last time around, you can stop worrying that history will repeat itself. Because this time, you'll be paying attention to the right things, and that makes all the difference.
About the Author
Maureen Wallbeoff has developed a proven process that maps your nonprofit's strategic and operational goals to the right platforms and business processes, helping you make good decisions about the systems you use to engage your supporters. She is focused on helping the accidental techies working at nonprofits learn to navigate today's complex technology platforms and get a good ROI on their technology investments.
In addition to her work with clients, Maureen has authored two guides on nonprofit engagement software. She blogs at her website and answers questions about nonprofit technology live on LinkedIn, Facebook, and her YouTube channel every Friday afternoon. A sought-after speaker and trainer, she has led many live workshops and video webinars around the country at the Nonprofit Technology Conference, AFP conferences, BBCON, Peer-to-Peer World, and Bridge and is one of TechSoup's expert trainers. Contact: maureen@meetmaureen.com | 508-744-3366
Additional Resources
Top photo: Shutterstock