For seven years, TechSoup has brought together educational courses, webinars, NetSquared meetups, social media events, and a storytelling contest into one large campaign: Storymakers. Why? TechSoup believes that nonprofits can change the world and that storytelling provides the means to do so. As nonprofits increase their storytelling capacity, more organizations are able to carry their messages of hope, change, and light to the public.
This year, for Storymakers 2017, we received 515 submissions including 403 videos and 112 Instagram photos. We saw 41 percent of these videos come from outside the United States. This doubled our global participation from 2016!
All of our winners demonstrate how storytelling can be used to drive both fundraising and advocacy. From helping consumers care about the women who make their clothes to communicating the need for a bird sanctuary capital campaign, our winning videos make a big impact.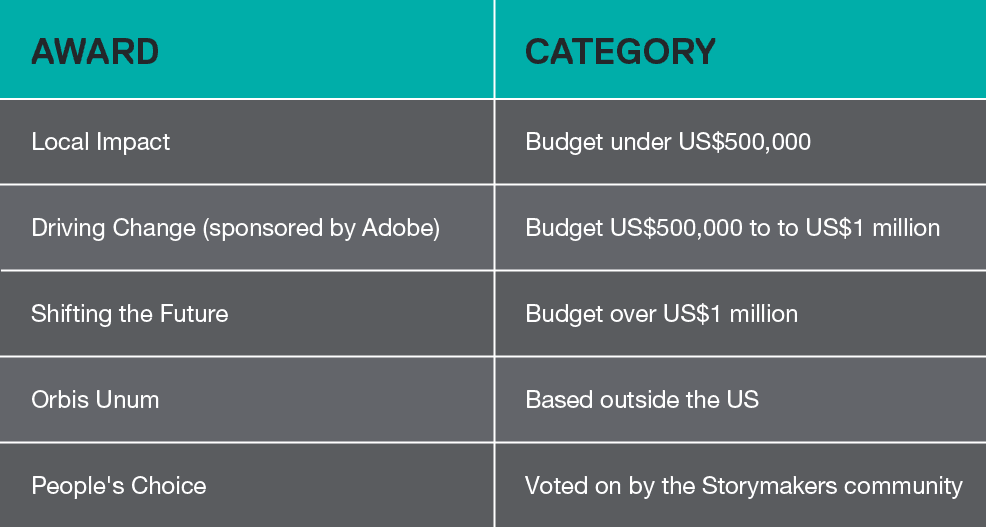 There were three award categories that were designed so that organizations competed against organizations with similar budgets: Local Impact, Driving Change, and Shifting the Future. We also created a category for global submissions this year, Orbis Unum. And last but not least, there was the People's Choice Award. All our top videos went through three rounds of scoring, and the final decisions were never harder.
Let's meet our winners!
How do you make shoppers care about the young women who make their clothes? For the organization Remake, based in San Francisco, storytelling humanizes these women.
People who love birds also love photos. This basic fact influenced The Oasis Sanctuary's video in support of its capital campaign. Created with Adobe products, this video shows how fundraising and storytelling can aid one another.
The Wild Animal Sanctuary, based in Keenesburg, Colorado, wanted to make the experience of rescuing tigers and bears real and tangible. Employing RED cameras (some costing over $75,000!), aerial drones, camera stabilizers, and color correction, The Wild Animal Sanctuary succeeded beautifully.
Storytelling is key to the team at Mil Milagros. Video allows it to spotlight the women in Guatemala who are battling the fourth highest rate of malnutrition in the world and share their stories with supporters in the U.S. Shot on an iPhone, this video was the team's first professionally made project.
The team at the Snow Leopard Trust knows how to get the vote out! Having 1 million Facebook fans helps. In turn, the Snow Leopard Trust utilizes its large network to collect, build up, and then share out even more animal photos.
Honorable Mentions
R. Evon Benson-Idahosa is Pathfinders Justice Initiative's executive director. She explained, "We believe that every single woman should have a seat at the table of her life and live a life that is dignified and respected." Her passion and commitment are plain in this winning photo.
Our Sponsors
Finally, a special thank-you to all of our sponsors, without whom Storymakers would not be possible:
Platinum: Adobe and Microsoft
Gold: InterConnection, Mobile Beacon, and USB Memory Direct
Bronze: GrantStation
Additional Resources: Storytelling for Nonprofits
Want to learn more about storytelling for your nonprofit? Here are a few resources to get you started.