The TechSoup catalog is growing, and we are always on the lookout for new partners to offer great technology to our nonprofit members. As the fiscal year draws to a close for some, we're gathering a few of our favorite new members of the catalog. From marketing materials, to immersive events, to hardware and security, take a moment to get to know some of the great products that have joined TechSoup over the past year.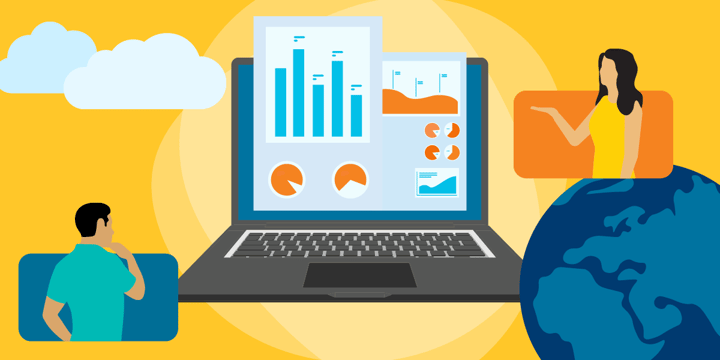 Design and Marketing
Marketing and branding are important parts of any nonprofit's operations. Here are some new products to help you design great visuals, build reports, and manage your social media.
Adobe Express
Designing great visuals can be a sticking point for nonprofits, especially when operating with a small and busy team. Adobe Express harnesses the power of Photoshop, Acrobat, and Premiere in a compact and easy-to-use app.
Adobe Express offers a range of templates to use as a starting point, incorporating your own branding, logo, and fonts. Alternatively, start from scratch with your own design. Use the range of capabilities to experiment with animation features, typography, photo editing, and graphic design. Collaboration features in the app allow you to easily work alongside colleagues and stakeholders, and you can save or share your final product straight from the app in any format you need.
The Premium version of Adobe Express is available at no cost to nonprofits through TechSoup.
Hootsuite
Hootsuite is a social media management tool that can be used to plan, create, and schedule content across multiple platforms. View all of your scheduled social media posts in one dashboard and track their effectiveness in order to learn how your audience is interacting with your organization. Hootsuite also enables you to gather data on the best time to post and to keep track of relevant trends.
Through TechSoup, nonprofits can get up to 75 percent off monthly and annual subscriptions to Hootsuite's Team and Professional plans, as well as a 50 percent discount on Hootsuite Academy courses and certificates.
Collaboration and Communication
All nonprofit staff members know how important it is to have effective communication channels with colleagues, partners, and constituents. New this year, check out these great products to help you communicate and collaborate effectively with both internal and external contacts.
Hive Teams
Hive Teams is project management and collaboration software, accessible via mobile, desktop, and web app. It allows you to keep track of the progress of your projects, the workload of each team member, and the time spent on each task. Message your team right within the Hive platform, create and edit meeting agendas, and assign action items to individuals. If there are repeating tasks or processes, use the AI-powered automation features to set up workflows, identify risks, and label tasks. Hive also integrates with Google Drive, Microsoft Teams, and other widely used tools.
Nonprofits can get 50 percent off an annual subscription to Hive Teams for any number of users.
Turn.io
Turn.io is an official WhatsApp business solution provider, specifically a chatbot that operates over WhatsApp. It acts as a window to your community, allowing you to quickly and easily chat with those you serve. Some organizations use it as a virtual counseling service, while others operate a help desk in order to guide users to the best service for them. Common queries will be responded to with standardized responses, while users requiring a one-to-one conversation will be connected with a member of your team directly.
Eligible nonprofits can get a 40 percent discount on an annual license for Turn.io Pro on the WhatsApp Business platform, which includes 100,000 conversations per month. You'll also get access to support, training, and the Chat for Impact Community.
Sincron HR
Sincron HR is human resources information system (HRIS) software, allowing organizations to store and manage personnel data, as well as streamlining daily operations. Sincron HR can be used to automate and manage employee engagement, recruitment, onboarding, timesheets, training, and more. It also includes API integrations for Microsoft Outlook and Teams, as well as certain job boards and payroll providers.
Eligible organizations can receive a 50 percent discount on monthly subscriptions and a 25 percent discount on additional features, as well as free installation.
Delighted
Delighted is a survey tool that can be used to collect and analyze responses from your audience. It's a quick and effective way to get honest feedback from your community about an event, program, or service. Create and customize surveys in more than 30 languages and deliver them in a variety of ways, including QR code, email, or a link. Delighted also creates reports, allowing you to process feedback in real time and enabling you to take action through integrations and alerts. Delighted even enables you to publish positive feedback directly to your website from the platform and integrate with popular tools to automate any action needed.
Nonprofits can get an 85 percent discount on Delighted, applicable to either the Premium or Premium Plus plans.
Fundraising, Volunteer Management, and Events
As you gather more people and funding sources to keep your organization going, you'll need to find some tools to help you manage these processes. These three new additions can help you to find and manage grants, recruit and manage volunteers, and host breathtaking virtual events.
GrantHub
GrantHub is online grant management software offered by Foundant Technologies, enabling nonprofits to more efficiently find and manage grants. Search for new funding sources, manage tasks and deadlines, and maintain relationships with grantmakers. GrantHub helps you to streamline creation of a grant proposal, keep track of important documents, and create reports.
Nonprofits are eligible for a 30 percent discount on the first year of their subscription to GrantHub.
Civic Champs
Civic Champs is a volunteer management tool that can help you to recruit, train and engage your volunteers. Use it to schedule and track volunteer hours, schedule events, and manage waivers. It also offers reports to help you understand your volunteer metrics, customizable dashboards to help you keep all the important information in one place, and easy scheduling.
Nonprofits can get a discount on annual contract pricing with Civic Champs. Organizations with an annual operating budget of less than $1 million can receive a 50 percent discount, while larger organizations will get a 10 percent discount.
CollectiVibe
If you want to take your virtual events to the next level, consider using CollectiVibe's virtual 3D environments to host them. Choose between a customized event space or one of CollectiVibe's standard templates and enable speakers and guests to join an immersive virtual experience from anywhere in the world. The virtual environment offers a day of live events, a conference room, and interactive booths. You can also create your own online community, which you can use to connect with beneficiaries and partners, as well as an access point for future events.
Nonprofits can get a 70 percent discount on subscription fees for online communities, 60 percent off any single event package, and 50 percent off all add-ons, as well as free installation.
Hardware and Development
These new products can provide the perfect vessel for you to reliably run your software, as well as enabling you to build your own apps and provide protection to victims of domestic violence. Take some time to familiarize yourself with these great offers and consider how you might use them to expand your organization's capacity.
MilkCrate
MilkCrate is a mobile app development platform. Organizations can build a branded mobile app, using features that are tailored to their needs and constituents, and launch it on iOS and Android. The features you can build in to your app include social feeds, gamification, in-app chat, and user analytics, and they can be customized based on your needs.
In partnership with TechSoup, MilkCrate offers nonprofits 30 percent off monthly fees as well as a 50 percent discount on launch fees for advanced plans.
Pre-Owned Microsoft Surface Products
Microsoft's pre-owned Surface laptops can now be found in the Refurbished Hardware catalog. The laptops come equipped with Windows 10, a two-year warranty, and more than enough storage space for most nonprofits' needs.
Try Something New
We're excited about these new additions to the TechSoup catalog and the many ways they are empowering nonprofits to increase their capacity, learn more about their audience, and connect more effectively with supporters and constituents. If your nonprofit is looking to change or develop its operations, outreach, or people management, consider trying out one of these new products.
Top photo: Shutterstock