TechSoup's Refurbished Hardware Program has supplied more than 92,000 pieces of IT equipment to nonprofits and libraries in the last 12 years. These include desktop computers, laptops, LCD monitors, printers, and tablets.
Back in 2006, TechSoup staffers started the Refurbished Hardware Program to supply charities and libraries with good, low-cost, warrantied computers that would stand the test of time. We found reputable refurbishers who could deliver the IT equipment that our members need and can afford.
Even after all these years, whenever we talk about refurbished equipment, a few questions pop up over and over again. I'm here to dispel some of these persistent myths about refurbished hardware.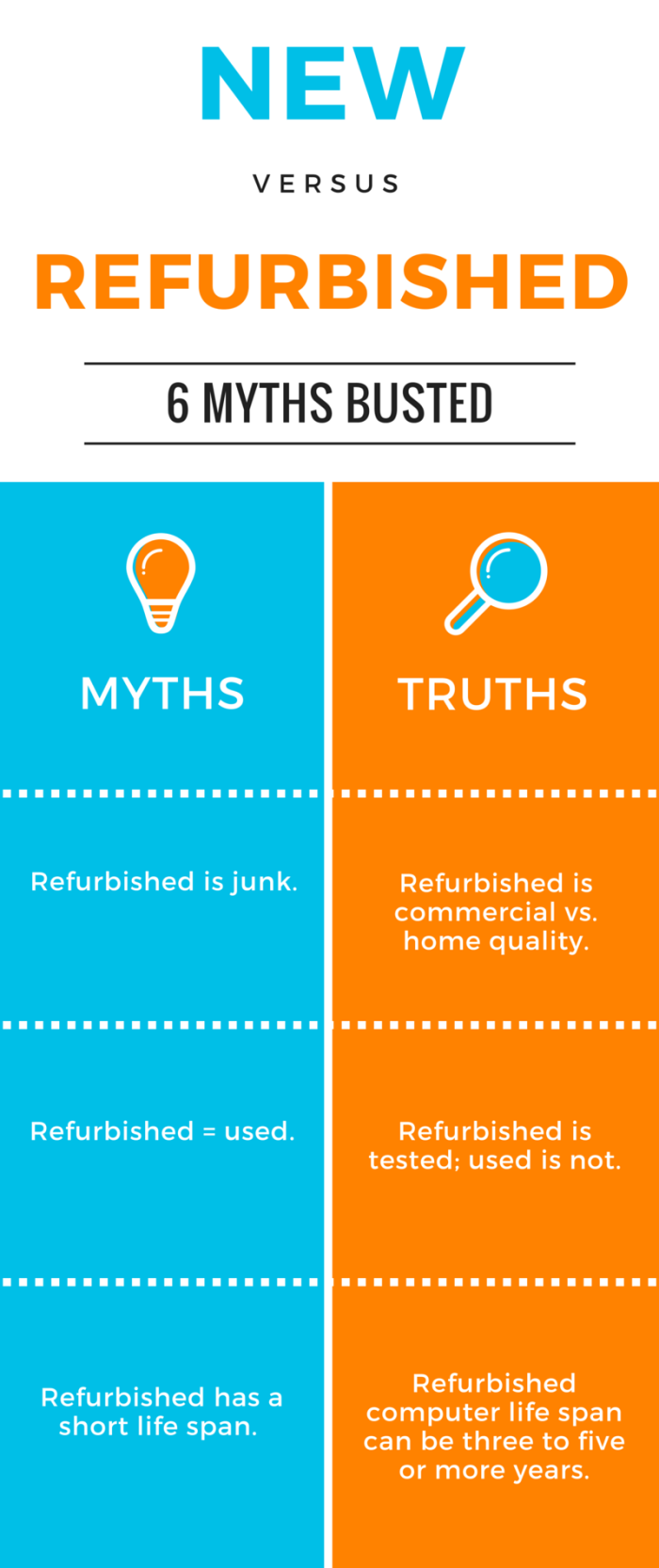 Myth 1: New Is Better than Refurbished
Consumer Reports does great reliability surveys on laptop fail rates. Consumer Reports polled 58,000 subscribers between 2010 and 2015 and found that
New Apple laptops have fail rates from 7 to 9 percent each year.
Most new laptops from the other big computer makers have fail rates of 13 to 15 percent.
In our Refurbished Hardware Program, we've found that reputably refurbished equipment from all brands has fail rates much lower than all the new equipment in the Consumer Reports survey.
Sarah Cade, co-founder of E-Reuse Services, says, "We think of refurbished equipment as well-tested equipment. Most failures happen within the first six months of a computer's life."
Our Refurbished Hardware Program suppliers put all equipment through an involved, multistage remanufacturing process of testing, upgrading, and retesting before being sold. Check out all that is involved in Behind the Scenes of a Refurbished Computer.
Myth 2: Refurbished Computers Are Junk
The hardware components in our Refurbished Hardware Program computers are generally commercial grade, meaning they are of a higher quality than those manufactured for home use.
Our refurbished computers are so reliable that we have moved from offering 90-day warranties to one-year and three-year warranties because we have so few returns. The warranties cover hardware and component failure, including all parts and labor costs, shipping fees, and customer support.
Myth 3: Refurbished Is the Same As Used
There is a world of difference between getting a used electronics item on Craigslist or eBay and getting a reputably refurbished device. It's true that used items from auctions or online classifieds may be cheaper, but they are often sold without warranties and are likely not rigorously tested and verified to be fully functional.
I confess that I buy used stuff from time to time, but I usually find something wrong with it after a while and am then stuck with it. I have learned to buy refurbished whenever possible for complex electronic devices.
Myth 4: Refurbished Equipment Is All the Same
It is surprising, but there is not yet an industry standard certification for refurbishment for electronic devices. A small shop that fixes things can call the devices it sells refurbished, reconditioned, or even remanufactured if it wants.
I have visited many electronics refurbishment companies over the years, and the best ones have rigorous processes for testing devices, repairing and replacing defective components with high-quality parts, installing properly licensed software, and then doing final quality control and inspection. Those are the kind of reputable refurbishers we use for our Refurbished Hardware Program.
Myth 5: It Has a Short Life Span
The refurbished IT equipment in our Refurbished Hardware Program is usually three- to four-year-old reconditioned devices that cost 30 to 50 percent less than equivalent new models.
All the devices we have are commercial grade IT equipment and are designed for long life and heavy use. The equipment lasts a long time.
After 12 years of running the Refurbished Hardware Program, we've found that organizations can use our refurbished equipment for 3 to 5 or more years without difficulty.
Myth 6: Refurbished Computers Can't Run the Newest Software
Our Refurbished Hardware Program computers currently come with Windows 10 Professional and Office 2010 Home and Business. They run pretty much all current software applications commonly used in offices.
Bonus: Refurbished Computers Are the Greenest Choice!
I don't know that we'll ever successfully dispel the myths about refurbished hardware, but now that we've had our Refurbished Hardware Program for several years, we know that they're just myths.
We also love the fact that extending the life of IT equipment is one of the most environmentally beneficial things possible for using electronics. It is roughly 25 times more beneficial environmentally to reuse computers than to recycle them at three to five years of age.
Additional Resources: Refurbished Hardware for Nonprofits