Last year TechSoup partnered with the digital marketing and technology agency Tapp Network to analyze data on six core aspects of digital marketing most relevant to nonprofits and the challenges they face. We're pleased to share these findings in the 2022-2023 Nonprofit Digital Marketing Benchmark Survey and Report. In this post, we'll highlight some of the most important findings related to nonprofit websites.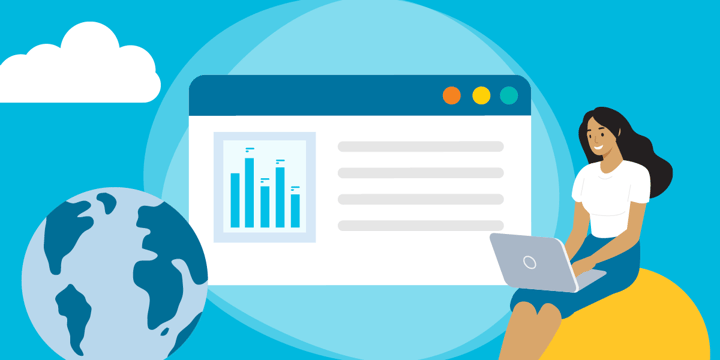 From collecting donations to sharing information, to attracting new contacts, a strong website is the foundation upon which a successful digital marketing plan can be built. Websites need to function as tools that visitors can use to make a direct impact in your organization. As we jump headfirst into 2023, here are some key insights from the benchmark report to help guide you toward making a strong digital transformation.
Measuring Impact
Nonprofits strive to make a difference in the world, and it can be difficult to quantify the impact of that effort. One of the ways nonprofits can measure and understand the effectiveness of their website is through awareness and conversion metrics.
How many people saw your programs page? Where did they come from? These questions and more can be answered through an analytics tool. However, our benchmark report showed that only 46 percent of respondents stated that they use Google Analytics to track website traffic. Over half of the respondents are treading water when it comes to understanding the extent of their influence.
First-order metrics like views and clicks provide an at-a-glance view of how visitors are using the information and resources on your site. Second-order metrics like exit pages (the last page a user views before leaving the site) and bounce rates (the number of users that leave without clicking to any other pages besides the one they first landed on) are valuable pieces of information to help you identify weaknesses and improve the overall user experience.
You can collect this information using free tools such as Google Analytics. With some thoughtful setup, reports can be generated automatically, and the information they provide will always be updated to the minute.
Keeping Things Fresh
Evergreen content, information that will never go out of date, is an important and effective way to populate a website, but it doesn't fully showcase the ongoing work of your organization. Nonprofit websites will often have information about events, fundraising drives, or programs that are time-bound and can go out of date. That's not even taking into account nonprofits that function as educational resources or data hubs for larger, multi-organization initiatives.
When we polled our nonprofit participants, we found that only 45 percent update their sites weekly or monthly, and just over 30 percent only update their website when a user reports out-of-date information. Operating in this way can cause website visitors to act on incorrect information or write off the organization as a poor resource.
Major Updates
Website technology changes fast, and yesterday's best option may not stack up anymore. Over 50 percent of our surveyed nonprofits plan to rebuild or relaunch their website. That's not surprising. As organizations grow, their digital needs change, and their current platforms may not be able to support new digital marketing goals. The most successful website update projects will be started from data-backed planning with a mindset of continuous improvement. Making small, regular changes rather than bigger, occasional updates allows organizations to stay agile and effective as technology and goals change over time.
Websites are functional tools, and they should work together with your core digital architecture like your customer relationship management tool (CRM), donation platform, email service provider, and more. Being able to see who reads your emails, makes donations, and volunteers with you all in one system helps to uncover new opportunities and lets you get the right message to the right person at the right time. Whether you're looking at a full solution such as HubSpot or just simplifying your stack of products, take time to understand how all of your tools work together. Then, you can identify areas of simplification and improvement.
Download the Report
Hopefully these insights are helpful to you as you plan out your digital marketing goals this year. These topics are only a handful of the dozens of key metrics collected from the nonprofit sector in our 2023 Digital Marketing Benchmark Report. Download it today for more insights and recommendations for how to supercharge your digital marketing this year.
Whether your goals are big or small, Tapp Network has the tools to help you with websites, marketing, SEO, and more. Check out the services we offer on TechSoup or reach out to us to schedule a new website consultation.
About the Author
Julian Gerace helps organizations identify and understand problems as they relate to their ongoing digital marketing, website, and SEO needs. As the digital solutions manager for Tapp Network, Julian works with nonprofits across the country to perform their best.
Additional Resources
Top photo: Shutterstock