Mind maps, spider diagrams, brainstorms: Whatever you call them, they're excellent tools for organizing your thoughts, thinking creatively, and planning projects. So it's no surprise that mind-mapping tools have been a recent topic of discussion in the TechSoup Community Forums. We've gathered some of the best tips for mind mapping effectively, and some popular mind-mapping tools to help your organization work on mind maps as a team.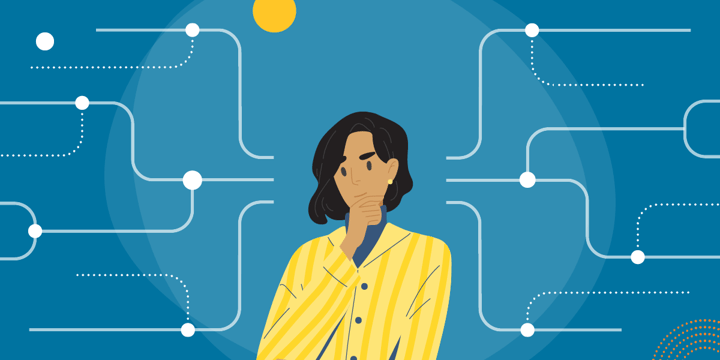 Why Mind Mapping?
For nonprofits, mind maps are a great way to bring your teams together, to plan and manage your projects, and to get creative about how you operate. One survey found that mind mapping can increase productivity by 20 to 30 percent (PDF), not to mention providing a fresh perspective on a problem or task, which can help to spark new ideas.
Mind maps can be used to brainstorm or communicate ideas, to plan events, and to manage projects. They help to structure information in a way that makes sense, they make it easier to collaborate, and they even make it easier to remember and connect information than plain text does. Visualizing your ideas and goals can help you build a more effective strategy and also help you explore new ideas that may not have come about otherwise.
Mind-Mapping Software
If you want to go beyond the hand-drawn mind map, there are tools out there to help. Our forum participants have highlighted some free or reasonably priced platforms that offer all of the benefits of a traditional mind map or flowchart, with added perks. Think unlimited space, handy colors and shapes, and an online workspace that all of your colleagues can access.
As remote working remains a necessity for many people, there is huge value in tools that make it possible to collaborate at a distance. Whether you are adapting your strategy for these difficult times, or just experimenting with new ways of creative co-working, we'd recommend giving these handy tools a try.
Lucidchart
Lucidchart is a cloud-based, collaborative workspace designed to facilitate creative co-working for remote teams. Slightly more sophisticated than a hand-drawn mind map, Lucidchart offers templates for professional (and pretty!) flowcharts, organization charts, system designs, and more. The many template options mean that you're bound to find something that suits your project. And it's web-based, so it doesn't depend on your users having certain operating systems. If your team could benefit from some adaptable and easy-to-use templates to help you manage projects remotely, Lucidchart could be the tool for you.
Lucidchart offers a basic version for free, with paid-for plans tailored to any team size. For nonprofit pricing, contact their sales team.
Samepage
A cloud-based productivity tool, Samepage offers an intuitive interface with handy templates and integrated chat tools. Connect with your team from any device in real time and use their great mind map template to get everyone thinking creatively. The chat feature and task board can then help you to take your project from brainstorm to completion, while keeping everyone up to date.
The free version of Samepage is suitable for individual and small team use, and the Pro version, which gives you access to all features, 1 TB of storage, and priority support, is just $9 per license per month.
Coggle
One huge drawback of making mind maps on paper is that it has limits: If you have a new idea but you've reached the edge of the page, things start to get messy. With Coggle's intuitive and effectively limitless flowcharts, you can gather all of your ideas without losing your train of thought. Easily take advantage of shapes, colors, and text to organize your thoughts, collaborate, and share with your colleagues.
A basic version of Coggle is available for free, with a version tailored to organization use costing just $8 per user per month.
MindMeister
This free mind-mapping collaboration tool aims to make online collaboration visual, enabling colleagues to efficiently share ideas even when working remotely. MindMeister offers templates to help you build everything from an initial brainstorm to a full project road map, with an integrated chat feature to facilitate discussion without having to leave the app. You can then comment on ideas within the app, helping you to work effectively even when your team members are apart.
A basic version of MindMeister is available for free, with paid versions giving you access to unlimited mind maps, export options, and more.
Where Productivity and Creativity Come Together
Mind mapping is an age-old technique, brought into the modern day by clever tools designed to help you work effectively and creatively, whether your colleagues are together or apart.
TechSoup Forums
If you know of a great mind-mapping platform that we've missed here, then join the discussion on our mind-mapping forum thread. Our forums are a great place to ask questions, help out your fellow nonprofit tech enthusiasts, and learn from others in the TechSoup community. Learn more on our community home page.
Find Out More