Your website is like the storefront for your organization. It's where people go to find out more about who you are and what you do, to donate, volunteer, or access a service. In order to keep people moving through the process of becoming a supporter or a part of your community, you'll need to make sure your site is informative and easy to navigate.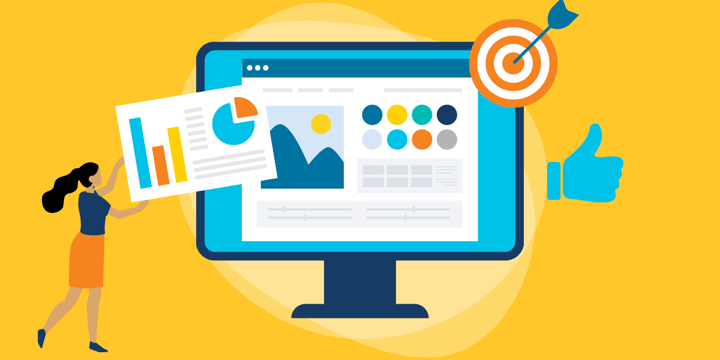 The range of website-building technology available can be overwhelming. It's hard to define what's worth the investment and which software is right for the skills and experience you have. Let's walk through a list of the basic tools you'll need to build your site along with some resources to help you use them to their full extent.
Getting Started
The first step towards creating a beautiful website is to find a platform that will allow you to realize your vision. Unless you have extensive coding and web design experience, you'll likely want to use a drag-and-drop interface or one with templates or user-friendly design tools. You may also need to bring in some folks with the web design–specific skills that you lack in your permanent team.
Wix
Wix is an all-in-one website-building tool, enabling you to create the site you want within a user-friendly drag-and-drop interface. There are over 500 templates available, or you can start from scratch if you have a specific vision for your site. You can even use Wix's application development and creation tool (ADI) to create your starting point: Answer a few questions and the tool will build a beautiful site complete with text and images.
Wix websites are optimized for mobile, which is an essential since more than 60 percent of web traffic comes from mobile devices. The success or failure of a site tends to correlate closely with its usability, so if the mobile experience is clunky, confusing, or difficult, you will lose visitors.
Your site will also include built-in SEO tools to help you drive traffic straight from organic search, and its web apps can help you to bring all the functionality you need into one place. Media galleries in Wix are a great way of displaying visuals on your site, as well as video backgrounds, animations, and scroll effects.
If you need to buy a domain, you can also do this through Wix. If you're new to the website-building process, you might find that the domain name system (DNS) can be confusing, so purchasing your domain name through a third party like Wix could be the best option.
Through TechSoup, nonprofits can get access to a 70 percent discount on three different tiers of Wix subscriptions. Wix is a great tool to help you get started with website building and can help you tailor your site to any needs, ideas, and visions you have.
Power Pages
Microsoft's Power Pages is a secure, low-code site-building platform, part of the Microsoft Power Platform family. Even if you have little or no experience, Power Pages allows you to quickly design and publish a great website. Power Pages enables you to manage the hosting and administration for your site, so you won't need to worry about an external domain provider.
The design studio, customizable templates, and learning hub make Power Pages a great tool for those with a little more expertise. It offers a lot of flexibility, as well as the option to access professional development capabilities. If you have a pro developer on your team, or are working with one to build your site, this extra customizability will come in handy.
Fiverr
Nonprofit staff members are often learning on the job in order to fill skill gaps in their teams. But when it comes to website building, it can be worth outsourcing some tasks in order to ensure that they are done properly, which will both improve the look and feel of your site and likely save you trouble down the line.
Fiverr is a freelancing platform that connects preapproved freelance experts with people who need their skills. Building a website requires developers, user experience (UX) experts, graphic designers, and a host of other specialists that most nonprofits do not have on their permanent staff. Hiring a freelancer is a great way to find someone with the skill you need while building or upgrading your site and simply paying them for the time it takes to complete the project.
In order to lower the barrier of entry to Fiverr's marketplace of vetted freelancers, nonprofits can get access to Fiverr for Business at no cost, as well as a 20 percent discount coupon for their first purchase of services.
Adobe Express
Eye-catching graphics can be difficult to create from scratch, especially if you don't have previous experience with the design tools needed to do so. Adobe Express could be the perfect solution to this problem: It harnesses the power of Photoshop, Acrobat, and Premiere in a compact and easy-to-use app.
You can begin from scratch or with one of Express's many templates; customize the branding, colors, and design elements; add your own logo; and get as creative as you like. Experiment with animation features, a variety of typography tools, and hundreds of fonts. The app is designed for collaboration, so you can easily work with your team members, stakeholders, or partners to ensure that your visual is just right before you include it on your website. You can also save and share graphics straight to your social media from the Express app, which can help you to ensure that your branding is consistent across your site and social accounts.
The Premium version of Adobe Express is available at no cost to nonprofits through TechSoup.
Courses and Training
You can explore the TechSoup Courses site to find the training materials your team needs, from crash courses on specific tools, to support with higher-level website strategy. You'll find bundles of courses, which help to guide your team through the levels of expertise they'll need, and event recordings.
Our events and webinars archive is full of free material, which you can watch at your own leisure. Learn what makes a great nonprofit website, for example, and benefit from the expertise of TechSoup's team and guests. You can also keep an eye on our upcoming webinars and blog for free hot-off-the-press learning material.
Advanced Tools
Eye-catching visuals and live chat are two brilliant ways to take your site to the next level once it's built. Using Adobe's tools to tell your organization's story can help to engage your audience more effectively, while Userlike's live chat moves you closer to your users, enabling you to answer their questions quickly and build trusting relationships with prospective donors, volunteers, or service users.
Adobe Creative Cloud
If you have a little more experience or specific needs than Adobe Express can cover, it could be worth investing in Adobe Creative Cloud. The All Apps plan includes everything you could hope for to create eye-catching photos, videos, graphics, illustrations, and e-books. (It still includes Adobe Express for your less complex projects.) Photoshop and Lightroom are robust photo editing tools, while Illustrator gives you full creative agency to draw and design, and InDesign can bring everything together in beautifully designed documents. If you work with video and audio, then Audition, After Effects, and Premiere Pro give you full creative freedom to edit, animate, and tell the perfect story. As well as making your site recognizable and unique, great visuals can give a better illustration of your work and mission to site visitors. Site visitors will feel better informed and closer to your organization and may be more compelled to get in touch.
Creative Cloud also includes Dreamweaver, a professional web development tool. If you are experienced in coding and web development, then Dreamweaver is a great tool to help you bring together all of your creative elements in a stunning web page or web app.
TechSoup members can get access to at least 40 percent off the retail price of Creative Cloud for Individuals or for Education. They can also access a donated version of the Photoshop Elements 2023 and Premiere Elements 2023 bundle.
Userlike
If you want to provide real-time communication for your website visitors, you can incorporate Userlike's chat feature. You'll need a little HTML experience — or a freelancer with this skill — to set it up, but once it's configured, you can chat with site visitors in real time. You can configure the chat window on as many pages of your site as you like and edit the appearance to fit with your colors and branding. Then, you can chat with users through the message center or integrate with an external platform such as WhatsApp, Facebook Messenger, SMS, or Telegram.
Nonprofits can get access to a discounted version of a one-year subscription to Userlike for 4, 10, or 20 users.
Analyze and Improve
One of the best things you can do for the long-term improvement of your site is to keep track of how visitors are interacting with it. Views, clicks, form completions, and bounce rates can all help you to learn how successful your website is in achieving the goals you set out for it. The tool you use for your site analytics will depend on the levels of expertise in your team, as well as the goals you have and the information you need access to.
Google Analytics
Google Analytics (GA) is one of the most widely used analytics tools. It operates within a user-friendly interface and is free to use. You can use it to discover which pages people tend to land on, how long they stay on your site, and whether they make it to a "conversion" page like a volunteer sign-up or donation form. You can also use it to identify common "exit pages," which is a useful way of spotting weak points in your site.
If you're getting set up on Google Analytics, ensure that you only create properties in Google Analytics 4 (GA4) and not Universal Analytics (UA). This is because Google will end support for UA on July 1, 2023.
Power BI
Power BI is Microsoft's business intelligence and decision-making platform, which allows you to draw in data from a wide variety of sources. It requires a little more learning and expertise than GA, but once you've come to grips with it, you'll be able to use its dashboard capabilities to draw from many data sources and center the most important information for the goals you want to reach.
Build a Website Worth Visiting
Building a website for your nonprofit can be an overwhelming task, especially if you're operating with a small team and limited budget. It's worth investing in the right technology to ensure that your website looks professional and provides all the information your visitors need within an easy navigation system. From the basic building blocks to great visuals and integrated live chat, there are tools to help you create and maintain the perfect site, and TechSoup's offers can make them more affordable for our nonprofit members.
Additional Resources