When you think of the word brand, some things might come to mind — logos, taglines, or maybe a standout name brand like Nike or Coca-Cola. But brands are more than these individual elements: A brand is a promise. It's the perceived personality of a company that can be felt, even if it can't be easily defined. Whether or not you are actively thinking about it, your nonprofit has a brand. And it's important that it stand for the same things your organization cares about.
Brand positioning, then, is the way your organization exists out in the real world. How do consumers perceive your brand? What assumptions do people make about your brand? What makes your organization stand out from other organizations that may be working toward a similar cause? Answering these questions will help in determining your brand positioning.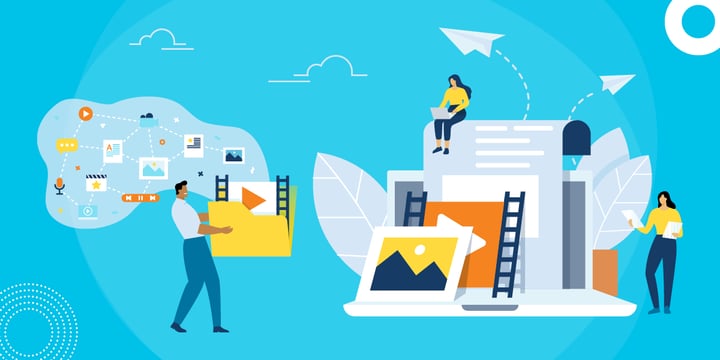 Brand positioning is essential, even for nonprofit organizations, because organizations with strong, consistent branding can yield higher revenues and growth through increased loyalty, an identifiable image, and a positive reputation.
In this post, we'll go over some actions you can take to get started with brand management at your nonprofit.
What's a Value Proposition?
One way to start to define your brand is to develop your value proposition. Your value proposition briefly summarizes the benefits of being involved with your nonprofit in qualitative or quantitative ways while setting yourself apart from other, similar causes. By defining your value proposition, you can help shape your brand positioning by telling your side of the story. You define what the organization stands for, how it operates, who you serve, and why someone should get involved.
To get started, use this template, known as the Geoffrey Moore Positioning Statement, when working to define your value proposition.
For ____________ (target audience)
who ____________ (statement of the need or opportunity)
our (product/service name) is ____________ (product category)
that (statement of benefit) ____________ .
Implement Your Brand Across Your Organization
To implement your brand across your organization, create a style guide and create shared access to branding assets.
Step One: Create a Style Guide
Visually uphold your brand by ensuring that brand assets, like logos, typography, and color, are used consistently everywhere. This includes on your website, in marketing and sales materials, and in social media. To ensure uniformity, you'll want to develop guidelines around the following aspects of the brand.
Logo Usage
Setting restrictions around size, space, and colors will help ensure that your logo looks good in different environments. Incorrect usage like altering, stretching, or condensing creates brand dissonance.
Color
Determining your brand's color palette is vital in creating a consistent look and feel. Oftentimes organizations will base their palette on their logo, but this is not always necessary. Try to stick with three to four colors including a lighter color, a darker color, a neutral hue, and a pop of color. This website is a great way to get started in choosing the colors that are right for your organization. Once you've picked the colors, make sure to note the color codes in the following formats: CMYK, RGB, and HEX. This will ensure that designers and marketers can replicate the exact color across platforms.
Font
One or two font families should be used across all your brand material. You'll want to specify which typeface is to be used where, like headlines or body text. You can also include alignment and spacing rules if applicable. Google Fonts is a great place to start.
Iconography
Iconography is a combination of images and symbols that can be used across your branding assets to spice up your designs while working to convey subliminal messages. For example, if your organization is in the healthcare industry, you might create a series of icons like a stethoscope, a heart, or a bandage. Tip: If there are words involved, make sure to use your selected typeface and that the colors fall within your palette.
Imagery
The images you use can help to set the tone of your nonprofit and brand. The emotions that an image evokes, along with the adjustments or uses of those images, can be a direct and easy way to help gain trust and confidence in your organization. First ask if you want to use "lifestyle images" (photographs of real people, places, and things) or "graphic images (illustrations) or a combination of both. Next, create a "Dos and Don'ts" guide, which will focus on appropriate uses of cropping, overlays, filters, and layering copy. For example, if you want your organization to invoke a happy, trustworthy emotion, consider restrictions against using a black-and-white filter.
Voice
The brand voice, often interchangeable with brand personality, is the way in which your positioning and values are relayed through your content. Defining your voice will guide marketing and sales in how they speak to contacts, write emails, create promotional materials, write website copy, and more.
Start by defining your voice using three broad traits. For a healthcare organization, your traits might be passionate, sophisticated, and technical, whereas a nature preservation organization might be spirited, rugged, and wholesome. Then, create a brand voice chart to expand on each characteristic with a short description and the dos and don'ts around implementation.
Step Two: Create Shared Access to Branding Assets
While your brand persona may stay consistent, branding assets may need to be updated or changed over time. After investing resources into creating a style guide for your organization you'll want to make sure that any updates or necessary variations to your branding assets are kept in one centralized location to allow for shared internal access.
These are some options for free or low-cost file management systems:
Include files outlining all of the aforementioned brand components. Typically, pulling all the guidelines into a single document or PowerPoint is the best way to ensure that everyone is on the same page. Staying consistent in your branding will help set your organization apart, increase trust, and ultimately form lasting relationships.
Looking for more support in branding or rebranding your organization? Check out TechSoup's Digital Marketing Services for more information.
Additional Resources