From economic stress to societal issues, countries across the world continue to face severe crises as a result of the COVID-19 pandemic. Nonprofits play a critical role in times like these — they're the ones with the power to provide relief in a chaotic environment.
But many nonprofits have struggled during the pandemic to maintain their field operations. Since their work calls for multi-stakeholder efforts, technology plays an essential role in bringing about the speed and flexibility necessary to do their job. It's increasingly clear that the way forward for nonprofits lies in customized solutions — and one piece of that puzzle can be using a low-code application platform.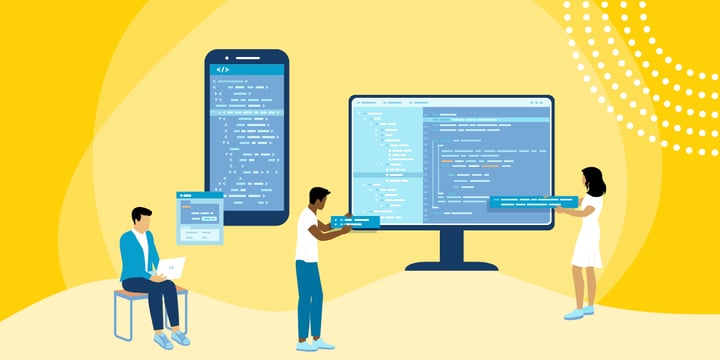 How Custom Low-Code Applications Can Help
Low-code application development is a fairly new technology that allows users to create applications without having to know much about software coding. This means that a low-code application is simply an app built using minimal code. What makes it so unique is that almost anyone can develop on a low-code platform, using drag-and-drop tools and pre-built code snippets that come as a part of these solutions.
More importantly, apps can be built much faster compared to traditional coding methods. Up until a few years ago, a new piece of software needed months, or even years, to be taken from ideation to market. But low-code apps can be created and deployed in a matter of days, or even hours. A custom low-code application can unify the people and processes of a nonprofit and keep operations alive even when physical movement is rendered impossible.
For instance, an operational application aimed at donor management can allow a nonprofit to reach out to donors and raise funds digitally. The application can capture previously disparate information on donors and communication into a single place, which ultimately increases the impact of every single campaign.
If an organization created a "volunteer portal," this could help nonprofits manage all their event-related activities from a single view. Volunteers can be tracked and assigned tasks easily, and reports on their performance can be generated with a single click.
For a nonprofit to work remotely, in an environment that's vastly uncertain, custom low-code applications bring immense benefits in cost and impact .
Low-Code Application Platform Features Facilitate Better Efficiency and Security
The learning curve for building apps using a low-code application platform is very low. Even people who are only proficient with spreadsheets can use drag-and-drop widgetlike elements to launch a new app. Any new app built using such a platform is also easy to integrate with other applications within the organization.
Low-code platforms have built-in enterprise-level security mechanisms that ensure that your data is kept private and safe at all times. And since new features can be added easily, the apps can be scaled at any time, depending on the organization's operational levels. One of the strongest features of a low-code application development platform is that it lets nonprofits create mobile-ready solutions without duplicating efforts. So when field staff return to the ground, they have the same app deployed and available on their phones, tablets, and laptops.
Remote Operations Continue Strong with Low-Code Applications
The pandemic has shown us that technology is essential to maintaining business continuity. Nonprofits have struggled to shift their operations to the digital space, and have suffered from a lack of flexible and ready-to-deploy solutions. Several low-code application development platforms like Zoho Creator are available on the market today. Such platforms empower organizations with data for faster decision-making and extend services into the virtual space at a lower cost and much larger scale.
You can start building custom low-code applications at your nonprofit today. It will help keep your remote operations going smoothly, and continue to serve the marginalized populations that need your help most during this time of crisis.
Additional Resources