No one has to convince you that it's important to operate efficiently. You know that when you reduce costs and make the best use of your staff's time, you can reach more and do more in your community.
But you may not know much about one of the best ways to wring efficiency out of your operations: server virtualization.
In some cases, virtualization can be a vital component of a nonprofit's digital transformation. And VMware is committed to helping nonprofits with this transformation by providing tools from the ground up to help organizations run more safely and efficiently.
Server virtualization can be complicated, and it's important to take baby steps to implement this solution correctly. Let's start with a quick look at what virtualization is, what it can do for you, and what VMware for Nonprofits at TechSoup can do for you.
The Benefits of Server Virtualization
Virtualization software lets you run multiple operating systems simultaneously on a single physical machine. In essence, you optimize a single server so that it does the work of several. Instead of having a mail server, file server, and print server, all three live on the same server. You can even simultaneously run different operating systems on the same server.
Virtualize your hardware and you increase the scale of your technology infrastructure without having to purchase additional hardware.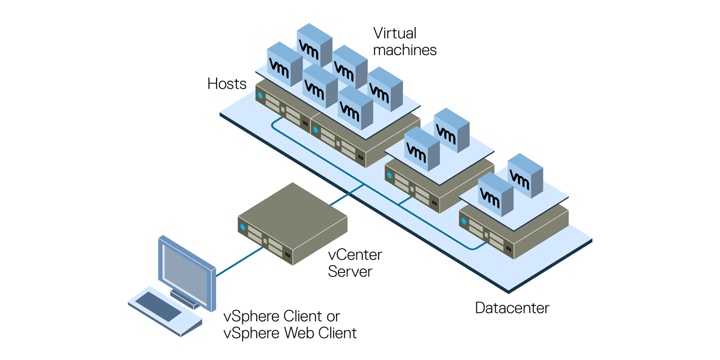 Your organization can save on the cost of electricity and hardware by reducing the number of servers you need to run your organization.
But the benefits of virtualization aren't only cost savings. Your IT staff spends less time on system upgrades and maintenance. That frees them to focus on projects that expand your organization's reach and impact.
Managing virtual machines is a lot easier than managing physical machines. For example, hardware can be upgraded by using a management console application, instead of having to physically upgrade each machine. Backing up and restoring files is a lot easier, too, since all of the virtual machines reside in one host machine.
The VMware for Nonprofits Program at TechSoup
vSphere is the industry-leading server virtualization software and the heart of a modern software-defined data center (SDDC), helping you run, manage, connect, and secure your applications in a common operating environment across clouds. Like TechSoup, VMware believes in strengthening the nonprofit sector through digital transformation and supporting that transformation every step of the way.
VMware offers TechSoup members a variety of discounted virtualization software.
For server virtualization:
VMware vSphere 6 — the software hypervisor to virtualize hardware to run multiple guest operating systems
VMware vCenter Server 6
vCenter is a virtual management appliance that provides a single dashboard view to manage, update, and create virtual machines while supporting high availability and virtual machine migration for the servers running vSphere.
If you're looking to virtualize other servers or desktops on your local desktop, laptop, or Mac, VMware for Nonprofits at TechSoup offers VMware Workstation 15 Pro and VMware Fusion 11.
Find Out More
To learn more about virtualization and VMware's offers, check out the VMware for Nonprofits offers at TechSoup.
TechSoup is always here for you, no matter the size, structure, or mission of your nonprofit. With partners such as VMware, we can help you leverage technology to strengthen your organization and increase its impact.
Additional Resources