The amount of available data about your website, your users, and your mission area is growing by the minute. If you have a website, you can access all sorts of information about how people are finding it, where they're navigating to, and whether they are engaging in a continued relationship with your organization. You can also use information about the changes in your sector to understand the impact your work is having and where it can expand in order to meet the most urgent needs.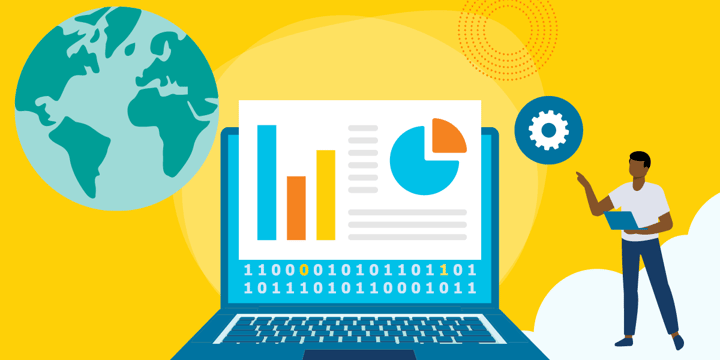 In order to make sense of all of the data, you'll need some technology to process it and present it in a digestible way. That's where web and app analytics tools come in. The tools described below gather and visualize data in order to make it meaningful, help you make decisions, and present it to stakeholders and staff. The best choice of tool will depend on the data sources you use, the level of expertise you have access to in your organization, and how you want to use the data. Here, get to know four different options and what factors might make them the best choice for you.
Google Analytics
Google Analytics (GA) is one of the most widely used analytics tools. It provides sufficient insights for most organizations, in an interface that is relatively easy to come to grips with even if you don't have previous experience with analytics. By connecting your website with GA, you can gain insights about how people are using your website, including where on your website they land, where they came from, how long they stay there, and how often they find their way to a "conversion" page such as your donation form or an event sign-up. You can also use engagement rates and other metrics to spot weak points in your website.
These insights allow you to understand your audience, how they are interacting with you, and whether they are following the journey you want them to. You might discover that many visitors are being brought in by a particular blog post or that users struggle to navigate your home page. This will help you to make changes to your layout, content, and navigation that can increase your donations and support.
Google Analytics is an all-around solution that most people can use, and it's free. It's a suitable solution for the majority of nonprofits looking to better understand their audience, how they're using their website, and what weaknesses are preventing people from engaging with the organization.
A quick note: you should ensure that you only create properties in Google Analytics 4 (GA4), not Universal Analytics (UA). You'll see the option to create them in Universal Analytics, but UA will be retired in July 2023. This means that any UA properties you have will no longer operate, you won't be able to transfer data over to new properties, and you'll have limited time to extract your raw data from the retired properties.
Power BI
Power BI, developed by Microsoft, is primarily a business intelligence and decision-making platform, with excellent data visualization capabilities. It requires a little more learning and prior experience than GA, but it does allow you to draw in data from a variety of sources, including GA. This can be useful if you want to build a larger picture of how people interact with your organization, including your website, as well as other communication channels. Its dashboard-building capabilities are particularly useful as you can center the most crucial information you want to track.
In general, Power BI is a good solution for larger organizations that can dedicate some staff time, training, and expertise to their data analytics efforts. It can provide intelligent visualizations that use data from your website, CRM, email marketing, and more, helping you to draw insights about the journey your users take.
Tableau
Like Power BI, Tableau draws data from any number of sources you choose to use, helping you to build great visualizations and draw new conclusions from the information you have access to. This is particularly useful not only for mapping your website and communications data, but also for discovering new things about the nature of your sector as a whole. If you're looking to draw conclusions about your mission area and your organization's place in it, then Tableau could be a useful tool to help you do so.
One key advantage of the Tableau platform is its use of artificial intelligence to help you spot meaningful data. You can search databases using natural language and visualize the data using drag-and-drop functionality. Due to the intricacies of the data you're able to handle in Tableau, a fair amount of expertise is needed, but the barrier to entry is lowered by an intuitive interface and the human-focused AI capabilities.
Google Looker Studio
The easiest to use of all the tools featured here, Google Looker Studio (formerly Google Data Studio) allows you to create beautiful and informative data visualizations. You can connect it to a range of data sources, such as Google Analytics, BigQuery, and Google Ads. The interface will be familiar to users of Google Workspace applications, and it doesn't require any data analytics expertise to get started.
You can create dynamic reports that update automatically as the data refreshes. It allows you to add filters and focus in on different aspects of the data in order to zoom in on the matter at hand. The possible visualizations include charts, tables, and "scorecards" that can help you to understand the story the data is telling, and share that story with stakeholders.
Get to Know Your Data
Finding technology to help you to decode your data is a vital part of making it meaningful. Whether you're a small team that is just getting started with analytics or you have an expert in-house, there is a tool that can help you to gain a better understanding of your data. Processing information in a digestible way can help you to make small changes and build effectiveness, as well as telling an accurate story to your stakeholders.
Additional Resources
Top photo: Shutterstock