In recent years, nonprofits of all sizes have seen the value in prioritizing a digital transformation and adapting data-driven decision-making. This sea change has provided digitally minded organizations the ability to impact every level of their organization — from reliably forecasting fundraising, to optimizing marketing and communications efforts, to tracking program success.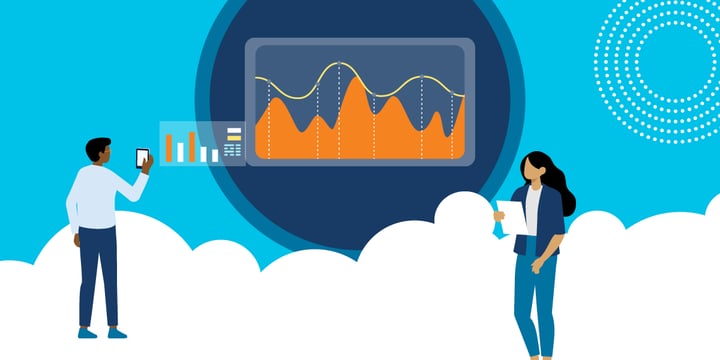 Even before the pandemic hit, organizations were seeing the return on their digital investments and improving all aspects of their operations with a digital-first mindset. During a year when the demand for nonprofit programs and services is greater than ever, organizations that already have a digital foundation in place are well equipped not only to succeed during the pandemic, but also to thrive in the years to come.
The critical importance of digital to the long-term success of nonprofits is just one of the key findings in Salesforce.org's newly published Nonprofit Trends Report, third edition, which examines the degree to which technology impacts an organization's success metrics. The annual report uses the lens of "digital maturity" to offer insight into how nonprofits are overcoming challenges presented by the COVID-19 pandemic.
Digital maturity, as defined by the report, is an organization's ability to leverage data to inform decision-making, reach new audiences, personalize communications, and forecast fundraising income. The findings are based on input from 867 nonprofit professionals from six countries across North America and Europe, and represent organizations varying in size from one employee to more than 250.
Digitally Mature Nonprofits Exceeded Goals During the Pandemic
The most eye-opening finding from the report? Organizations that ranked high for digital maturity were significantly more likely to have exceeded their goals, adapted to the pandemic, had a more positive outlook on the future, and been successful in mission-critical areas like fundraising, grants, marketing, and program delivery.
Even in the midst of a pandemic, high digital maturity organizations have confidence in their fundraising abilities. Eighty-five percent of those that ranked towards the top for digital maturity were more likely to have met or exceeded fundraising goals, versus 66 percent of low digital maturity nonprofits.
For Muscular Dystrophy Association (MDA), the nonprofit dedicated to transforming the lives of people living with muscular dystrophy, ALS, and 40+ related neuromuscular diseases, a digital infrastructure meant they were able to continue critical fundraising efforts with an innovative new approach. MDA was able to reimagine a virtual version of their famous MDA Telethon — and recoup some of the annual revenue lost at the beginning of the pandemic. It had help from a comprehensive digital infrastructure that provided a consolidated, near real-time view of incoming donations across channels as well as social media activity throughout the telethon. It was MDA's strong digital foundation that enabled it to pull off a virtual telethon of this magnitude — one that raised critical funds to continue the mission of funding research, care, and advocacy.
Immediate fundraising goals, of course, are just a small piece of the puzzle, and the pandemic has made long-term fundraising goals an uncertainty for many organizations. The report reveals just how big a role technology plays in projecting future fundraising during such an unprecedented year.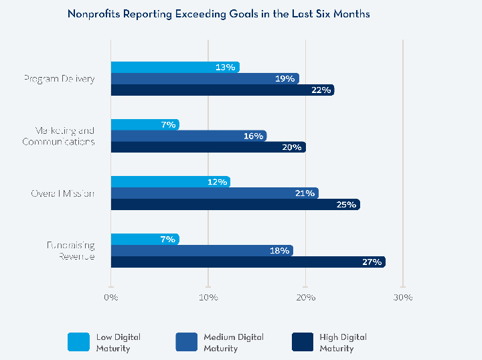 Click to enlarge
Data-Driven Nonprofits Are More Confident in the Future
During periods of change, having the technology to navigate uncertainty is critical. And for nonprofits that have the digital tools that enable them to be optimistic about forecasting their long-term fundraising abilities, it probably comes as no surprise that they're also pretty confident in the future, too.
The report details just how important data-driven infrastructure is to long-term success. High digital maturity nonprofits are better able to understand their environment, have more confidence in the future, and have stronger relationships with supporters and constituents.
Building stronger relationships with supporters is especially important, considering the premium placed on effective marketing and communications during the pandemic. Unsurprisingly, high digital maturity organizations were considerably more confident in their abilities compared to nonprofits overall when it came to communicating with their audience, personalizing services, and engaging with volunteers. Nearly half (48 percent) of high digital maturity nonprofits said they were "likely" to gain support for their cause over the next six months, versus nearly one in five low digital maturity organizations.
Additionally, leading organizations — defined in the report as those with high digital maturity — are 1.4 times more likely to be confident that they will be better able to engage more with audiences through digital channels (56 percent of high digital maturity nonprofits, versus 39 percent of nonprofits overall). They're also 1.2 times more confident that they will be able to better engage volunteers (58 percent of high digital maturity nonprofits, versus 47 percent of nonprofits overall). Because these effective digital communications on the front end lead to successful program delivery on the back end, 71 percent of leading nonprofits said that they met or exceeded their goals for program delivery compared to 44 percent of low digital maturity organizations.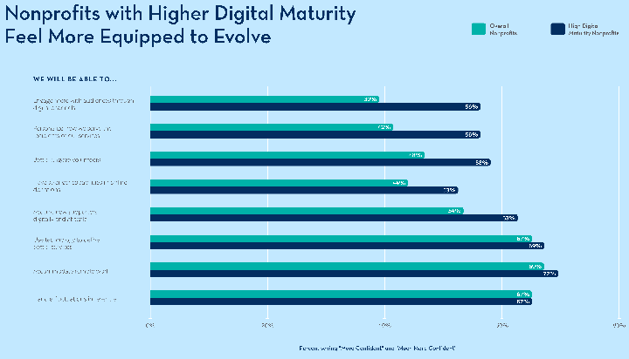 Click to enlarge
Tech-Forward Organizations Adapted to the Pandemic Better
The pandemic has served as a spotlight for many important social issues since March. It has highlighted areas that require focused innovation, growth, and development in the "new normal." The report revealed a similar sentiment within the nonprofit sector as it proved the importance of digital infrastructure to the ability of an organization to adapt, grow, and maximize impact in the years ahead.
With a strong digital infrastructure in place, leading nonprofits were better able to understand their environment, enabling them to pursue adaptive strategies related to the pandemic. Thirty-four percent of organizations with high digital maturity strongly agreed that they were prepared with the technologies they needed to help navigate the shifts within their operations, versus 6 percent of low digital maturity nonprofits that strongly agreed with this.
Open Door Legal, a San Francisco-based nonprofit that offers legal aid to those who can't afford it, was minimally impacted by the pandemic because of the work it had done to digitize its mission three years ago. "Operationally, COVID has impacted us very little. We were already pretty much all in the cloud with our documents digitized. We just sent people home and continued work as usual," said CEO Adrian Tirtanadi. "Because we've collected and digitized so much data through Salesforce, we can effectively show outcomes to our funders in compelling ways even during the pandemic," he said.
That ability to move operations and programs online was another key to adapting to the crisis — 35 percent of organizations with high digital maturity strongly agreed that they were able to move their programs online, versus 18 percent of low digital maturity organizations. When it came to expanding services, 35 percent of leading nonprofits — compared to 16 percent of laggards — were able to add new services to attract new audiences.
Across the board, digital maturity was a strong indicator of success. Organizations that ranked high on the digital maturity scale were not only more likely to continue innovating, they were also more likely to effectively pivot their work during the pandemic. The high digital maturity marker also indicated how well organizations handled the crisis and how they adapted in the midst of change.
When we asked how nonprofits tackled the pandemic, moving to digital and investing more in technology were the top two changes that they made, with 56 percent reporting that they accelerated their move to digital programs. Further, nearly half of organizations reported that they invested more in technology during this time.
In recent years, nonprofits had already begun buying in to the need for digitized missions, data-driven decision-making, and tech-forward foundations. In the wake of a devastating pandemic — and in an increasingly technological world — what was once a digital transformation has now become a digital imperative. Findings from the report prove that the digital imperative is more than just a marketing buzzword. It's more important now than ever before that nonprofits invest in the modern digital tools necessary to maximize the impact of their mission.
Interested in accelerating your organization's digital maturity? Download the full report, and watch this webinar on how going digital can help nonprofits advance their missions in the new normal.
Additional Resources