Sprouts Cooking Club was launched in 2006 to teach children from all backgrounds the importance of healthy foods through hands-on cooking classes with real chefs, real ingredients, in real restaurants. About two hundred and seventy children attend winter, spring, and summer camps yearly, and about one thousand attend Sprouts' after-school classes throughout the school year.
Working to Make Every Child's Experience Better
Sprouts unites a versatile group of people who are actively working to make every class, program, and child's experience better. That was very clear the moment we arrived at Grand Fare Market in Oakland on a warm summer morning earlier this year, ready to experience a Sprouts summer camp class.
The outdoor space was overflowing with greenery, lights, and 17 young children chatting and laughing as a group of supervisors stood around them. At the center of the cluster of tables and chairs was Sprouts Camp Director Holden, joking with the campers and making sure that everyone was checked in. Holden began the lesson by encouraging the campers to form a circle of chairs around him and share what they had eaten for breakfast.
Teaching Kids About Health, Nutrition … and Knife Skills!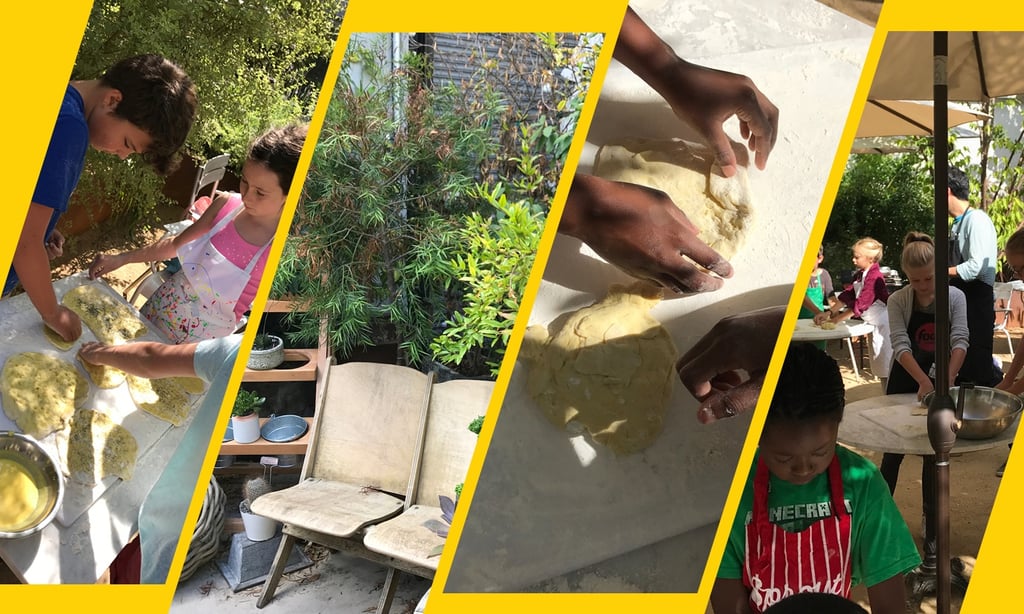 Holden inspired discussion with questions like, "What foods are important to consume for energy each day?" As he directed the conversation toward nutrition and health, Sprouts' mission began to shine through.
Following this exercise, Holden introduced the chef who would be leading the class: Hanif Sadr. Hanif is a Feastly chef and co-founder of Komaaj, a brand focused on food, drinks, and flavors from all regions of northern Iran. Naturally, the recipe of the day, watermelon and feta salad with mint and turmeric flatbread, hails from that area. Hanif's patient and hands-on teaching style ensured that each camper was not only following the recipe but learning why each step of the process is important.
That day we were lucky enough to interview Evan Hazelett, Sprouts program manager for Sprouts' summer camps. Evan came to Sprouts from Imperfect Produce, a nonprofit dedicated to eliminating massive amounts of produce waste in America. He let us know that Sprouts is what it is because of the "campers, parents, chefs, and employees" who are involved.
When asked about his experience at the organization, Evan illustrated that success is when "the campers actually come away from camp with really solid skills: knife skills, kitchen etiquette. Holden always makes a joke to the parents: 'Don't be surprised if you're in the kitchen and you hear "behind you!" with a nice little hand on your back.' That's success. If the kids go home and they bring the skills back to their house … at the end of the day it's all about the kids; everything else is just peripheral."
Giving Children Experience and Knowledge About Food They Can Carry Forever
The Sprouts chef-in-training program completely embodies Evan's idea of success: kids integrating cooking and health into their life and leaving the organization with tangible experience. The program places at-risk young adults in a six-month internship with a chef in a Bay Area restaurant. Launched by this unique program, these kids are staying on with the restaurant, getting hired at a different one, or even going on to culinary school.
Programs like these are fueled by the many layers of people with fascinating backgrounds who make up Sprouts Cooking Club. Their excitement gives children the opportunity to learn lessons about cooking, health, and community that they can carry with them forever.
TechSoup Is a Total Game Changer, Giving Access to Programs and Resources
TechSoup is proud to support Sprouts in achieving its mission by supplying Sprouts with technology so staff members have more time to focus on what's most important. Sprouts founder and Director Karen Rogers says TechSoup has been "a total game changer for Sprouts. It has given us access to programs and resources that we would have never been able to afford otherwise."