As the fiscal year for many nonprofits draws to a close, we've selected some of our favorite software products to help you work more effectively, engage with your community, and protect your organization. We hope you find something you might need!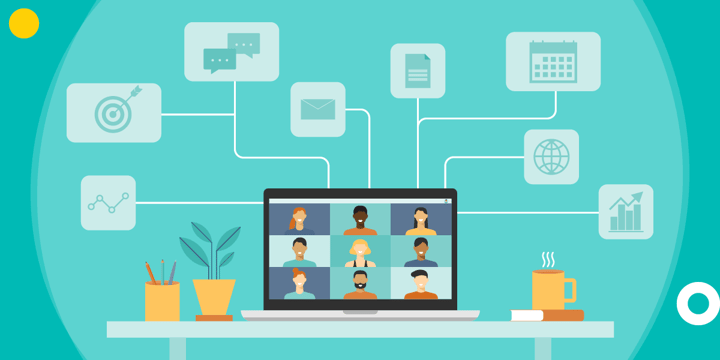 QuickBooks
QuickBooks is accounting software that helps organizations manage essential financial tasks. You can use it to plan your budgets, produce reports, and track donations and expenses. Automatically store your data in the cloud, attach and store relevant files, and have QuickBooks draft your reports using its built-in templates. It integrates with a number of platforms and can import data from Excel, the QuickBooks desktop edition, or CSV files.
Intuit also offers an industry-specific nonprofit edition within QuickBooks Premier. This version allows you to view expenses the way IRS Form 990 requires, displays data by donor or grant, and helps you to base your budget on fundraising and expense data.
Both QuickBooks Online and QuickBooks Premier are available as a donation from TechSoup.
Asana
Asana is online collaborative work management software that can help manage workflows at your nonprofit. If you are considering a deeper dive into project management at your nonprofit, or would like to improve upon your existing processes, Asana can certainly help.
Using Asana, you can break down projects into steps with clear deliverables and assignees for each necessary task. You can tag questions for your teammates and share documents and other assets directly in the project itself. Asana helps keep projects on track and gives everyone clear visibility into what's due, when it's due, and who's responsible each step of the way.
The TechSoup offer provides access to a 50 percent discount to both Asana Premium and Asana Business licenses.
Zoom
Zoom is a video conferencing tool that allows you to meet remotely with colleagues, partners, donors, or volunteers. You can invite participants to the meeting by simply sending a link — which doesn't even require them to have a Zoom account — and record your meetings in video or text formats.
Use the in-call chat to share encouragement or ask questions, share your screen or sound for easy presenting, and use plug-ins to schedule your meeting using Outlook or Chrome. Zoom is an easy-to-use tool for hosting smooth and productive meetings in your organization.
Discounted access to bundled Business and Pro plans are available through TechSoup. These bundles are meant for nonprofits needing two or more licenses. They provide for large meeting capacities, webinar capabilities, and other advanced features at the same 50 percent discount as the Zoom Meetings subscription.
We should note that if you are only looking for a single-user Zoom license, we recommend you purchase that license at retail price, as that cost will be less than the TechSoup admin fee for the bundled options.
Amazon Web Services
The AWS cloud platform provides organizations with access to high-powered infrastructure, allowing them to host their services, store data, and manage other essential computing needs without investing in physical infrastructure. AWS covers a huge range of services, including storage, advanced computing, and database management. Each of these services is scalable and enables you to save IT costs by using only what you need. AWS also provides some free support.
Through TechSoup, nonprofits can get $2,000 in Amazon credits per fiscal year, which can be applied to many AWS cloud services.
Microsoft
TechSoup has a wide range of offers from Microsoft. From integrated productivity suites available through Microsoft 365 to server solutions, there are many options to help power your nonprofit's daily operations and more — and many are free to eligible organizations. In fact, we've created a separate blog post dedicated to our top picks from Microsoft.
TechSoup Boost
If your organization acquires its technology software and services through TechSoup, then Boost can help you to discover even better deals. Boost is an annual subscription service, giving you access to an ever-expanding catalog of offers, including waived admin fees and vouchers as well as deals on training and consultation services.
Annual fees for TechSoup Boost vary according to organization size, starting at $79.
Adobe Photoshop Elements and Premiere Elements
Featuring many of the best capabilities of Photoshop and Premiere Pro, Photoshop Elements and Premiere Elements provide a simpler alternative to their larger counterparts. Tell your organization's story with photos and videos, using Adobe's simplified tools to create professional and unique visual content. The tools include intuitive organizational features, and a wide range of importing and sharing capabilities make it easy to share your creations with your network.
Adobe Photoshop Elements and Premiere Elements are available as a bundle through TechSoup.
Cisco Meraki
Cisco's series of security and networking equipment provides the backbone for the operating systems of many organizations. As well as essential hardware to get your office up and running, Cisco Meraki provides a great management system. This enables you to troubleshoot remotely and allows users to schedule their own updates, meaning there will be little to no organizational downtime during updates.
The Meraki Dashboard is an intuitive, cloud-based system for managing your networking products. It is the industry's only all-in-one network, allowing you to manage WANs, LANs, wireless LANs, and mobile devices in a single system. Meraki's cloud-based infrastructure offering could save your organization money long-term, simply by reducing time and funds spent on keeping your systems updated and operational.
Cisco Meraki hardware and management systems are available at a discount through TechSoup. Pricing varies depending on product: check out Cisco Meraki for Nonprofits for more information.
NortonLifeLock
NortonLifeLock security software provides your organization with essential protection against IT security threats. It defends your devices from viruses and data breaches, and it can also locate, lock, and wipe lost or stolen devices. Norton Security Deluxe also features computer tune-up tools, helping to fix common problems and free up storage on your computer.
Norton Small Business and Norton Security Deluxe are available as a donation from TechSoup.
Autodesk
Enabling you to design buildings, infrastructure, products, entertainment content, and more, Autodesk's range of fantastic design software is an incredible resource for nonprofits in certain fields. From engineers to game designers, each tool is geared towards industry professionals and provides enormous scope for creativity and ownership over your designs. Autodesk also provides some great resources to help you learn to use its software, including a YouTube channel, a support and learning community, and on-demand training classes.
The Autodesk tools are available as a donation to eligible organizations through TechSoup.
TechSoup Help Desk
TechSoup provides Help Desk as a service to assist nonprofits with day-to-day tech needs and issues. We work closely with experienced remote support technicians and engineers to offer professional support to nonprofits. Get product-specific help, get the hours of support you need, or buy a yearlong subscription for unlimited support.
Help Desk prices vary, starting at $55 for a one-time fix, $700 for 10 hours of technical support, or $35 per person for an unlimited monthly subscription.
Protect, Create, Collaborate
Even when you are working apart from one another, these fantastic tools available through TechSoup can help your organization to work effectively and creatively. Many nonprofits are working harder than ever, and it has never been more important to invest in quality tools and support.
Find Out More